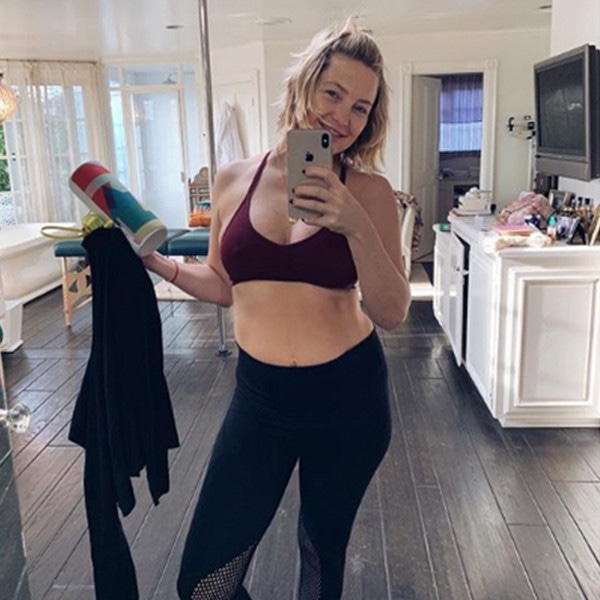 Instagram
It's never too early to start your New Year's resolutions.
Less than two months after welcoming a baby girl with Danny Fujikawa, Kate Hudson is taking to Instagram and sharing her goals for 2019 and beyond.
For this Hollywood actress, she's "on a mission" to get back to "my fighting weight."
"The routine with our baby is getting more familiar and I'm ready to start taking a little time in the day focusing on myself. For me that means my health. Why? Because I wanna be around a long time for these three kiddos of mine," Kate shared in a new Instagram posted Thursday morning. "Let's be honest, kids take the number one position and it's haaaaard to make the time for yourself. I've been doing a lot of research and I've spent my life time trying all kinds of new things that are focused on health and wellness. Because I am on a mission right now to get back to my fighting weight ;) and my strong body/mind back I want to bring you in on some of this journey."
While Kate promises to keep fans updated on her progress through the Pretty Happy Instagram page, she's more than ready to share her goal for the months ahead.
Watch:
Kate Hudson Welcomes First Daughter With Danny Fujikawa
"I will be shooting a film in the spring and I'm looking to shed 25lbs. I'd like to try new workouts and eat as healthy as I can," she explained while posing in her Fabletics gear. "I wanna do all this and keep up milk production, raise my kids, work everyday, make time for my man, have girlfriend time and stay sane!"
Kate added. "I know that this sounds more like a New Year resolution but after Thanksgiving and everyone thanking their health, I feel motivated to keep that up. Much love and hope everyone's having an amazing start to the holidays!"
As soon as the Pretty Happy author shared her candid post, many familiar faces in Hollywood showed their support in the comments section.
"Love your candor and approach! Remember—it took 9 months to put the weight on so give your body time to get back to your 'fighting' weight," Cindy Crawford wrote. "You look beautiful at every weight!"
Amy Schumer, Tamra Judge, Jennifer Meyer and Lydia McLaughlin also expressed positive sentiments in the comments section.
"I'm Thankful for love. Unconditional love and that my children embody what it is when one feels loved," Kate previously wrote on Instagram. "Let's all have an entire year where we stay grateful. Keep this party going :)"