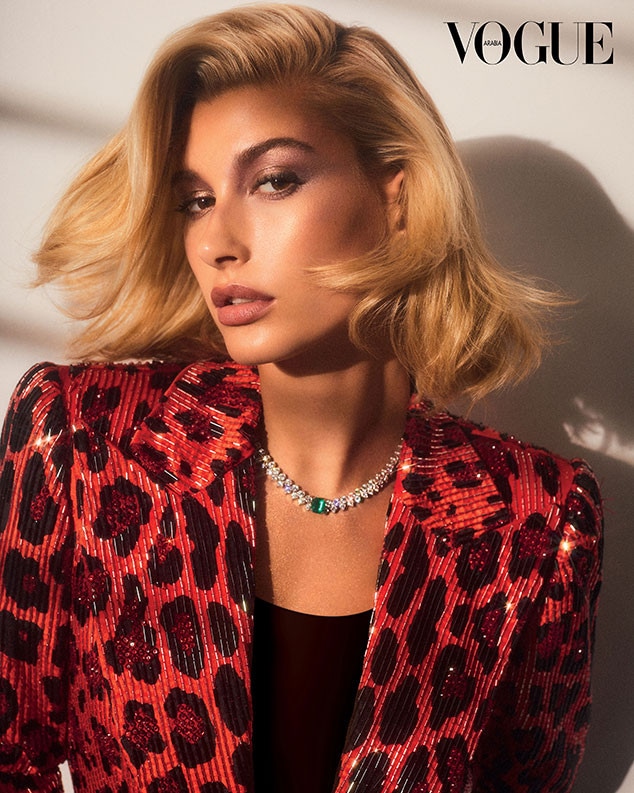 Zoey Grossman
Hailey Baldwin may be a Mrs., but mom is not joining her list of titles just yet. 
The 22-year-old model, who famously—and unexpectedly—wed Justin Bieber two months after he popped the question—doesn't have her eye on expanding the Bieber family just yet. 
According to Vogue Arabia, for which she posed as their December cover girl, Baldwin opened up about starting a family. "I love kids and I can't wait to have my own. I would say now that's a closer reality, but definitely not anytime soon."
Whenever that time does come, her pop star husband will be on board. After all, he's had a family on his brain for years already. 
"By 25 or 26, I want to see myself, like, married or start looking for a family. I want to be a young dad," the Grammy winner told WWD back in 2011. "I want to be able to have done what I wanted to do—to be successful, to do a movie or whatever. But if the time is right, I definitely want to be married by 25." With his 25th birthday approaching in March, the Biebs can check that goal off his bucket list. As for little ones, there's still plenty of time to address that goal. 
When they do become parents, Baldwin and Bieber will have an idea of how to raise their kids in the glare of Hollywood's spotlight—after all, both have been in it since they were teens. Fortunately for the famous daughter of Stephen Baldwin, all the family's attention was not immediately directed at her. "The way my parents raised my sister and I was so far removed from Hollywood that we didn't really bring any aspects of the industry into our home," she told the magazine. 
"I got to have a normal childhood and teenage years. I didn't start getting recognition on my own until I was around 19," Baldwin continued. "There are some 'normal' things I never did—like go to college—but I do think I was able to learn how to have a schedule, be on time, and be responsible, all because I started working at 17."
As for managing the added layer of fame as the new Mrs. Bieber these days, she takes a break from logging on. 
"I try my absolute best to be removed from [the spotlight]. And I spend increasingly less time on social media," she told Vogue Arabia. "This has really helped me balance everything that comes with this life."