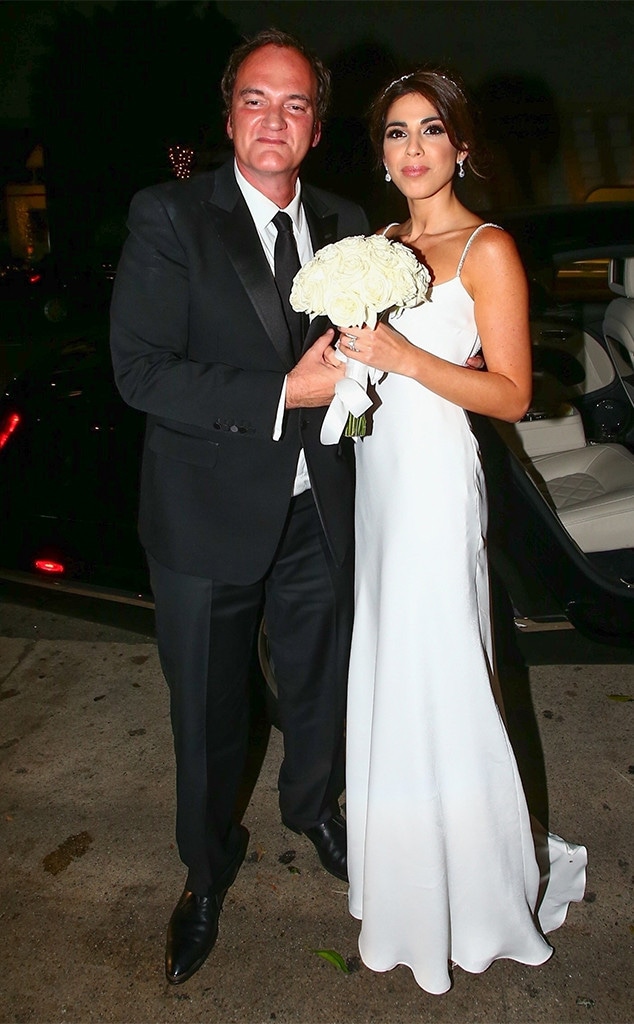 CPR / Dsanchez / LALO / BACKGRID
For Quentin Tarantino's bride Danielle Pick, when it came to finding a wedding dress, there was no place like home.
The 35-year-old singer and model (whose last name is pronounced "Peek") traveled to her native Israel three or four times over the past year and during her trips, she met with local bridal designer Dana Harel, 36, who designed her a custom-made white wedding gown. The dress, which is made of a high-end, shimmering French fabric, contains a corset, a full circle skirt and a sweetheart neckline.
Wearing the gown, a tiara—from Israeli designer Keren Wolf, and a double-tier lace veil, Pick wed Tarantino, 55, in an intimate Reform Jewish ceremony at their home in Los Angeles in front of family and friends on Wednesday.
"It was such an honor to be part of Daniella's special day," Harel told E! News. "Sending Daniella and Quentin a life full of love and happiness."
For the couple's wedding reception, which took place in a restaurant, Pick wore a bias cut silk matte slip dress with Swarovski crystal beading on its straps and an open back, mostly designed by Harel, as well as a shimmering Keren Wolf headband.
Pick, and daughter of Israeli rock and pop music royalty Svika Pick, and Tarantino met in 2009 Israel while he was there to promote his film Inglorious Basterds. Her dad, 69, was unable to attend the wedding due to a medical condition, but her mother, Mirit Shem Or, and her sister Sharona did make it, according to Israeli news site Maariv.
Pick and Tarantino got engaged in 2017. Pick had also worn two Dana Harel dresses to two engagement parties—a long white slip dress with criss-cross straps in the back to a bash in Israel and a white slip mini dress to one in Los Angeles.
Harel started designing gowns eight years ago. Pick was one of her first clients. She came to one of her early sale events and fell in love with her designs, which use some of the finest materials, E! News has learned. She then gave her her measurements and Harel would send over custom designs. Pick started to wear her creations to events. In Harel's flagship showroom in Tel Aviv, there is a mannequin created with Pick's measurements.
"I love Daniella," Harel told the Israeli newspaper Haaretz this week. "She's a one woman show, she's something else. She's a type. We stayed in touch since my sale and then she met Quentin, which is like, 'what the f--k.' I didn't believe I had a connection to him, and only by two degrees of separation."