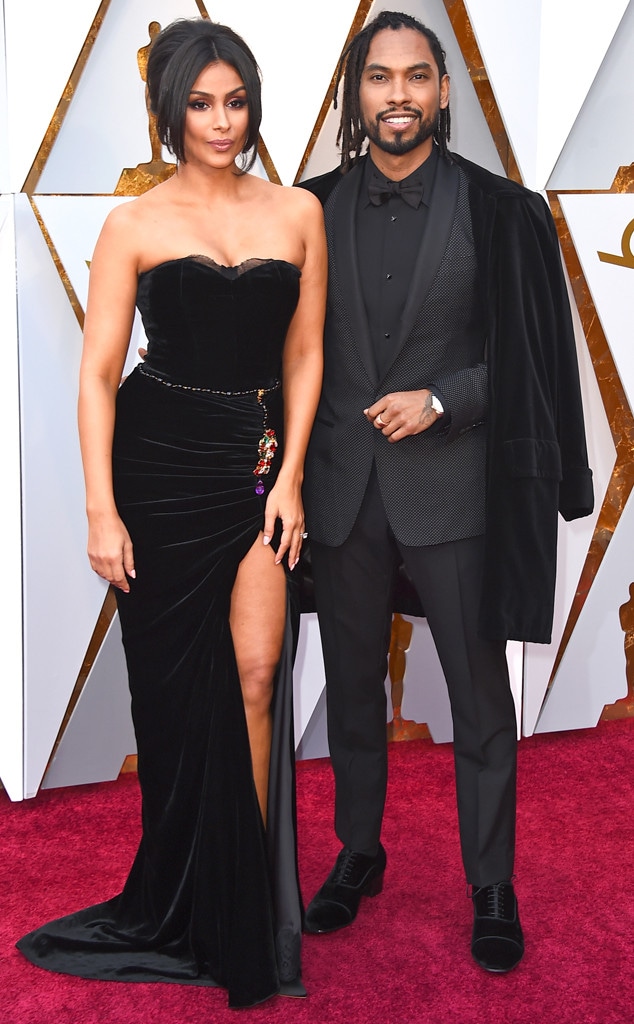 Jordan Strauss/Invision/AP
Nazanin Mandi Pimentel is sharing exclusive details on her recent wedding to her longtime love, Miguel.
The actress and the "Adorn" singer tied the knot on Saturday, confirming the exciting news on social media days later. So how did they pull off the surprise ceremony?
"It's kind of shocking, it really shows you how loyal our friends and family are. Nobody spilled the beans, no one did," Nazanin tells E! News, adding that it was "incredible."
Nazanin, 32, and Miguel, 33, have been together since she was 18 and got engaged in 2016, so how did they decide this past weekend was the right time to tie the knot?
"It just felt right. It was a long time coming and you know, when you're with somebody starting from 18, a lot of things happen," she shares. "There's a lot of growth. There's a lot of growing pains and all through our twenties was the time to get our minds right, to really find ourselves and through that process, fortunately, we grew together and not apart. Now in our thirties, it just felt so right to finally make it official."
"I was involved every step of the way. Nothing, nothing was approved without me and actually nothing was approved without Miguel either," Nazanin says of the wedding planning, which took about a year. "We were both working throughout this entire process, he was actually on tour. So he would be getting videos from me, pictures, FaceTime, just of flower arrangements or, 'What do you think about the invites?' So we were very, very hands on but I was literally there with the planner every step of the way."
Gregg DeGuire/Getty Images
And when it comes to the big day, Nazanin says it "exceeded" her expectations. 
"It exceeded it, honestly. A thousand percent!" Nazanin reveals. "My vision, I wanted something very classic and timeless, something that embodied our love and the time of year, fall. So our colors were deep burgundies and black, which was very us. But I say it exceeded it because of a feeling. I can't describe to you how it felt, that day, but the love was so strong and the positivity, and everybody was there for one reason: that was just to celebrate love and you felt it throughout the entire day or night."
The couple actually broke with tradition a little bit ahead of their wedding, choosing to stay together instead of sleeping separately.
"That was actually one of the only things we did not keep traditional," Nazanin tells E! News. "We discussed it and he was like, 'Nah, I'm sleeping next to you. I don't give a damn, I'm sleeping next to you.' And the night before we had a rehearsal dinner and we actually went to bed at 10 p.m., we were so exhausted, and woke up at 5:30 a.m. and did a workout! We did a wedding bootcamp."
"It was at 6 a.m. with my trainer Tori and she brought the weights, she brought the jump ropes, she brought our ab wheel, she was ready to go," Nazanin says. "We had my maid of honor, his best man and his best man's girlfriend and it was the five of us and we rocked it out for an hour in front of the venue, like right next to the tables and the decorations. We worked out!"
Talking about the moment they first saw each other dressed up for the wedding, Nazanin shares, "He has his back turned away in his tuxedo and then I finally tapped him and we both just started crying. And then everyone started crying! And then I looked to my left, the house is to my left, and everybody in the house is at the window [watching] and it was amazing. It was my dad and my family and [Miguel's] family, it was amazing."
"I'm looking forward to just building more memories," Nazanin says of married life. "Building an even stronger relationship. This morning I told him, 'It's so weird because I always thought I couldn't love you anymore than I do now.' And the wedding totally changed that, I'm like, 'Now I love you even more which is so shocking because I didn't think I could!'"
"So far, it's been amazing," she continues. "It's been hectic, to be honest with you. It's been non-stop. We've been working since Sunday, the next day, and I just got back from a casting right now. We're not stopping, the grind continues! (laughs) And he's actually in the studio right now."
Watch:
Miguel Talks 2018 Oscars Performance
As for the future, have they talked about growing their family?
"Definitely in a couple of years," Nazanin reveals. "I'm not in a rush. I really want to enjoy this time and I really want to accomplish goals of mine that I am on the verge of doing. I have a book coming out, I have music coming out, just building my own brand. We're so close so I'm like, 'Let me just reach a few of these goals and then I will have my children and be so happy.'"