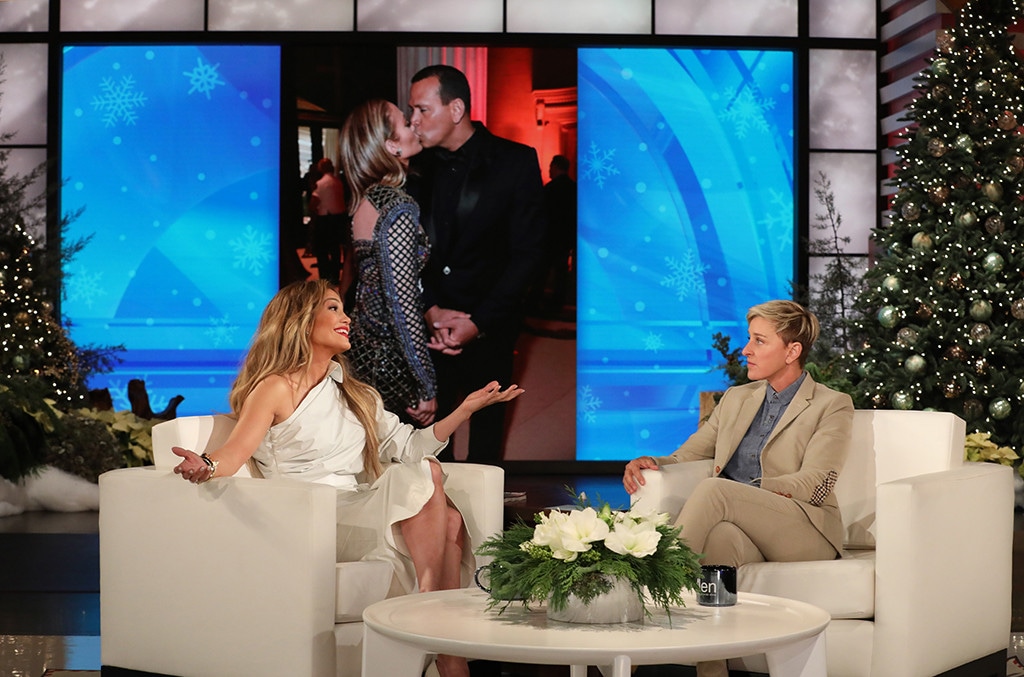 Michael Rozman/Warner Bros.
Jennifer Lopez stopped by Ellen DeGeneres' eponymous talk show today to promote her upcoming comedy Second Act (in theaters Dec. 21). But for a little while, the Emmy-winning host only wanted to discuss one thing: Lopez's intentions with Alex Rodriguez. "And your boyfriend...remind me of his name?" she teased. "He said y'all are gonna be getting married."
"He did not say that! he did not say that!" Lopez said with a laugh.
"He did!" DeGeneres lied. "He texted me earlier today...So, you'll be getting married?"
"I don't know," Lopez replied. "We've been together a couple years. It's nice."
As Lopez laughed nervously, DeGeneres told her, "It would be good to do for Christmas." Considering money is no object for Lopez, she said, "What do you give somebody [like you]? What did he say he was going to get you—something romantic, thoughtful but inexpensive?"
"Did he say inexpensive? That's not gonna work! We don't work overtime for all that!" Lopez said, later admitting she has no idea what to get him for the holidays. "I feel like I just made it through Thanksgiving; December 1 I start thinking about Christmas. It's not Dec. 1 yet, right?"
Lopez and Rodriguez, who will celebrate their two-year anniversary early next year, have been the subject of engagement rumors for months. In August, the former MLB player confirmed he had bought a ring for his girlfriend—but insisted he didn't propose. "She loved it," he said on NBC's Today. "Of course it has a significance. [But] no, we're not engaged. We're not engaged."
Although DeGeneres may be jokingly pressuring her to get engaged right away, the singer is fine waiting. As Lopez told E! News in February, "I don't like to pressure anybody for anything."