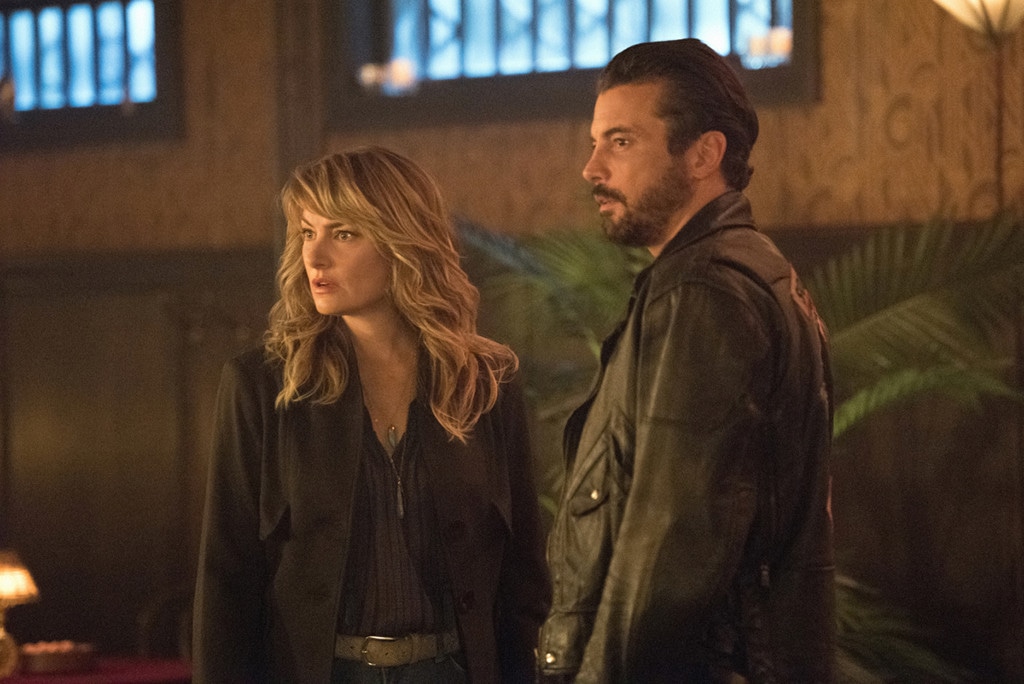 The CW
When there's Jiffypop popping in a dark kitchen, you know something spooky's about to go down.
That's how we immediately knew there was a Scream reference on the way in last night's episode of Riverdale, when Alice (Madchen Amick) put the pan on the stove and then walked away. She and Betty (Lili Reinhart) were then terrorized by what appeared to be the Gargoyle King inside their house, so they ran upstairs and into a bedroom. Suddenly, FP (Skeet Ulrich) was climbing in through the window, and they were screaming, just like Neve Campbell in Scream, when her boyfriend Billy, played by Ulrich, unexpectedly climbed through her bedroom window. 
When E! News was on the Vancouver set of the show, Ulrich said the scene definitely brought back at least one memory of filming the iconic 1996 movie.
"I think the only sort of flashback I had was when we shot that scene outside of Napa Valley. It was a real house and they had built this ledge onto the roof for me to squat down on and wait for the cue, and like I climbed in," Ulrich said. "This one, I got to climb a real ladder, so our show's better." 
Ulrich said the scene, which so directly references the movie, really speaks to the fact that Scream was a "self-effacing-of-the-genre kind of film." 
"It's just a matter of time before Suite Life gets brought of at this point," Cole Sprouse joked, and Ulrich, who was apparently a fan of Suite Life on Deck, added, "When FP's on a cruise..." 
Sprouse recently took on somewhat of an imitation of Ulrich in his Scream days when the teens played their parents in the flashback episode of Riverdale, though he says he didn't get much direction as to which way to go with it ahead of time. 
"We didn't really receive a brief on how we should play the characters," Sprouse said. "We didn't really get too much preparation aside from the fact that, you know, we've all been working with the people playing our parents for quite some time." 
But even then, younger FP in the script was a much different guy than the FP we all now know. 
"There's this kind of dilemma where you're going, I want to embody the character, but he's also a very different character when he was younger than when he was an adult, so to me, the thing that made the most sense was just like physical mannerisms and things--chewing gum, standing in certain positions, stuff like external representation that became super easy." 
Specifically, Sprouse deepened his voice a bit and rocked those two strands of hair in front of his face.
"I thought he was amazing," Ulrich said of the portrayal. "I think he's always amazing, to be honest, but I thought that one really...I think it brought to life a different side of FP that's quite helpful going forward to me. I thought he did a great job. I thought everybody did really extraordinary." 
Riverdale airs Wednesdays at 8 p.m. on the CW.