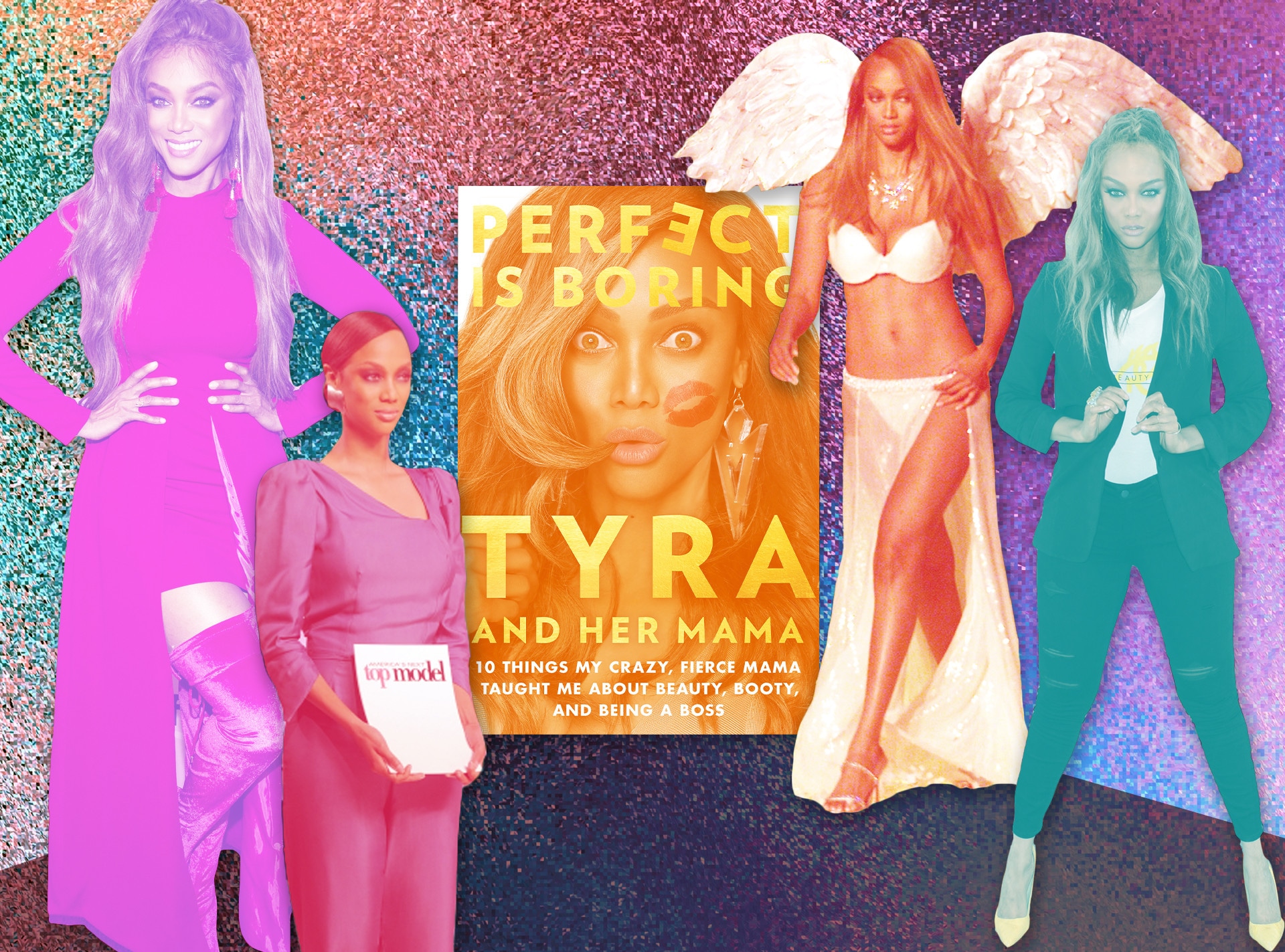 Getty Images; Melissa Herwitt/E! Illustration
When Tyra Banks told Tiffany to "be quiet," it was only because it pained the America's Next Top Model host to no end to witness what she felt was a promising young talent frittering away her big chance.
"Mama always told me that I was beautiful no matter what and that I was worthy no matter what, and that's the message I want to pass on to women and men everywhere," Banks reflects in Perfect Is Boring: 10 Things My Crazy, Fierce Mama Taught Me About Beauty, Booty and Being a Boss. "It ain't about me. It's about us. I don't want you getting in your own way as you strive to reach your big, fat, sexy, juicy goals."
It's been more than 13 years since Banks sent Tiffany Richards packing on Cycle 4 of ANTM, and those uncomfortable eight minutes have been psychoanalyzed for eternity, but the message has never stopped coming across loud and clear.
It can't help but be funny sometimes to watch Banks go from one of the girls to steely serious and back again on the reality-TV competition she co-created, the hardest working retired supermodel in show business lending how-tos in finding your light, working "pot ledom" into a song and, of course, the art of the "smize" the utmost gravitas. But she's merely preaching what she herself has practiced—and perfected.
In addition to having commanded center stage on Top Model for 23 out of 24 cycles, she produced and hosted her own eponymous daytime talk show from 2005 until 2010, no small feat in that packed landscape; won two Daytime Emmys for Outstanding Talk Show in the process; wrote a novel; produced and co-hosted The Fab Life; invested in job-hunting site The Muse; launched Tyra Beauty; and in 2017 took over as host of America's Got Talent. 
And just this past weekend, she was on Freeform reprising her role as doll-come-to-life Eve in Life Size 2, a long-awaited sequel to the 2000 original which co-starred another promising young talent named Lindsay Lohan.
"I talked on the phone with Lindsay a couple of months ago. I am proud of her," Banks told E! News in September at the AGT finale. "She's actually creating this, like, club dynasty!"
That's just Tyra, ever the champion for other people's success (or attempted comebacks).
But while life couldn't look more different now than it did for the pioneering model and actress 15 years ago, when Adrienne Curry took the first-ever ANTM crown and then moved in with Peter Brady, Banks has had that den mother vibe all along.
"I made a career [modeling], so I can't just say 'Oh, what I did was so horrible'—I did it for 20 years," Banks told ABC News in 2009. "But I was never the typical model. I planned for the end at the beginning—it was a career and a business for me. I used my platform to expand what beautiful is to people."
All told, her net worth is estimated at $90 million—but while the Internet can really only guesstimate, Banks has always kept a close eye on her bottom line.
"I love being able to go to a store, let's say a store like Topshop or Zara, or maybe even Macy's, depends on what department, and not have to look at the price tag," she told ABC News in 2009. "Rodeo Drive and all that, I'm looking at the price tag and gulping...I don't like expensive things. I buy property, and that has a lot more zeros behind it than a $10,000 bag...I like things that appreciate. I don't want to take something and the minute it leaves the shelf it depreciates."
Banks has indeed become quite the real estate tycoon in the Pacific Palisades, this year alone selling three properties in the posh West L.A. enclave, her most recent a modern four-bedroom for $4 million in September, four years after buying it for $3.295 million. (She does love hotels though, and her own bedroom and bathroom are modeled after the luxurious accommodations at the Four Seasons New York.)
But she has long had a head for business—it's how she was raised.
"While a lot of models were partying it up and going shopping and buying a closet of designer clothes or staying at the top hotels during fashion week, I was at the Doubletree or Embassy Suites, saving my money, and bought a house at 20 years old," Banks told Money earlier this year. 
"Also, when I was 19 years old, I was a new star on the rise," she continued. "My mom said, 'You're starting to make some money. It's not a lot, but I've read about this investment banker and I want to meet with him and tell him that he should start managing your portfolio. So she went to meet with him and he was like, 'Look, I don't take anything below a million dollars to start.'"
Banks' mom, Carolyn London, convinced him to take her daughter—a future star, she insisted—on as a client with a $10,000 investment, promising him he wouldn't regret it. 
He doesn't, as he remains Banks' money manager to this day. So consider trust and loyalty as important to Banks and her beloved mom, a former medical photographer with whom she cowrote Perfect Is Boring, as is good sense and saving for a rainy day.
Willy Sanjuan/Invision/AP
"About 15 years ago, my accountants pulled me aside," Banks told Money, "and they were like, 'Tyra. You're not spending money. Nothing. You're just giving it away to the government. You need to spend some damn money!' So we created something called the 'F Account.' Which was the 'frivolous account.' And I had a budget to spend frivolously for the year, every year. I needed that to feel safe."
What did she spend frivolously on?
"Stupid stuff," she said. "In hindsight, I should have bought art and things that appreciated. I was getting private planes, nothing to show for it. It was a private-plane kinda moment for me."
Numerous lucrative deals later... "I look forward to retiring one day," Banks concluded. "What I'm trying to do now is the portfolio. Businesses, the television shows. Things that are in the moment, capturing pop culture. [But] it's not a sustainable business. There are more legacy businesses that I'm creating that will sustain past me being on this earth. That's very important to me: Creating things that live beyond me."
The siren song of higher education also came calling for Banks, who skipped college in favor of working full-time. In 2012 she completed a nine-week Owner/President Management program from Harvard Business School's Executive Education offerings (which are primarily for working professionals who can afford what in 2019 will be a $44,000 per unit price tag).
"In order to take my business to next level, for it to scale… to leave a true legacy… I needed the book smarts, I needed the minds of those professors, I needed the education to get there," Banks told Fortune at the time. "I do not think I could do it without the education."
Last year she co-taught a class, "Project You: Building and Extending Your Personal Brand," at Stanford Graduate School of Business.
"They were necessary so I did not become obsolete," Banks summed up the various moves she's made over the years to Forbes. "I couldn't model forever, I needed a plan and I needed to change."
"Fierce. Funny. Heart," are the key components of the brand she herself built along the way.
Then there's the most obvious difference between life 15 years ago and life now: Banks is now the mother of a 3-year-old. She quietly welcomed her son, York Banks Asla, via surrogate in 2015. 
"The best present we worked and prayed so hard for is finally here," she first shared the news on Instagram in January 2016 with a photo of baby clothes. "He's got my fingers and big eyes and his daddy Erik's mouth and chin. As we thank the angel of a woman that carried our miracle baby boy for us, we pray for everyone who struggles to reach this joyous milestone. York Banks Asla, welcome to the world."
You can bet that taking maternity leave felt strange for a woman who has been working almost nonstop since she was a teenager.
Daniel Robertson/startraksphoto.com
"I really now am empowering my team more," Banks shared with E! News in March 2016. "I'm understanding delegation, that I don't have to do everything to make something successful. I'm on maternity leave, and Tyra Beauty is kickin' butt." She added, "It just goes to show...empower others and you can grow."
Banks and York's dad, Erik Asla, split up in 2017 after five years together but remain close as co-parents.
"You know, I don't know how the hell I do it all," she told E!'s Justin Sylvester in May. "I really don't know. My schedule is so packed right now...and I look at my life and go, 'Where does it fit?' But my time expands to the opportunity that's there in my life—though my son comes first."
While Banks teaches on ANTM the importance of social media to connect with fans and buoy one's brand, and she teaches by example, she has not made York part of the show online. She has posted only a few photos of him, and only one showing his whole face, taken when he was 16 months old. (Which, she told Seth Meyers later, she kinda regretted, it having been a hasty move to beat some paparazzi who snapped them at the beach to the punch.)
"I feel like, for my child, they need to say, 'Mommy, I want to be on TV,' 'I want to do that.' And until he says that, and is old enough to understand what that means, I keep it very private," she explained to E!. "I am the one that's decided to go into the entertainment industry and he's my offspring, and I don't think that means that he needs to be a part of it too. 
"However," she added, her voicing slipping into squeal territory, "I do love looking at other people's kids on Instagram. I love it!"
Banks is hardly alone there.
Yet another thing that has changed for Banks: She resisted being called a mogul (namely, "America's Next Top Mogul") when the word started to crop up in 2008 and 2009, namely because she thought she was too young to have achieved what the word implied. Now we feel as though she wouldn't dismiss the title out of hand.
And not because she thinks of herself as old enough now. Rather, because the 45-year-old star, who's celebrating her birthday today, has grown into owning her success.
Growing up a skinny—"not just supermodel thin, that's just, like, what's-wrong-with-her thin"—kid in Inglewood, Calif., Banks didn't aspire to walk runways and be in magazines. 
Basically she didn't think of it until a friend asked her if she'd ever considered modeling, because she could totally be a model.
Modeling "wasn't something that I always wanted to do," Banks told ABC News' Cynthia McFadden in 2009. "It wasn't like I grew up and looked at magazines and said, 'Oooh, that's so glamorous, I wanna do that.' It found me."
Her parents divorced when she was a kid and her mom moved Tyra and brother Devin Banks (who later became an officer in the Air Force) to a one-bedroom apartment. London promised they'd move into a two-bedroom place the next year, and a three-bedroom apartment after that—all of which they did.
Banks started modeling as a 5'9" 15-year-old while attending Immaculate Heart High School, and as long as she lived at home she helped her mom out with the rent.
Even though she was working, she heard her share of disconcerting remarks from agents, such as, "We already have a black girl." She signed with L.A. Models and then Elite Model Management and her portfolio started to grow at a rapid clip, but Banks recalls not getting much encouragement from people in that world.
Which only made her more determined to show everybody what she was made of.
Victor VIRGILE/Gamma-Rapho via Getty Images
She walked in her first Paris Fashion Week in 1991 and became part of the Europe-to-New-York-and-back-again jet set, as well as a face of CoverGirl starting in 1993.
Life wasn't one big party for Banks, however, not least because she started out so young.
"Modeling is very lonely. Actresses or singers travel with entourages, with their hair and makeup people and tour managers. Models are alone," Banks recalled in an essay for Newsweek in 2008. "Even when you're the biggest supermodel in the world, you're alone. I tried to get to L.A. and hang out with my high-school friends as often as I could."
Banks also got a nose job early on in her career to repair damage she suffered in a fall when she was 3. It was a makeup artist who told her after a year of working together that something wasn't right, that she could see that her nose was growing and could feel shards of bone moving beneath the skin. After a consult with a plastic surgeon whose "after" sketches made her nervous, Banks and her mom made sure to find her a doctor who specialized in ethnic features.
"In the end, it was kind of medical and kind of cosmetic, and I was so happy with the work, because I'm so proud of my culture and I don't want to erase my African-American heritage," Banks told W in April. "And the itching stopped!"
Meanwhile, after a few jam-packed years of runway work, Banks gained a little weight—enough to get her deemed too curvy for high fashion. So, Banks took her talents to lingerie and swimwear, which welcomed her with open arms.
She started modeling for Victoria's Secret in 1995—after an inauspicious first day, when she showed up for a photo shoot and the stylist didn't know what to do with her hair.
When she managed to rebook with them, she returned with her hair already done. But she made sure she only had to do that once.
"I'm the first black woman to have a contract, to be an Angel, to wear a Fantasy Bra—all of these different things, because I stopped silently suffering," Banks told W. "And I do have to take my hat off to Victoria's Secret, because that was the last time I ever had to do that—I talked to them and said, 'Look, my hair is different, I need somebody who can do my hair.' After that, they hired people who could do my hair for 10 years."
In 1993 she had a guest arc on The Fresh Prince of Bel Air. In 1996 she became the first African-American model to be on the covers of GQ and the Sports Illustrated Swimsuit Issue, the latter of which she shared with Valeria Mazza. In 1997, she commanded the SI cover solo and became one of the first Victoria's Secret Angels, as well as the first black model to cover their famous catalog.
Banks' strive to be inclusive in her own projects now stems from her experience as a supermodel who carved out a niche for herself and then strove to share the space with others who didn't necessarily fit into the classic petite box where most models resided.
KMazur/WireImage for Full Picture
When she hung up her wings in 2007, Banks told The Guardian, "Victoria's Secret told me I sold more bras and panties than anybody else, and I was traipsing down that runway with 30 pounds more booty than the other girls. So it had a lot to do with my success, my weight, but it's also always been issue for me, so I can relate."
By the time she "retired" from chapter one of her career, she was already working on the rest of the book.
"I never lost the dream of being in TV," Banks wrote in Newsweek. "When I hit 32, I said, 'Let me leave this industry before it leaves me.' I didn't want to be like those boxers who continue to get beat up and say they're going to retire, but they don't, and then their legacy is marred. I wanted to leave on top."
Considering the hurdles she had to clear over the course of her modeling career, it's both fitting and ironic that Banks and whoever was sitting in judgment with her on the panel on any given episode of America's Next Top Model didn't pull many punches when it came to telling the contestants what worked and what didn't.
It is a modeling show (or was—there hasn't been any confirmation yet that it's coming back for cycle 25), so the ladies—and, in a few seasons, the men—are expected to carry themselves a certain way and, yes, look a certain way, though Banks was vocal about showcasing a more inclusive definition of beauty, and every season the competitors would make for one of the more diverse lineups on reality-competition TV as far as race, ethnicity and sexual orientation went.
Isis King became the first transgender model to compete on the show, in 2008 and again in an all-star round in 2011. Cycle 13 in 2009 featured women 5'7" and shorter, after which they did away with the 5'10"-minimum requirement; the contest opened up to men in Cycle 20; Winnie Harlow, who has vitiligo, first made a name for herself on Cycle 21; and Cycle 22 winner Nyle DiMarco, who went on to win Dancing With the Stars, is deaf. And last year, they got rid of the age limit, making for the show's first thirty- and forty-something contestants after 23 seasons of needing to be 27 or younger.
"This whole world of glamour and all of this, and adornment and stuff, is something that I saw from the outside first and then entered it, and then was still able to see, 'Wow, this is still so limiting,'" Banks told E! News in an interview in April.
"This world has accepted me, my big forehead and my skinny calves, and my hips that are maybe a little bit too big, and I'm still modeling. But there's still a narrow door and I decided that I wanted my path and my passion, and the reason why I get up every day, is to make that door open wider so that different types of beauty can fit through. I think that really goes back to my mom, teaching me about what  beauty is and that it's not just one thing."
At the same time, the series' sole "plus-size" winner, Whitney Thompson, seemed no bigger than the regular, non-model-definition of curvy; and everyone who's won the title has been society-grade-A beautiful. Beautytainment, at the end of the day, is no fairy tale.
"It is important for women to feel beautiful when she looks in the mirror and I tell women if you don't feel beautiful, find one thing that you can look in that mirror and say that is beautiful," Banks told ABC News in 2009. "I'm choosing girls that are what I call debatable beauty. Sure, you gotta have your standards in there, if everyone is debatable people might go, 'I don't get this' ... but 60 percent of my cast are debatably beautiful."
Last week on Watch What Happens Live, a caller asked Banks what she though about Harlow saying earlier this year that ANTM was more reality show than career launcher (but she was grateful for the experience.
Banks' reply: "Did she say that? I discovered her on Instagram." 
But, the ANTM co-creator, executive producer and host added, "I have nothing but love for my girls and my girls come from so many walks of life and so much pain and so much hardship and so much story, and a lot of the times when people express themselves in certain ways, there's a reason. I will respect her confidentiality and her life, but yeah."
TIMOTHY A. CLARY/AFP/Getty Images
Banks also mitigates being part of the modeling machine by being open about all the work that goes in to making her look the way she does when she's all made up. And she thinks that people, women especially, shouldn't judge each other for taking pains with their appearance.
"This whole beauty thing is like a lottery," Banks told E! News in April. "I like to level the playing field, and I like to teach girls and women everywhere, and even men now, you can do your hair this way, or do this, this doesn't just have to be something you are given with genes, that there are things that you can do to adorn yourself and have fun and level that playing field."
There's nothing wrong with fake hair, fake lashes, fake nails, etc., if that's what makes you feel good, is Banks' take.
"I take it personally," she said. "There were models that could wake up and just go to set with just a washed face and a little lip balm, but it takes me awhile—it takes a village to create me, to create this look of me looking like a model. And once I do, yes, I know I can be fierce and sell a magazine cover and do all of that." She snapped a finger for emphasis. "But it takes a village, and I want to give the tools of that village to women and men everywhere." (Aside from the life experience offered in Perfect Is Boring, many such tools are available from Tyra Beauty, which Banks started in 2014.)
On various episodes of her talk show, she peeled off her weave; told body shamers who made fun of a paparazzi pic of her in a bathing suit to "kiss my fat ass," while standing there wearing the same swimsuit; and, most memorably, donned a fat suit and got on a bus in L.A., went shopping and went on three blind dates to see for herself how heavy people are often openly judged in public and can be treated unfairly. Weight and body image were regular topics during Tyra's five-season run.
But while she doesn't shy away from sharing her life-experience-informed opinions, Banks has said that she's not always the assertive boss she plays on TV.
Asked about rumors back in 2009 that she was hard to work with, Banks told ABC News, "I wish I was more of a diva. I wish was harder, I wish I didn't care so much about being the nice girl all the time. Because a lot of the time people can take kindness for weakness ... so I wish I had a little bit more 'oomph' in me."
And that's still something she's working on to this day.
She told Money in April, "I wish I was a little bit more [assertive]. I'm the opposite. I'm conflict averse. Many years ago, I hired an executive coach that helped me with confrontation with team members. She taught me to count to 10 and blurt it out. I was doing so well when I was coaching with her, and then I stopped, because I thought I had arrived. And I went back to those same old habits."
But whatever Banks has been doing in business is obviously working. Unlike a nose that's needed fixing for 15 years, some things may not be as broken as they feel.