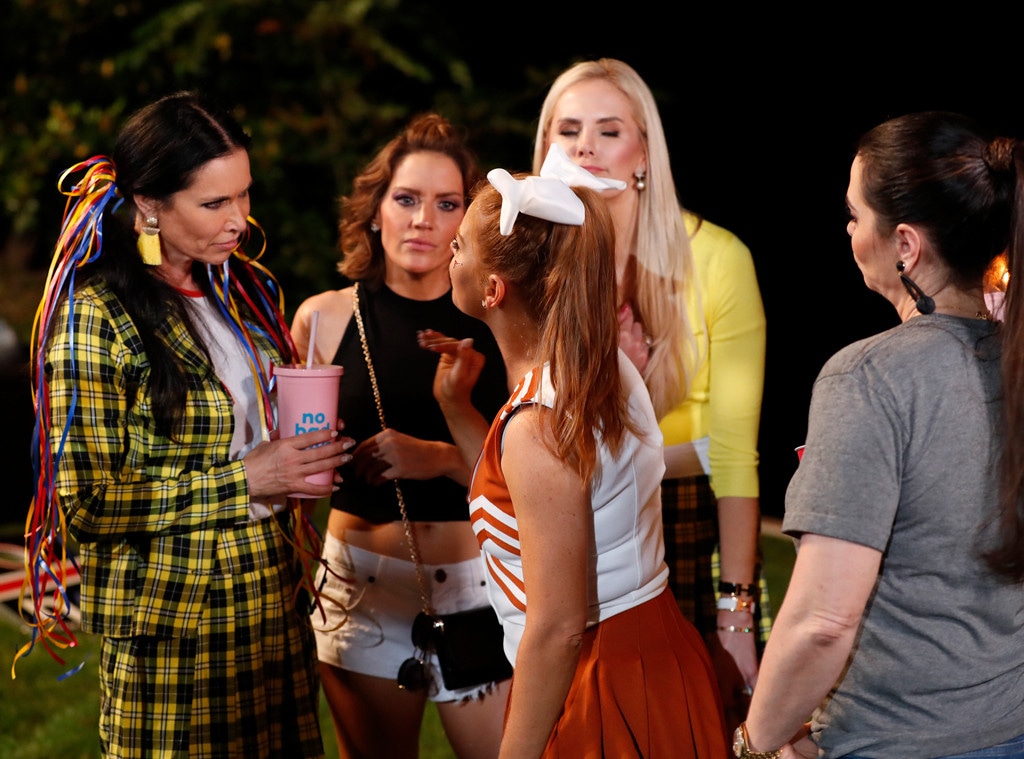 Bravo
You can tell you're watching a Real Housewives series by a few trademarks: The hair extensions and weaves flow freely, the make-up on the ladies is almost always perfect, even at a midday meal, there's a little petty drama in almost every scene, and lately, somebody is calling a costar an alcoholic or leveling substance abuse accusations. It's time to drop that last indicator, for the sake of the series.
This recent and rampant allegation hurling is hurting the franchise, and it's spreading from city to city, from The Real Housewives of Orange County to The Real Housewives of New York City. It's everything from drinking too much to doing cocaine and popping pills.
It happened with Dorinda Medley on The Real Housewives of New York City, even after Luann De Lesseps went into treatment during season 10. On the most recent season of The Real Housewives of Orange County, some of the other ladies questioned whether Shannon Beador had a drinking problem when she was witnessed pouring herself a drink after a heated argument. Then, Vicki Gunvalson accused Kelly Dodd of using cocaine during part one of the season 12 reunion. In the current season of The Real Housewives of Dallas, LeeAnne Locken questioned whether D'Andra Simmons was going down an alcoholic path with Brandi Redmond. LeeAnne also flat out called Brandi an alcoholic and raised her concerns elsewhere.
For that, LeeAnne apologized in her blog, but qualified her behavior.
"I should have never allowed myself to get so worked up that I used the word 'alcoholic' to Cary. It was out of bounds, and I was wrong. Here I am OWNING IT, and soon I will be APOLOGIZING for it!  I am a human who has been PUSHED and PUSHED to go off for 11 weeks now! After hearing the word "alcoholic" come out of D'Andras mouth a million times, I finally fell in the hole! GIRLS ARE MEAN! Brandi and D'Andra have purposely antagonized me for WEEKS, and to be honest, I was getting more than a little tired of it! I should have gone home and meditated rather than express myself to Cary and Kameron in a public place," LeeAnne wrote in her Bravo blog.
A later episode of the season demonstrated just how dangerous the allegations can be. Brandi began the adoption process with a baby boy at the beginning of the season, and it wasn't finalized yet as LeeAnne was saying she had a problem with alcohol. "Let me tell you how much that hurts me. My adoption is not final, you insinuating something like that, you could hurt me,' Brandi cried.
Again, LeeAnne apologized.
"I am allowed to enjoy a night out with my friends and can have a glass of wine whenever I please. I am not an 'alcoholic,' nor am I a 'drunk.' I am a devoted mother of three that likes to have some fun every now and then when I get to go out with my friends," Brandi wrote in her blog. "Thank you, next!"
Calling somebody an alcoholic or alluding to substance abuse problems on camera now seems lazy. It's a way to create drama and faux concern, and it can be damaging, as Brandi pointed out. It's a petty way to attack a costar, while also belittling those who actually struggle with the disease.
Season five of The Real Housewives of Beverly Hills featured Lisa Rinna concerned with Kim Richards' erratic behavior. Kim has sought treatment in the past, and later it came out she was struggling with her sobriety. Sure, you can poke holes in the way Lisa went about voicing her concerns about Kim, but in this instance, there was actually a woman going through something. Lisa was on the other side of things in The Real Housewives of Beverly Hills season seven when whispers started about her abusing pills started flowing.
The Housewives stars often label somebody an alcoholic based on slight, they're either being ganged up on or in an argument with a costar, so out comes the "a word." This person is drinking too much with this person, this person said something mean while at a party. There's hardly ever actual concern when the label is thrown out. And when there is, real conversations generally are had, like Bethenny Frankel had with Dorinda while in Puerto Rico during RHONY season 10.
There are other ways to sling mud, which is why many viewers watch Housewives, let's give the "alcoholic" label a rest.
(E! and Bravo are both part of the NBCUniversal family.)