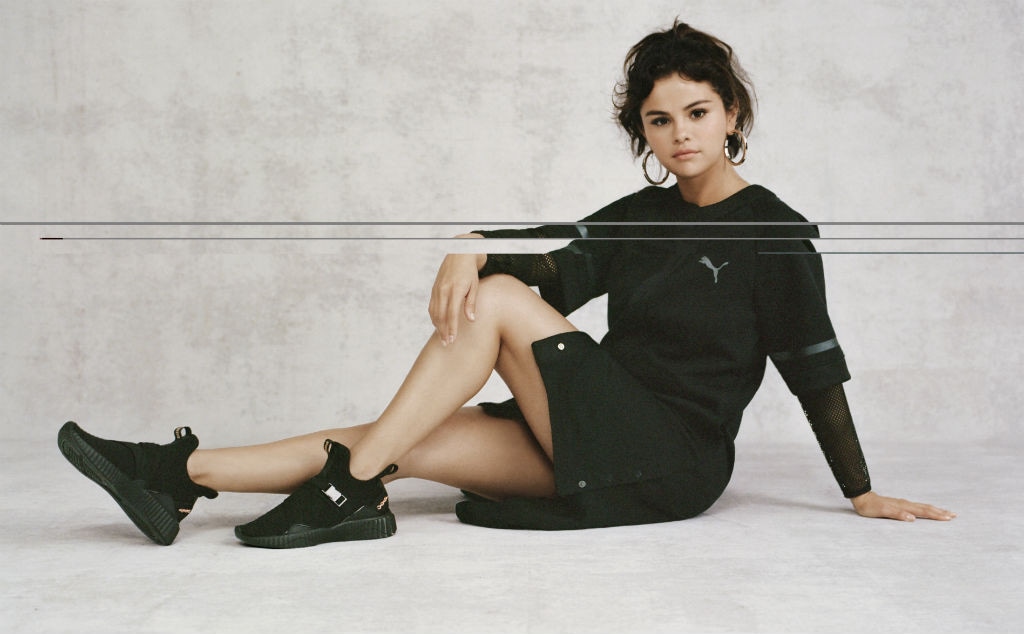 PUMA
Selena Gomez stars alongside her BFFs in the new SGxPUMA campaign.
The 26-year-old "Wolves" singer and her closest pals appear in a just-released campaign video for her new activewear collection, Strong Girl. Gomez, who has been taking time out of the spotlight recently to focus on her health, opens up about her latest collection and speaks candidly about body image and her insecurities in a new interview, posted by Elle on Wednesday.
"I get really insecure sometimes, I go through weird ups and downs, but in general I just want people to wear what they feel comfortable in," Gomez shares with the outlet. "My assistant, she'll wear workout clothes everyday. But she doesn't work out. It's just become a lifestyle, and she loves it. She loves how she feels and she loves how she wears it, and I mean, that's what I want everybody to feel. She's inspired me a lot too."
Some of the pieces in the new collection include a secret message about strength, which Gomez hopes will help encourage women.
"I want to encourage women. I really would love to use my platform for good, and along the way have so much fun with movies and the music," she says. "I wouldn't be able to do any of it if it weren't for the people that supported me, and that kind of sounds like a cliché, but it's true. So I think for me, I've always wanted to be a good example. Not because I'm not going to mess up—I f--k up all the time. It's more just that I want to be honest with them. I'm going to say: I'm trying the best I can and that's what you can do too—just try the best that you can, and it's hard. And you're not alone."
"I think it's important for girls to know the strength in everything, their identity and their soul, lies within themselves," Gomez continues. "And too much today you give that away so easily, from social media to school or relationships. And I think it's important—I want to remind girls that they're perfectly strong the way they are."
Talking about the collection in a new campaign video, Gomez says, "I always like to have some quality where I bring out the best in a girl, 'cause I was that girl, I mean I feel insecure all the time, I feel awkward. It's something where I feel like I can connect with them through music, through film, and now I get to do it with this."
When asked what she would tell a young girl about strength, Gomez says that it "definitely comes from within."
"All my friends who are a part of this shoot, and all have different body types, and it's just beautiful to see them wear things that just make them feel good," Gomez shares in the video. "I don't know what I would be without my friends. They've saved my life, they've been there for me through the thick and thin of it all. I get inspired by a lot of women, I love women."
"Strong Girl is something I try to be every single day, and it's so hard, it's so hard," Gomez admits. "For me, I feel best when my mind is right and my body is right. It is not weak to be vulnerable or to share what's on your heart. Real strength is vulnerability, honesty and compassion."
"When I first started working with PUMA, from the get go they understood what my message was, which is to bring out the best in a girl – make them feel strong, powerful and confident," Gomez shares about the inspiration behind the collection. "At some point, I was that girl. I felt insecure all the time and awkward, but it's something where I feel like I can connect with them through music, through film, and now I get to do it with this amazing collection.
"Originally it was just supposed to be shoes, but I got to do an entire collection myself and I wanted it to feel very classic, using my favorite colors," Gomez explains. "That's why I included the windbreaker vibe, cute tank-tops, and a lot of athletic wear, which is stuff I have worn my whole life. For me it's very important to have the go-to looks because you never get tired of those."
You can check out the SGxPUMA Collection when it becomes available on Dec. 12 at PUMA.com and selected retailers. For those living in Los Angeles, you can shop and experience the collection early at the SGxPUMA Pop Up on Dec. 8 and 9 at 8382 Melrose Ave, opening from 11 a.m. to 7 p.m. A surprise will be gifted to the first 50 people that arrive at the shop on both days.