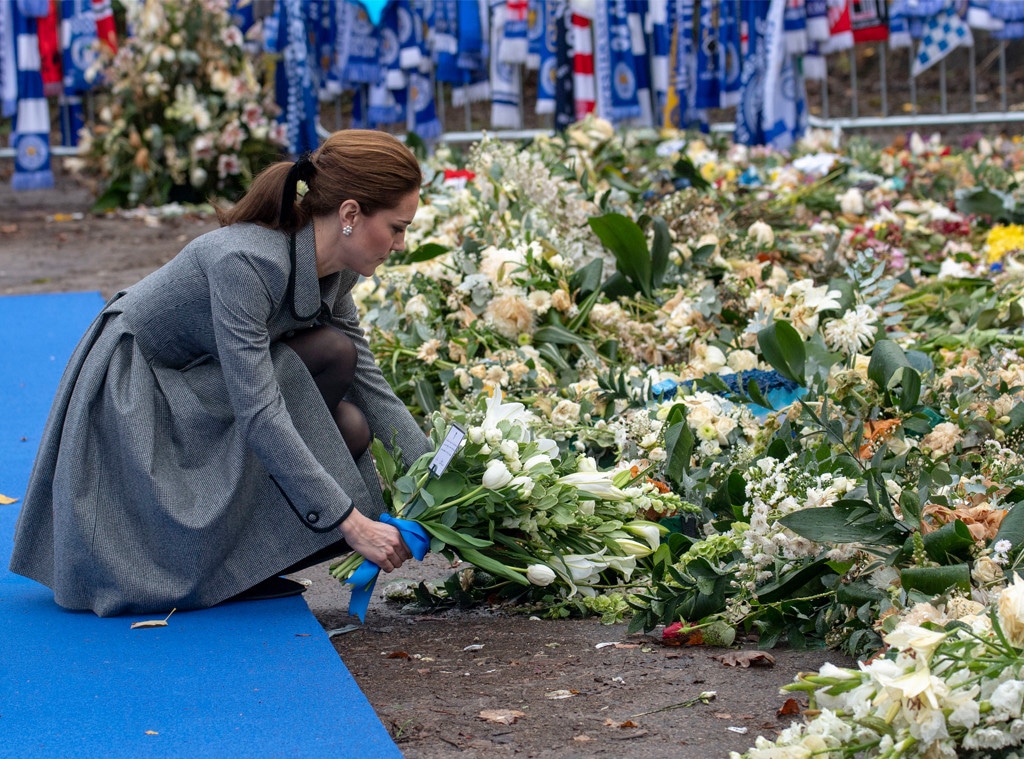 Arthur Edwards/The Sun/PA Wire
Prince William and Kate Middleton visited Leicester on Wednesday to pay tribute to those who died in a helicopter crash in October, including Leicester City football owner Vichai Srivaddhanaprabha.
The Duke and Duchess of Cambridge, who knew the club owner, met with his son Aiyawatt, wife Aimon and daughter Aroonroong, who greeted them at the tribute site. Vichai was one of five people killed in the tragic crash on Oct. 27. In their memory, flowers and messages have been left near King Power Stadium. 
Kate was photographed leaving a bouquet of flowers at the site, along with a card signed by the couple. "To Vichai and all those who died in this terrible tragedy, you will be dearly missed," the note read. "Our sincere condolences to the city of Leicester."
The other four victims in the crash were club employees Nursara Suknamai and Kaveporn Punpare, pilot Eric Swaffer and his partner Izabela Roza Lechowicz, who was also a professional pilot.
Prince William later honored Vichai in a moving speech at King Power Stadium.
"Catherine and I wanted to visit Leicester to pay tribute to a man that we knew, Vichai Srivaddhanaprabha and those who died alongside him in October," William said. "We knew Vichai as a man who cared deeply about his family and also his community. He of course was a man of wealth, but that wealth did not leave him disconnected from those around him. He believed in giving back."
Arthur Edwards/The Sun/PA Wire
"Catherine and I also wanted to come to Leicester because of what the people of this city, and fans of this club, have shown us all over the last few weeks," William continued. "In 2016, this football club did something that should have been impossible. Against odds that are now the stuff of legend, you took on the Goliaths and superstars of the world's most famous football league. In powering past them all to win the title, you wrote the best underdog story in the history of modern sport."
"And when the man that led this club to victory died so tragically, the people of this city revealed with their outpouring of admiration, that they too shared much of the character that was so central to who Vichai was," he told the crowd. "In a time when our football clubs have become huge global enterprises, you came out to thank Vichai for making the fans the true owners of this club. And you thanked him for investing the rewards of success in the future of Leicester City."
Arthur Edwards/The Sun/PA Wire
"You showed that community mattered to him and to you all. You showed us that the losses experienced by other families need to be felt keenly by our own," William went on to say. "You were paying tribute to Vichai, Kaveporn, Nusara, Izabela, and a man I had the privilege to fly with in the past, Eric Swaffer."
"But you were also paying tribute to the fact that sport - when played with passion, but also with humility and respect - can bring us all together," William concluded his speech. "Thank you for the example you have provided us. And thank you for welcoming us here today."