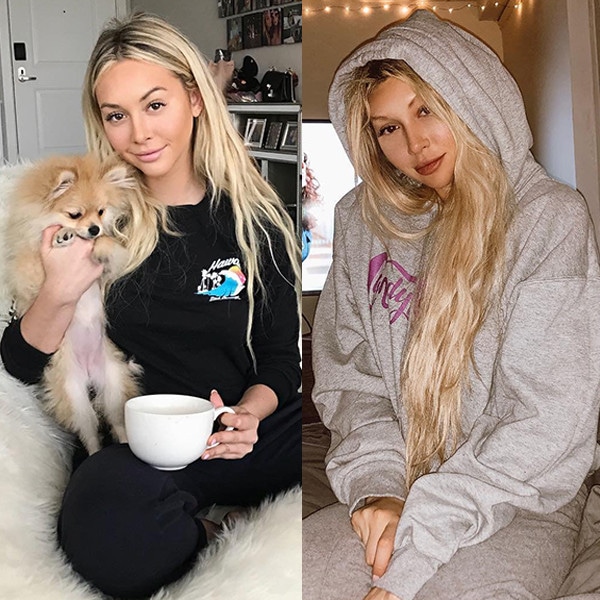 Instagram
Contrary to popular belief, Corinne Olympios insists she hasn't altered her appearance.
The 26-year-old reality star, who rose to fame on The Bachelor and Bachelor in Paradise, regularly posts selfies for her 754,000 Instagram followers to comment on and "like." But one particular image, taken on Thanksgiving, raised more than a few eyebrows. Quoting Mean Girls, a seemingly bare-faced Olympios wrote, "Sweatpants are all that fits me right now, OK?! Gosh."
Needless to say, the comments were brutal.
"What the f--k happened to your face?" one user wrote. Another asked, "Who is that? That's not you...right?" One user suggested she "ease up on the Botox," while someone else said, "Corinne was perfect before. I am so confused. There is no need to do any cosmetic surgery."
"Clearly you got your face reconstructed and it doesn't people bad," a user said. "People are just annoyed because you were pretty to begin with. Looks like you started in one place and then got carried away. You don't need any more of that s--t. Natural is much more beautiful."
Olympios was tired of the running commentary. So, to silence her haters once and for all, she filmed two videos and uploaded them to Instagram Stories Tuesday night. "Good evening, ladies and gentlemen. I just thought I'd come in here and say hi because all of y'all are freaking out about my pictures saying that I got plastic surgery and did stuff to my face. No, it's still me. Here I am—no makeup. It is so sad that I felt the need that I had to come on here just after a shower—no makeup, no filter—and show you guys my face, because a lot of you seem to think I do plastic surgery on my face and you're all s--tting on me," Olympios told her followers. "So, here I am."
The ABC star, who sells lipsticks and more on Platinum Beauty Shop, signed off later that night.
In spite of Olympios' firm denial, many of her followers remain unconvinced.