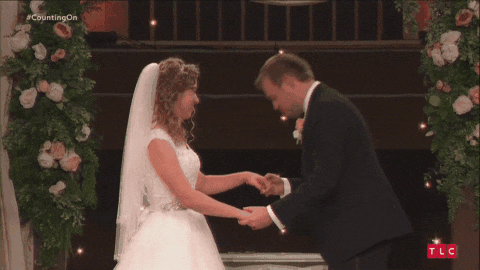 TLC
Uh, John-David Duggar, that's not the way it goes...but wow.
The 28-year-old married Abbie Grace Burnett in early November after "courting" her for about four months. On Tuesday, their wedding was shown on an episode of his large family's TLC reality show Counting On. True to Duggar family tradition, he waited until his wedding to kiss his love for the first time.
And it was a doozy.
It started out awkward.
After the pastor told John-David he could kiss his bride, he bent down and...lifted up and kissed her left hand, drawing laughs. He then kissed her right hand.
Then her left shoulder. Kiss No. 4? Yep, her right shoulder.
"You're so silly," Abbie said, giggling.
John-David then put his hands gently on her face and kissed her forehead.
He then kissed both her cheeks...
...before finally moving in for a long, passionate kiss on the lips.
Total time: About 45 seconds.
The Counting On star and 19 and Counting alum is the second-eldest son of Michelle Duggar and Jim Bob Duggar and the eighth child in the family to get married.
John-David is not the first Duggar to buck tradition when it comes to his first kiss. While seven of his siblings opted for traditional kisses at the altar, his sister Jessa Duggar Seewald and Ben Seewald opted to share theirs in private at their wedding.