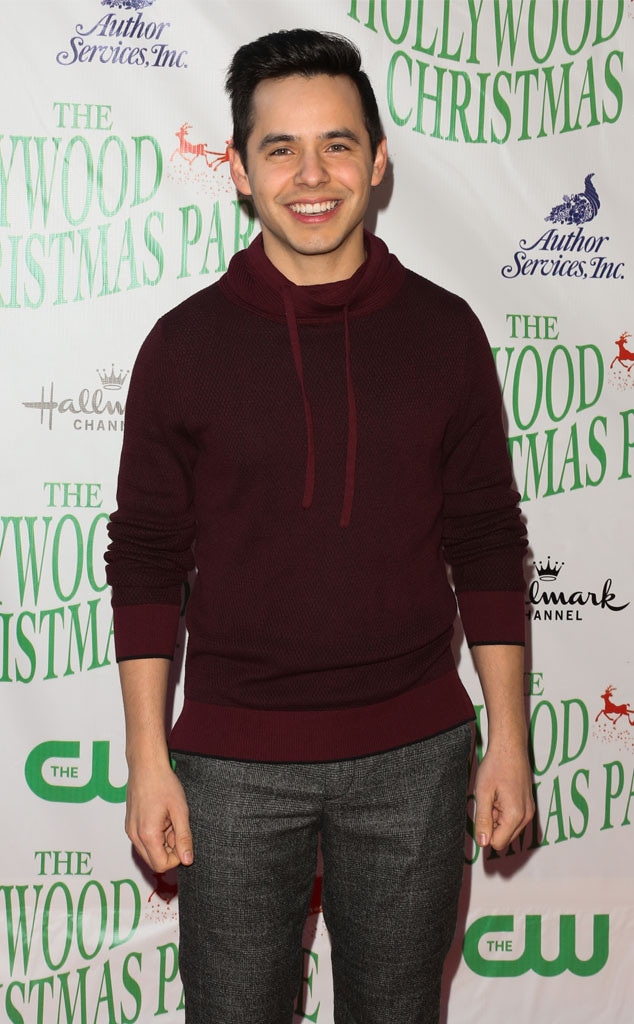 Paul Archuleta/Getty Images
David Archuleta is opening up about his experience on Season 7 of American Idol and what life has been like after the show.
Archuleta was the runner-up that season and lost to David Cook, but he's still churning out music and just released another Christmas album called Winter in the Air.
The singer was a mere 17-years-old when he skyrocketed to fame on the reality television show. The perpetual attention and life in the public eye played a big role in impacting his family dynamics, mental health and future music career. Archuleta opened up to Yahoo Entertainment about his experience on Idol and how the show left him with "its own kind of PTSD."
The Idol alumni, however, seem to have a close-knit bond due to their shared experience. Archuleta gets together with fellow singers such as Melinda Doolittle, Cook, Kris Allen and others and they have the opportunity to relate to one another about what they are currently going through. "When we get together, we're all able to talk, and it's like, 'Oh my gosh, you're going through the same thing I am! I thought I was the only one who was feeling like that!'" Archuleta explained to Yahoo. "We're all so different from each other, we even sing different types of songs, but we have that connection because we understand each other without having to really try to explain ourselves."
As for the "PTSD" part, the Forevermore artist said a lot of stems from "the pressure" they face as reality show contestants. "You're basically a character on a TV show, and parts of it are worked so that it fits the TV show — but they're using your personal life. So you become this character, but it's with your own name, parts of who you actually are, but other parts that are portrayed in a way that you're not actually," he said. "Then everyone feels like they know you, and they know what you are, and they know how to treat you, and have certain expectations."
Some of these "expectations" that Idol fans had throughout the show involved Archuleta's dad, Jeff Archuleta, who people dubbed a "dadager." Archuleta acknowledged this and explained that his father's attitude and actions were all a "misconception." He elaborated, "People thought my dad had a lot more control than he actually did. Yeah, I don't always get along with my parents, and I did have some struggles with my dad, but I feel like a lot of those struggles were created from American Idol."
He added, "They were willing to portray me and my dad in a way that made it really difficult for all of my family."
Although he says much of the tension was concocted from the show, his frayed relationship with his father was very much so real. He told Yahoo, "I felt very guilty because of how it affected my family, because we loved our dad. I love my dad too, and to be in the place where it's constantly contentious and I was encouraged to question my dad — that's what I feel like really hurt my relationship with my dad. And it made him feel really lonely."
It's taken some time, but Archuleta confirmed that he and his family are "doing well" and that they've "all grown."
"I feel like my family's in a happy place again. A lot of healing has taken place. I love my dad. I have a good friendship with him," Archuleta disclosed. "It made my family become stronger. I feel like we became a lot more bonded because we had to say, 'Can we really trust each other?'"
Jeff was an advocate for his son and helped jump-start the idea of putting out a Christmas album. Archuleta's label apparently wasn't initially pleased with that because they wanted him to be "the white Chris Brown."
Archuleta's extremely transparent interview with Yahoo also delved into mental health and how therapy has helped him grow. He revealed that he went to a therapist who specializes in reality TV stars (and was recommended to him by Doolittle), and called it "refreshing" because he was able to be more open with his Idol peers. 
Overall, therapy has helped Archuleta realize, "Maybe I can let people into my life. Maybe I can be more trusting." He knows now the importance of staying true to himself and how doing so can help a career, not hurt it. It's all about the mindset.
He concluded to Yahoo, "You have to take care of yourself, even if you're not as popular or hip as Chris Brown. You can still find happiness, you can find balance, you can find confidence in who you are — without being someone else."
Read Archuleta's full interview with Yahoo here.