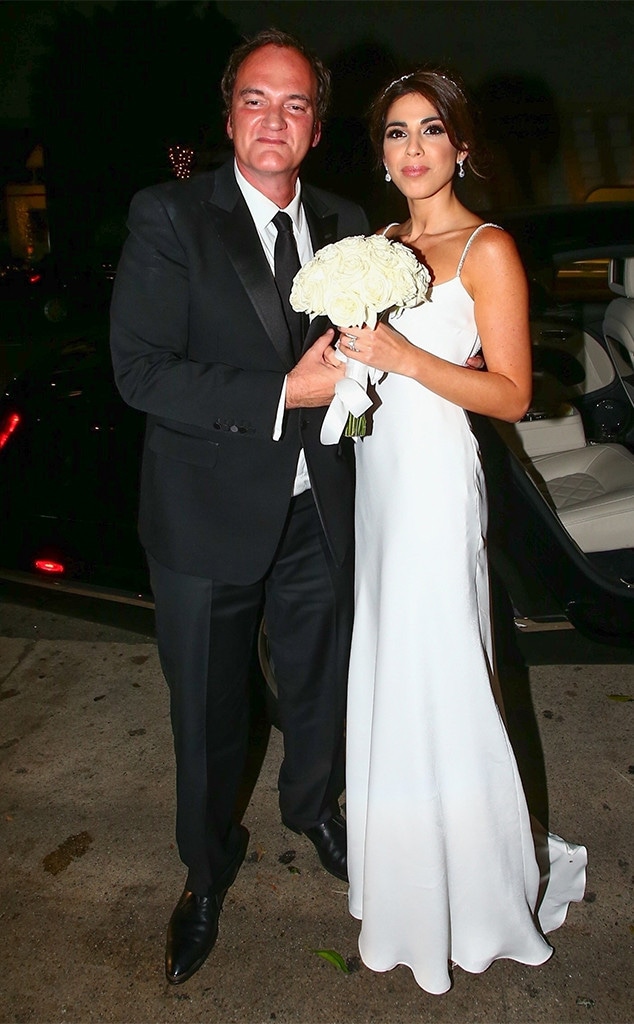 CPR / Dsanchez / LALO / BACKGRID
Quentin Tarantino is officially a married man!
E! News can confirm that the Hollywood director and his longtime girlfriend Daniella Pick became husband and wife Wednesday night after a romantic wedding ceremony.
"They got married in an intimate and private wedding with close friends and family in their place in Los Angeles," Pick's rep tells E! News.
The bride wore a Dana Harel gown and Keren Wolf jewelry for the event, which was planned with help from Events by Shideh. A source told E! News, "The ceremony was inside in front of a small group of family and friends including Harvey Keitel, Tim Roth and Eli Roth. There were only about 20 people and it was very intimate and private."
The insider added, "Daniella wore a white slip dress and her hair pulled up in a bun with a diamond headband. She held a bouquet of white roses. Quentin wore a dark suit and tie." The source said the ceremony last "about an hour." 
From the looks of it, the newlyweds were showing lots of love and affection for each other. The source said, "Quentin and Daniella held hands and kissed everywhere they went. Eventually they left and were take to Beverly Hills for a dinner reception."
Friends and family gathered together to celebrate the couple's love story that first began when Quentin traveled to Israel to promote his 2009 film Inglourious Basterds at the Jerusalem Film Festival.
A proposal occurred last summer and the couple has since been busy planning their wedding while also celebrating their engagement.
"THANK YOU FOR ALL THE LOVE. We're so excited and happy to celebrate our engagement here in ISRAEL," Daniella wrote on Instagram last summer. "Thanks for your kind wishes. We feel truly blessed."
Fans speculated that a wedding could be in the immediate future after Daniella took to Instagram Stories this week to showcase memories from her bridal shower.
Held at The Peninsula Beverly Hills, the celebration featured treats from Bottega Louie and appears to have been planned by Kevin Lee Weddings.
This marks the first marriage for Quentin who previously expressed his thoughts on dating and getting hitched in the middle of his busy career.
"When I'm doing a movie, I'm not doing anything else," he previously shared with GQ. "It's all about the movie. I don't have a wife. I don't have a kid. Nothing can get in my way."
Quentin continued, "I'm not saying that I'll never get married or have a kid before I'm 60. But I've made a choice, so far, to go on this road alone. Because this is my time. This is my time to make movies."
And now it's time to celebrate! Congratulations to the couple.