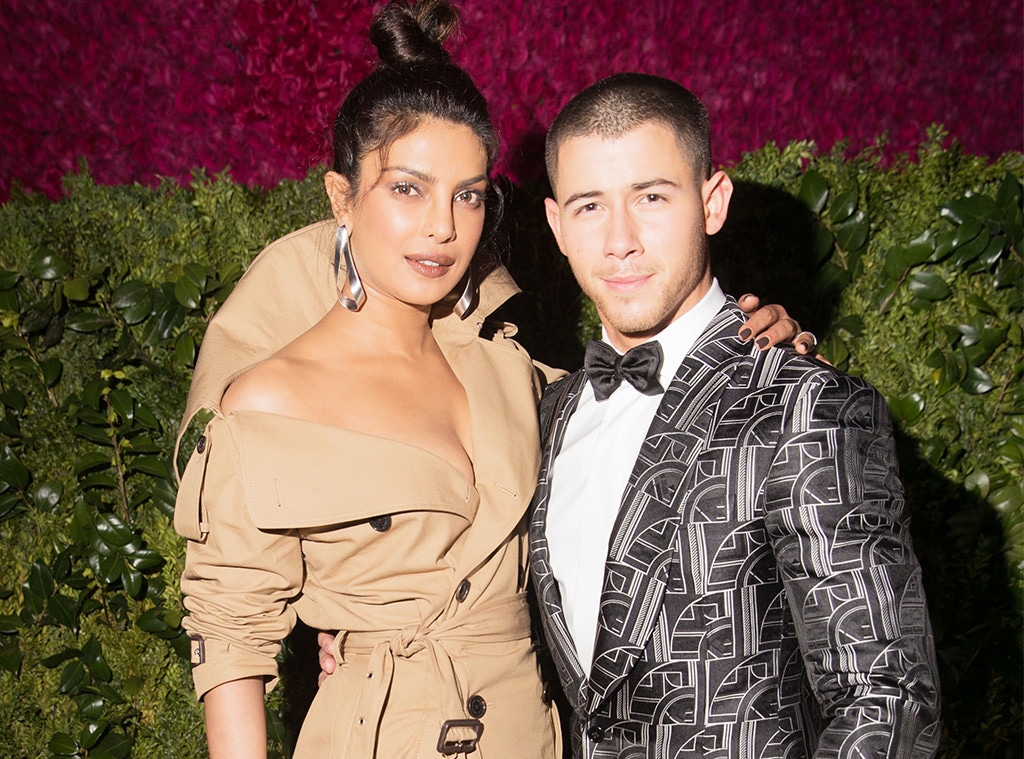 Kevin Tachman/Vogue/REX/Shutterstock
Priyanka Chopra and Nick Jonas are embarking on their next great adventure as husband and wife. 
The actress and pop singer are set to tie the knot this week in India, just four months after Jonas proposed to Chopra with the $200,000 engagement ring . Fast forward to the present day, and fans are anxiously arriving the moment this celebrity pair is officially declared newlyweds. 
And while Priyanka may have only caught her hubby-to-be eye's within the past year, the multi-talented pageant queen, singer, producer, philanthropist and actress has long been taking the world by storm. 
The 36-year-old's journey to Hollywood superstardom was both self-made and accidental. In fact, Priyanka never sought out a career in the entertainment industry. As she revealed in a 2013 interview with E! News, "I didn't know anything about show business. I was an academic. I wanted to be an aeronautical engineer, build planes, work at NASA… I wouldn't go to the moon, I'd make the space shuttles."
Even still, Chopra had a knack for entertaining others. As a young teenager, she moved from her native India to the United States and studied theater while living with an aunt. However, it wasn't until she returned to India three years later that a chance photoshoot (and a small nudge from her mom) really kickstarted Priyanka discovering what she's called her "destiny."
"My mom saw those pictures," Priyanka told ABC of that pivotal moment, "and of course moms will be moms. She was biased. She sent those photos to Miss India. I became Miss India."
Priyanka went on to compete in and win the 2000 Miss World pageant, becoming the fourth titleholder from India to capture the international crown.
Michael Crabtree/PA Images via Getty Images
As a self-described feminist, Chopra told Allure she'll always remember her pageant days fondly, despite the criticism they often face for perpetuating unrealistic beauty standards.
"I feel like in an evolved world, where we are today, as long as a woman understands that that's not [her] only option, and then chooses to do it. Who is anyone to judge her?" she shared. "But when women are made to feel like your only option to succeed is to be OK with being objectified or being made to feel stupid... then it's wrong."
The pageants offered Priyanka her first taste of fame, and it didn't take long for Bollywood to coming knocking with a slew of film opportunities. "I became Miss World and then movies came to me and I said, 'You know what? Let me just try it," she recalled. 
Dominique Charriau/Getty Images
Priyanka dropped out of college to pursue acting, making her Bollywood debut in the 2003 flick, The Hero: Love Story of a Spy. Mixed reviews didn't stop it from becoming the third-highest grossing Bollywood film that year, and just like that—a star was born. 
Between her rapidly expanding resume and countless accolades, Priyanka's star power could no longer be limited to the confines of India. Her influence began trickling into the U.S., splashing onto the scene in 2013 when Paul Marciano (who upon meeting her for the first time) announced her as the new face of Guess. And after her collaboration with will.i.am. "In My City" became the theme song for the NFL Network's Thursday Night Football programming, Chopra relocated stateside.
Then before she knew it, Priyanka landed the starring role on ABC's Quantico. As the first South Asian female to lead a network drama series, the pressure was on for the actress to deliver a stellar performance.
Taking on the role of Alex Parrish, an intelligent FBI agent at the center of a terrorist attack she becomes suspected of executing, was no easy feat, but nonetheless Chopra rose to the occasion. Quantico was a breakout success, both critically and commercially, and the accomplishment did not fall on deaf ears. 
"I come from a really small town called Bareilly in India," Priyanka told New You magazine in 2015. "If I can sit here today doing this interview, talking about an international TV show and almost 50 Hindi movies behind me, it can happen for anyone."
However, even after successfully leading a primetime drama, Chopra still faced challenges both as a woman and person of color. As recently as last year, the A-lister lost out on a role because of her skin color. 
"I was out for a movie, and somebody [from the studio] called one of my agents and said, 'She's the wrong'—what word did they used?—'physicality,'" Priyanka revealed to InStyle. "So in my defense as an actor, I'm like, 'Do I need to be skinnier? Do I need to get in shape? Do I need to have abs?' Like, what does 'wrong physicality' mean?"
Saying it was none of those things, Chopra's agent told her, "'I think, Priy, they meant that they wanted someone who's not brown.' It affected me."
She's also a champion for gender equality, especially when it comes to pay disparity. Having dealt with the issue both in Bollywood and Hollywood, Priyanka told InStyle she's well equipped with the tools to demand what's rightfully hers. 
"I'm a producer, so I understand how much of an asset, as an actor, I would be on a project," she shared. "So when I talk money, I'm not going to be asking for ridiculous amounts that I might not be able to bring back. It starts with me being logical and saying, 'I deserve that much in remuneration. These are the returns that I see myself bringing to the table.' And, usually, most people come around when you place it like that."
Not just a badass in front of the camera (and in the boardroom), Priyanka is equally committed to her philanthropic efforts. 
Appointed a UNICEF Goodwill Ambassador for Child Rights in 2010 and later a global UNICEF Goodwill Ambassador in 2016, Priyanka works to bring awareness to social, environmental and health issues like cancer research. (She lost her father to cancer five years ago.) 
Chopra's fearlessness can be traced back to the same support network she's had all along: her parents. "My parents never differentiated my brother and me," she told New You. "We were raised equally. We were taught to have opinions, make decisions, and have the courage of conviction. I believe girls all over the world [have been] raised to believe that we need to be protected, or need someone else to feel validated and strong. Now we are in a time where we are enough."
With Hollywood wrapped around her finger, there's no telling where Priyanka's zest for life will take her next... except down the aisle, that is. 
Wedding festivities are off to a spectacular start, with Joe Jonas, with Nick and Priyanka's family members arriving to Mumbai for what's expected to be one lavish exchange of "I do's."
The ceremony will reportedly take place at the Taj Umaid Bhawan Palace in Jodhpur. Respecting one another's culture and faith, traditional Mehendi, sangeeet and haldi ceremonies are said to be scheduled, followed by a Christian ceremony on Dec. 3. 
In sum, saying that Nick's found quite a catch would certainly be an understatement.