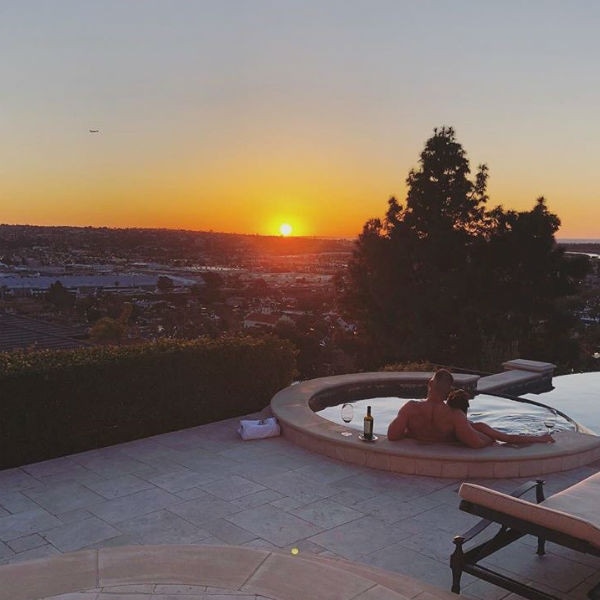 Instagram
Are Nikki Bella and John Cena back on? Not so fast...
The Total Bellas star sparked reconciliation rumors over the Thanksgiving holiday when she posted an Instagram photo of her and her ex-beau in a hot tub together. The picture was among a series of photos in Nikki's Thanksgiving post, in which she reflected on her year and everything she's thankful for in her life.
"I'm so thankful for so many wonderful things in my life as well as so many incredible people in my life," Nikki began. "So thankful for my family and best friends, always there when I need them, the women I share the WWE ring with, such an amazing group of hard working, passionate women that together started an Evolution, my Total Bellas and Total Divas production team, crew and glam squad, they all work so hard all year long and do it all away from their families, love you all!"
"All the amazing people I work with at WWE, so many of them inspire me, teach me and help me grow in business," she continued. "To all the sunsets I have enjoyed, all the lessons I have learned, to the good and bad days, to my life coach and the people around her that give me strength and smiles to take on the unknown."
Watch:
Nikki Bella Doesn't Want Split With John Cena to "Define" Her
"To the people that invest so much time and faith into my sister [Brie Bella] and I, to my Belle Radici partners for making myself and Brie's dreams come true in the wine industry, to my Birdiebee team for working so incredibly hard around the clock and bringing mine and Brie's vision to life, to the Bella Army for their love and support, it's unlike any other fandom out there, to all the brave men and women in our military, to our firefighters and policemen and women as well," Nikki concluded her post. "I'm so beyond thankful for each and everyone of you!"
While the photo of Nikki and John had fans hoping the exes were back together, it seems like Nikki was just reflecting on their time together and the sunsets they enjoyed. TMZ is reporting that both Nikki and John are both "very much single."
Nikki and John split in April after six years together. "While this decision was a difficult one, we continue to have a great deal of love and respect for one another," the duo said in a statement to E! News at the time. "We ask that you respect our privacy during this time in our lives."
By the end of May, however, a rep for Nikki confirmed to E! News that the couple was "working on their relationship."
"Nikki Bella and John Cena are working on their relationship and taking it day by day," the statement read. "They appreciate all of their fans and their continued support."
Then, two months later, Nikki announced that the couple had called it quits once again.
"After I called off the engagement, we tried to work on our relationship to get back to where it was, and in order to move forward with our wedding. After much time and soul-searching alone and together, we have decided to officially part ways," she told E! News in a statement. "I had a beautiful and loving 6-year relationship with a wonderful man. I have the utmost respect for John, but I know this is what's best for me."