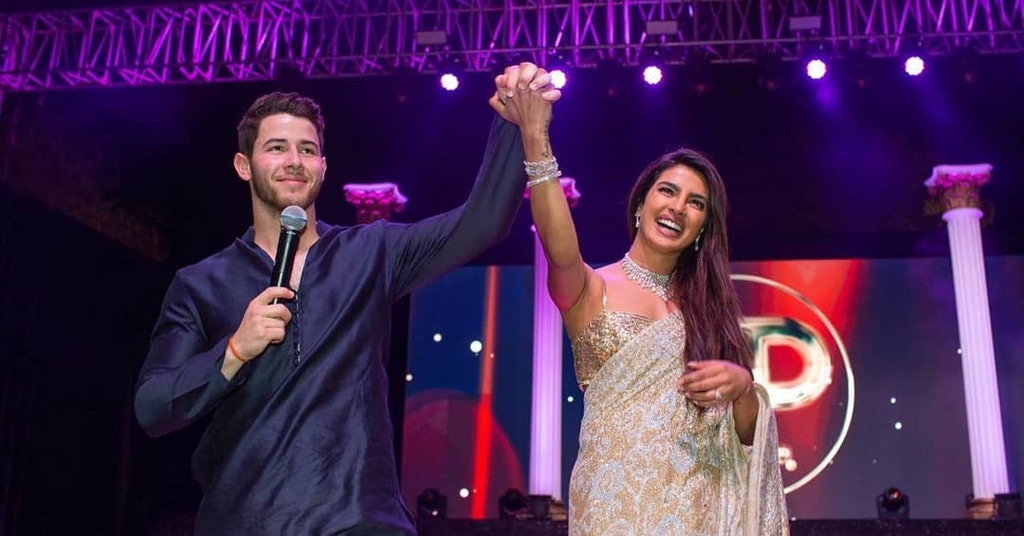 MEGA
It's official: Priyanka Chopra and Nick Jonas are married!
Following a multi-day celebration in the bride's native India, the Quantico actress, 36, and the "Levels" singer, 26, tied the knot at the Taj Umaid Bhawan Palace in Jodhpur. Spanning 26 acres of land (including 15 acres of private gardens), the venue was the perfect place for the couple's global guest list to celebrate, as it features indoor and outdoor swimming pools, a library, a museum, a throne chamber, squash courts, a spa, tennis courts—and so much more.
As expected, the bride and groom embraced both Indian and Western wedding traditions. In the days leading up to the main event, with the world's media watching, the couple kicked things off with a puja party. Priyanka later took part in a Mehendi, where henna tattoos were applied to her feet and hands, and they and their families took part in a Sangeet dance-off! The couple also participated in separate Haldi ceremonies, where they were cleansed with turmeric to wash their pasts clean, allowing them to restart together.
Friday's Sangeet, in which the stars and their guests performed for each other, was next level. "The palace was decked out fully with flowers and lit up in purple. It's gorgeous and very regal, like a fairy tale palace," a source tells E! news. "There are chandeliers in trees. Its  like a dream!"
Nick and Priyanka decided to host two ceremonies—a Christian service officiated by his father, a pastor, and a traditional Indian wedding—each held in different spots within the palace walls.
The groomsmen included Nick's brothers—Frankie Jonas, Joe Jonas and Kevin Jonas—as well as his former Kingdom co-star, Jonathan Tucker, and Priyanka's brother, Siddharth Chopra.
Meghan's best friend, Meghan Markle, the Duchess of Sussex, did not attend either ceremony, likely due to her pregnancy.
For the Hindu ceremony, the groom dressed like royalty, as is customary, and rode in on a horse. For the Western service, Priyanka wore a custom gown by Ralph Lauren, Vogue first revealed.
An insider told E! News, "Priyanka looked breathtaking in her traditional red Indian wedding outfit. The wedding was a beautiful, traditional Indian wedding where they sat inside of a Mandap (four pillars). Nick did a beautiful job following the customs of a Hindu ceremony. It was lovely seeing how they honored both of their heritages."
Nick and Priyanka met at the 2017 Met Gala, where they were both dressed by Ralph Lauren. When he saw her at the Vanity Fair Oscars party 10 months later, he nearly proposed on the spot. "I put my drink down, get on one knee—this is in front of a bunch of people—and I say, 'You're real. Where have you been all my life?'" the singer later recalled to Vogue. "Like, loud."
Afterward, Nick slid into her DMs and they began texting. They enjoyed an under-the-radar date before the 2018 Met Gala, and two months later, Nick proposed in Crete just after her birthday; he had the ring with him, as he'd shut down a Tiffany & Co. in London to pick it out.
"I got down on one knee, again, and I said: Will you make me the happiest man in the world and marry me? No joke—she took about 45 seconds," he said. "Forty-five seconds of silence."
(Priyanka said she was speechless as Nick slipped the $200,000 ring on her finger.)
The roka took place in August. "It was such an incredible coming-together of two really ancient cultures and religions," Priyanka told Vogue. Nick's father said a tender prayer, while a Hindi priest led blessings. "Nick did the Hindu prayers," she said. "The prayers are in Sanskrit. Even I can't say them. But he did it in Sanskrit. The Indians were so impressed with their National Jiju."
Nick described the day as a union of "two very different cultures and religious backgrounds," later telling Vogue, "The beauty of it was, there was so much love and acceptance for our side."
In late October, Priyanka's friends threw her a bridal shower at Tiffany & Co. in New York City; celebrities including Lupita Nyong'o and Kelly Ripa were among those to toast the bride-to-be. Days later, she traveled to Amsterdam for her bachelorette party with her future sister-in-law, Sophie, and her friend, BIRD Bakery owner Elizabeth Chambers Hammer. The next weekend, Nick shared a few shots from his sponsored-bachelor party, but he did not disclose the location.
Before their parties, the couple took care of the paperwork at the Beverly Hills courthouse. Weeks later, in exchange for a $100,000 donation to UNICEF, Priyanka shared her $14,000 wedding registry—which included things like a $782 GPS pet tracker and a $150 record player.
Just before Thanksgiving, the couple flew to India to finalize their wedding preparations. After the three-day event ends, she joked to Vogue, "People will need vacations after this wedding!"