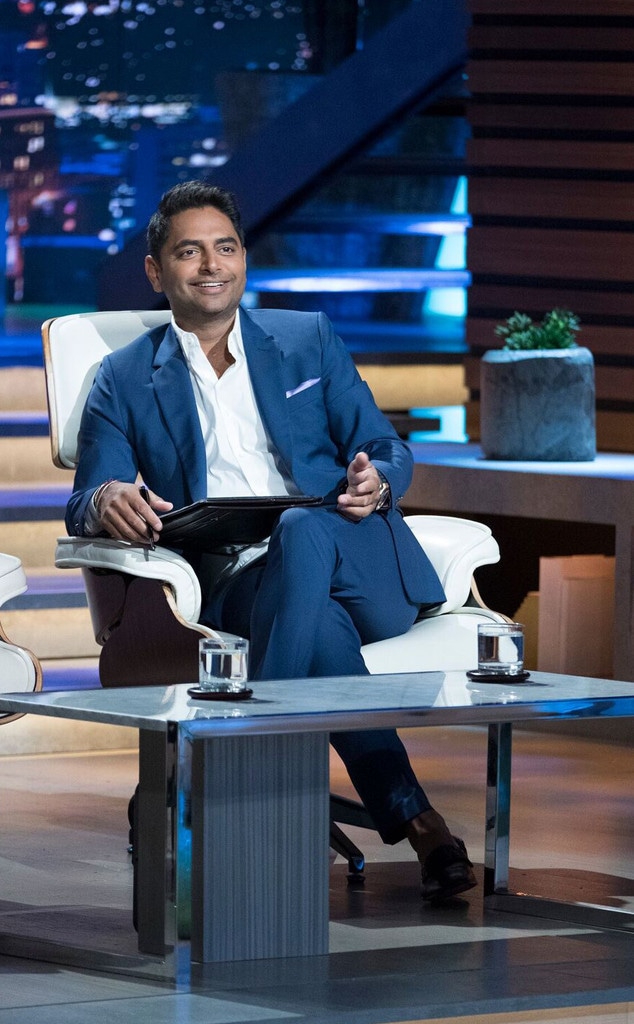 Courtesy of Rohan Oza
There's a new investor in Shark Tank's waters, and he's a force to be reckoned with!
Aptly nicknamed the "Hollywood Brandfather," Rohan Oza has cemented himself as the go-to guy for celebrity branding. Having been at the helm of 50 Cent's wildly successful collaboration with Vitamin Water, Oza is no stranger to transforming A-list celebrities' branding partnerships into pure gold. 
Not only do stars enlist Oza for help with kickstarting their entrepreneurial passions, he also considers them close friends—and yes, that includes Justin Timberlake.
"It's very annoying to be hanging out with Justin because the guy is good at everything he does," Oza tells E! News, who worked with the pop star on his partnership with Bai Water. "When we sit down and talk about brand strategy, which is what I'm supposed to be the best at, [Timberlake] also knows a ton about brands and brand DNA and what it means to consumers. And I'm like, OK, well let's go play golf instead!"
From his experience working with Jennifer Aniston to what he really thinks of his fellow "Sharks," here are 5 things to know about Shark Tank's latest and greatest addition:
1. He Considers Robert Herjavec His "Frenemy:" 
Ever wonder what goes on behind the scenes of Shark Tank? "It's a little bit like high school," the Oza reveals. "I'll be honest. [Mark] Cuban's a bully, so you've got to be tough with the bully otherwise he'll ride over you—and then you become friends with him. Robert [Herjavec] is for sure my frenemy. We get along great but then he likes to jab at me on the show. And then you have the BFF, and Laurie [Greiner] is my BFF. She's always writing notes for me on set, usually gossiping about the others or trying to decide which deals we should go after."
So is all that bickering viewers see at home really genuine?  "The fighting is real but then we hug it out after the shoot," he shares. Phew!
2. He Throws Star-Studded Dance Parties:
As a businessman who is constantly on the go, Oza always makes sure to schedule a pitstop in Los Angeles to host an epic dance party. "Dancing is a big part of my cultural background," the Zambian native says. "When I throw parties in L.A., it's very much about the dancing and getting everybody onto the dance floor. One of the things we do is boys against girls. It's like the movie Bring It On, but to Bollywood music!"
Oza admits the men typically tend to come out on top, except for when Sofia Vergara once hit the dance floor and shook things up. "Everybody followed [Vergara] and they crushed us," he recalls of one particular bash. "She comes in, she throws her right leg in and when the other 20 women threw their leg in, I knew right there, whenever everybody coordinated that big slam leg movement, the boys are done this time."
3. He Credits His Failures for His Success: 
Oza didn't achieve his dreams overnight. In reality, he was actually fired a few times along the way! "Everyone thinks that when you have a run to the top it's smooth. People are surprised to realize that I got fired from my first job at Mars' M&Ms'," he reveals. "They said I wasn't that talented a marketer."
But according to Oza, "That experience in getting fired a couple of times, having to fight to win and then living your brand is what changed everything for me." (Fun fact: Oza's first job was packing Snickers candy bars into boxes on a manufacturing line in London.)
4. Why He's the "Hollywood Brandfather:"
Oza's work with celebs like as Jennifer Aniston for Smart Water and Timberlake for Bai helped coin his nickname, the "Hollywood Brandfather." Remembering those pivotal days of his career, Oza tells E! News, "The whole game really started with a gentleman called Curtis Jackson." A.K.A. 50 Cent.
"He loved the brand, he loved what we were doing at Vitamin Water and he wanted to create his own flavor so he and I literally went into the lab to create Formula 50. When he did very well [financially], suddenly every other celebrity was like, 'Oh wow, there's a new way to do deals.' It's an equity deal, not just an endorsement," he explains.
5. And Yes, He's Single:
Oza's brands aren't the only thing on the market! "I am single," the Shark Tank star reveals. He also is a world traveler, having been to at least 50 countries. As for his favorite place to escape for some well-deserved R&R? An overwater bungalow in the Maldives or on an African safari. "You guys go to Disneyland, we went to go look at animals in the wild!" Oza teases. Where do we sign up?
Shark Tank airs on ABC.