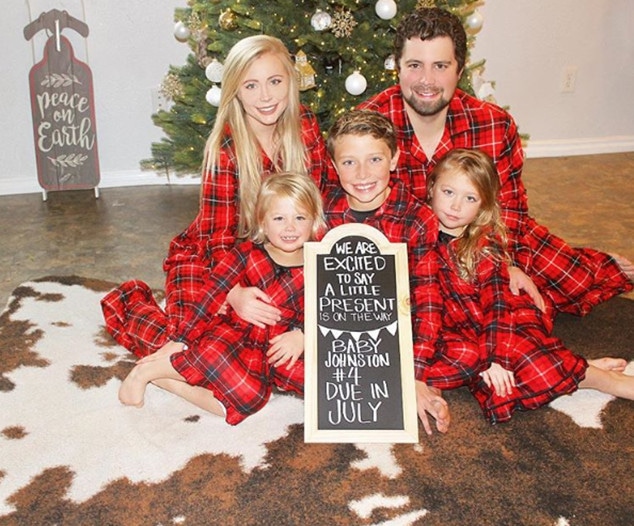 Instagram
Levi Johnston's family is growing into the New Year.
Over the weekend, Bristol Palin's famous ex and his wife Sunny Johnston announced they are pregnant with baby No. 4.
"We are excited to say a little present is on the way. Baby Johnston #4 due in July!" Sunny wrote on Instagram.
In the announcement, the smiling family wore matching red plaid pajamas while posing in front of a Christmas tree. They also held up a sign that read, "Baby Johnston #4 due in July."
Levi and Sunny have been married since 2012 when they said "I Do" in Alaska in front of family and friends. They met through mutual friends two years earlier. 
And while Levi hasn't always had the best relationship with Bristol, the pair has been able to co-parent their son Tripp.
In fact, there's a chance Levi could appear on several episodes of Teen Mom OG.
"Easiest job ever! Lol," Sunny revealed on Instagram Stories when asked about the MTV reality show. "Couple hours of filming with weeks/months in between. We are treated soo well, and they do show our side for the most part. Can't complain. Not my type of TV to watch but easy to be a part of so far."
These days, Levi is keeping a low profile in Alaska and trying to stay out of the spotlight. According to his Instagram, the author describes himself as an "electrician and a man who lives for my family and outdoors."
Looking ahead, Sunny admitted that she will be finding out the sex of her baby before his or her's arrival.
"I have no predictions of what the baby could be. I've read about the symptoms I'm having and what they could mean and I don't think that's related to gender at all considering other mom's stories," she shared with one follower on Instagram Stories.
The realtor says she likes Adak for a boy's name and Delta for a girl. Another water birth will likely be in her future at her doctor's office. As for more kids after this, Sunny assured fans that "we're good after this one."