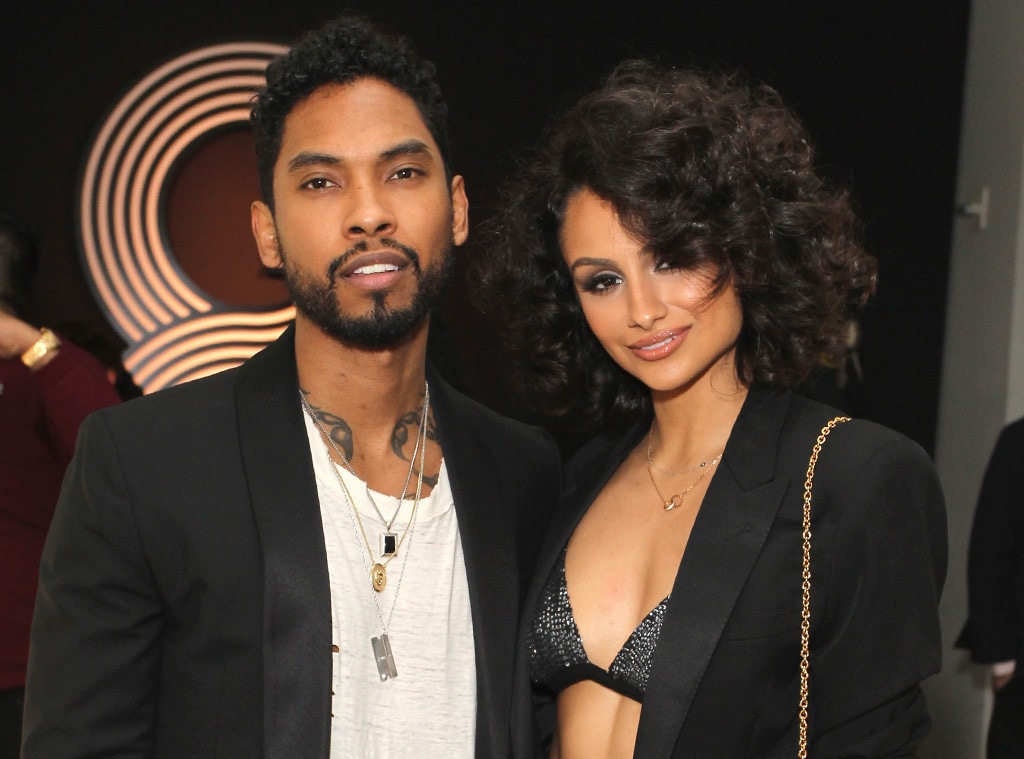 Rachel Murray/Getty Images
Miguel is officially a married man. 
After more than a decade of dating, the Grammy-winning crooner married his longtime love, Nazanin Mandi, on Saturday, a rep for the couple confirmed to E! News. 
"11-24-18 Meet Mr. & Mrs. Pimentel," the new Mrs. wrote to fans on Instagram. "What a truly magical day filled w/ so much love, light & positivity. The second Miguel & my Father got emotional THAT WAS IT No holding back the tears. To those who came out to celebrate w/ us we are forever grateful & hope you left w/ a full drunk happy heart & memories to last a lifetime! Yes, this was a long time coming but timing is everything & we will continue to do things our way always & forever."
The groom echoed his bride with a social media post of his own. "Pimentel life moments! New levels and unforgettable memories shared with our closest friends and family," Miguel wrote. "So much love and gratitude for everyone that made our special day truly unforgettable. We love you all."
As Vogue reported, the pair tied the knot in an outdoor ceremony at Hummingbird Nest Ranch outside of Los Angeles, followed by a traditional Mexican meal with a "twist." Mandi sported a Monique Lhuillier lace long-sleeved wedding gown while Miguel opted for a custom black tuxedo by Van Van. 
It was just a week ago that the couple reportedly visited a Los Angeles courthouse for a marriage license, TMZ reported at the time.
It's been a long journey toward the aisle for this couple considering they first crossed paths back when the 33-year-old singer was just 18.
"I met Naz at my very first video shoot, she interviewed me, seven years ago," he told Pigeons & Planes back in October 2012. "What I will say is that we're not together just because we like to hang out. The purpose is finding someone that you can spend the rest of your life with, for me anyways. I think we both are working towards that goal. When that is, I can't tell the future but I can say that that's the purpose, right?"
Gregg DeGuire/Getty Images
Another six years later, the star can check that goal off of his bucket list. In 2016, E! News confirmed they took a step closer to married life with a "very heartfelt and real" proposal from Miguel, a source described at the time. 
"Nazanin and Miguel are really excited to get married! They've been together for some time and knew that they were going to spend their lives together," a source previously told E! News. "All of their friends and family think they are the best couple and really complement each other. 
Congratulations to the new wife and husband!