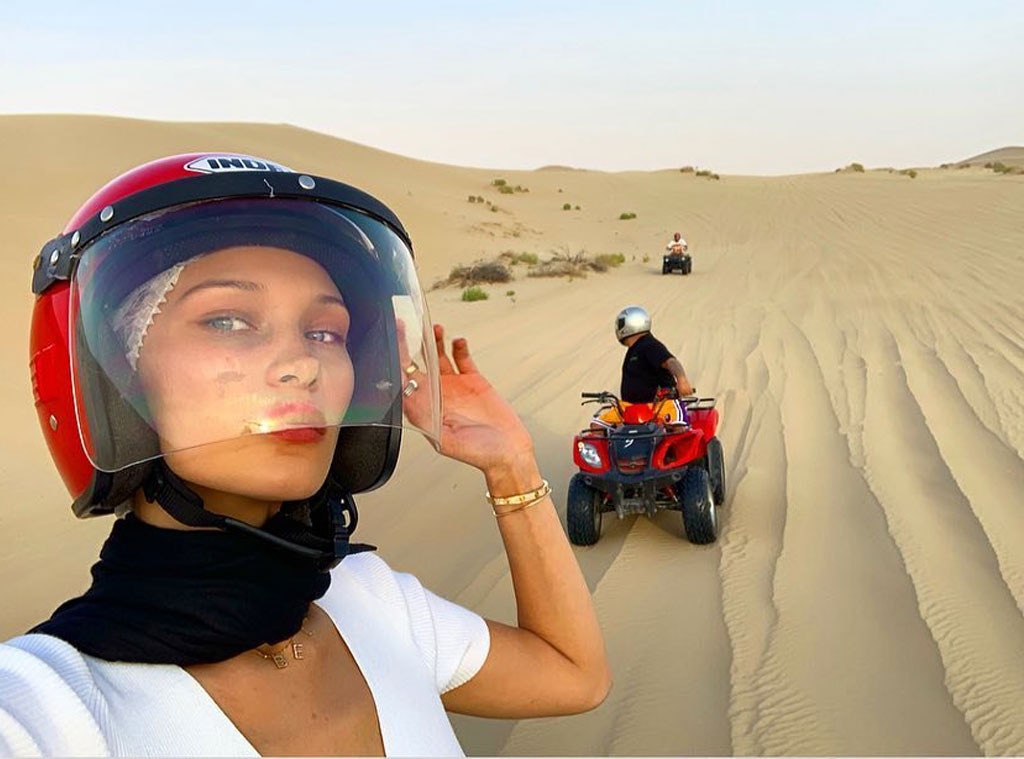 Instagram
Bella Hadid and The Weeknd are taking their love halfway around the world.
The "Starboy" singer (born Abel Tesfaye) had a few concerts in the United Arab Emirates over the weekend, and his model girlfriend supported him there front and center in the crowd. On Saturday, Bella posted photos from the show alongside some family members and explained that she only really gets to see her nieces and cousin when she's in Dubai. "Made my whole year, I feel so lucky!" she wrote. "Such a great show baby in one of my favorite places in the [world]." 
While the concert itself appeared to be an extremely energetic evening, Bella and The Weeknd's other escapades in Dubai seem like a total adrenaline rush of fun. The two of them both shared photos from their day in the desert, where they rode ATVs across the sand.
In one set of pictures, the Victoria's Secret Angel made the ATV her personal catwalk and posed for some very impressive looks atop the vehicle. According to the singer's photos, they also rode camels with some of their friends.
Bella also shared photos from inside their ride to the sand dunes, which was a deep blue Bentley.
The couple looks happier than ever since  getting back together in July. They broke up in 2016 after about a year and a half together. A source told E! News when they rekindled their romance, "They have a lot of the same friends and their lifestyles really work for them. They both love to see new places and have new experiences and definitely share that commonality."
Dubai is just one of the many far-flung places the two of them have ventured to together. They canoodled in Cannes, traveled to Tokyo and paraded around Paris. Plus, their couple Halloween costume was extremely epic.
The Weeknd and Bella are all about supporting each other and their professional ventures. On Nov. 8, the "Call Out My Name" artist sat front and center at the 2018 Victoria's Secret Fashion Show. Although he was encouraging her from the audience this year, he performed at the show in 2016 and the two shared the runway for a few moments. The two of them, however, had been broken up for a few months at that point and their interaction quickly made the rounds as a meme.
At the show, The Weeknd sat alongside Bella and Gigi Hadid's mom, Yolanda Hadid. Yolanda talked to E! News about her daughter's relationship and whether or not she approves. "I trust their choices and I love who they love and obviously Bella and Abel had the split there for awhile and I'm just so happy they're back together," she said. "I couldn't be happier about that."