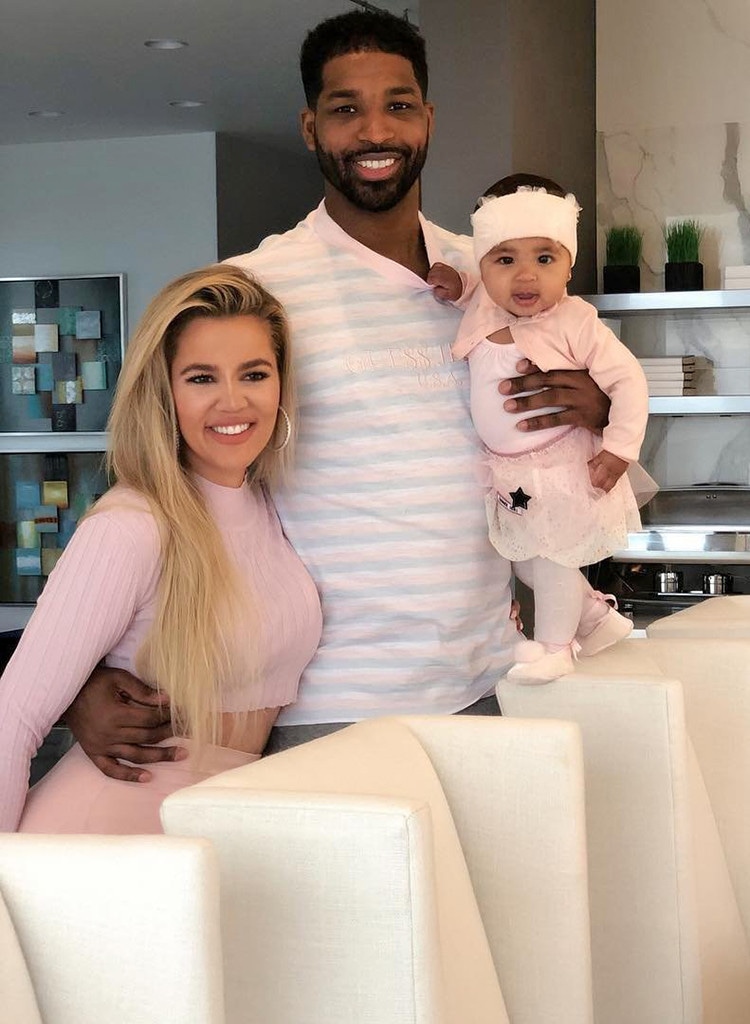 Tristan Thompson/Instagram
All's fair in love and basketball.
Khloe Kardashian spent Saturday night cheering on Tristan Thompson at a Cleveland Cavaliers game against the Houston Rockets. Her appearance at Quicken Loans Arena comes just one day after her sister Kendall Jenner sat court-side at a Cavs game against the Philadelphia 76ers. At one point in the game, Kendall jokingly booed Thompson, who is the father of Khloe's baby, True Thompson. However, she was most likely there to cheer on 76ers player Ben Simmons, who she had a fling with over the summer.
Back at Quicken Loans, Khloe posted videos on her Instagram story of a man doing some sort of acrobatics act on a pile of chairs during what was presumably halftime. "You could not ever pay me to do this," Koko voiced over in her video. "You are the bravest person in the world."
As if basketball wasn't stressful enough!
On Saturday, Khloe responded to a Twitter user who criticized her decision to stay with Tristan and cheer him on despite the cheating scandal that occurred right before True's birth. The past few episodes of Keeping Up With the Kardashians have been leading up to True's birth and addressing the elephant in the room regarding Tristan.
"I'm confused by @khloekardashian's tweets," the user tweeted. "One minute she's calling TT out, then she's defending being in his life, then she's laughing at her sisters heckling him. I just wanna know where we stand Koko so I know how to feel!"
Khloe responded unabashedly and reminded the person tweeting at her that what she was seeing on KUWTK did not, in fact, happen yesterday. "What he did was f--ked up and disgusting. What you're watching is over seven months old," she replied. "We have gone through countless hours of help. My sister was watching HER man Play against my man… So of course she's going to heckle the opposing team. Why are you confused?"
Khloe traveled to Cleveland to spend the Thanksgiving holiday with Tristan and True as a family. The Keeping Up With the Kardashians star posted photos from their family gathering, which involved some of Khloe's famous cooking and matching outfits with True. 
Despite the rest of the Kardashian family celebrating Thanksgiving in Los Angeles, Khloe defended her trip to Cleveland and shut down any speculation that she and her family weren't in a good place. "I've spent the past 3 years in Cleveland for Thanksgiving. Not sure why people are trying to create drama between my family and I," she tweeted on Friday. "My sisters and I are perfectly fine thank you! All of their families were able to travel but TT being in season, he can not." 
She said in another tweet, "The truth is never as fun as some story some of you like to create. So here we goooooooooooo!! Happy Thanksgiving I guess lol"
Take a look at some of the other photos from Khloe, Tristan and True's family Thanksgiving.