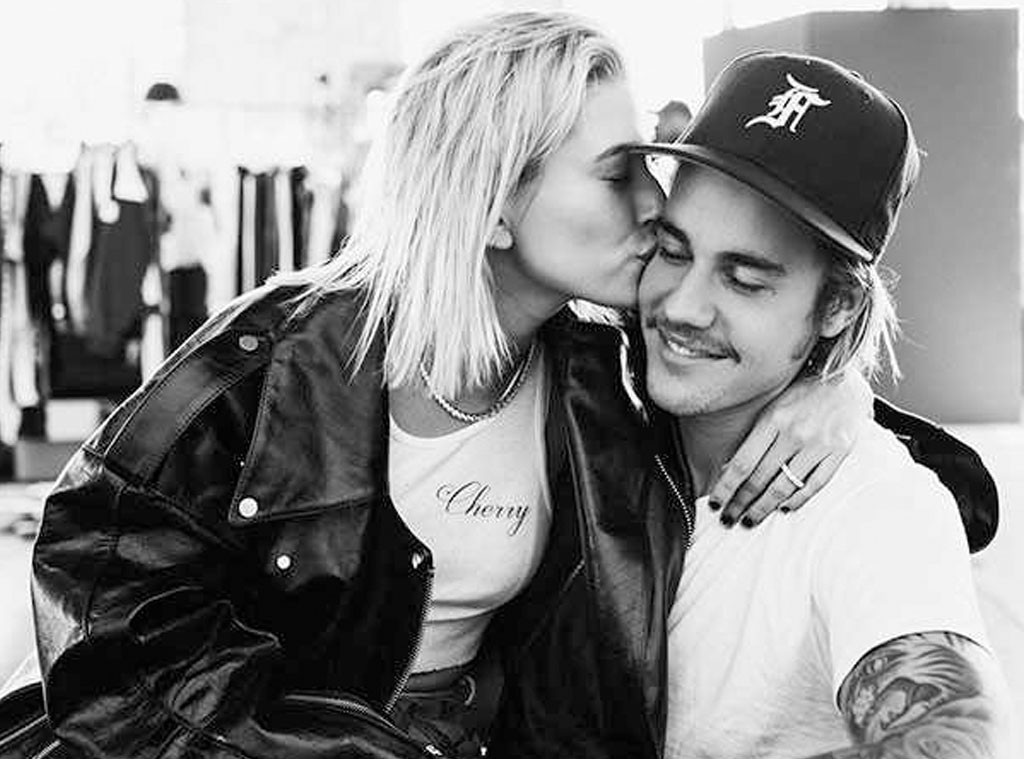 Instagram
There's PDA, and then there's its older sibling "kiss cam" PDA. But there's a third category, too: Justin Bieber and Hailey Baldwin.
The newlyweds, who are in Canada for Thanksgiving and Hailey's birthday, spent their Saturday night at a Toronto Maple Leafs hockey game. At one point in the competition, the camera panned on Hailey and Justin sitting in their box. The "Sorry" singer immediately reached for his wife's face, who was caught by surprise and smiling at the events that were happening at that moment.
The two of them proceeded to have a steamy make out session for a few seconds, and most likely went on longer than was recorded. Twitter user David Nestico captured the moment in a gif and wrote, "Calm down there, @justinbieber..." 
However, it's not like their penchant for PDA should come as any surprise.
Last week, the Purpose artist left a few comments on his wife's Instagram page that weren't exactly rated PG. "Holy crap this is hot," he wrote on a photo of Hailey modeling some gear for PrettyLittleThing. 
In yet another picture, Hailey donned a winter coat and black pants, but the cold weather was no match for Justin's steamy words. "Ur just too much," he commented. "U turn me on."
On Saturday, Hailey proved she came down with a strong case of Bieber fever as she showed off a necklace that said "Bieber" in diamonds. Forget wearing your heart on your sleeve—she wears it on her neck!
The model turned 22 on Thursday and had an intimate celebration with Justin, his mom Pattie Mallette and their families. A source told E! News earlier that they would celebrate the holiday with Justin's dad, Jeremy Bieber.
In September, the couple sparked some speculation that they may have already tied the knot at a courthouse in New York City. The Thanksgiving and birthday tributes to Hailey, however, removed any doubt. In one post, Pattie called Hailey her "daughter."
Justin also took some time to write about his first Thanksgiving both as a celebration in general and as a married man. The Instagram upload of a picture of trees in snow talked about personal growth and reflection for the singer. "First thanksgiving as a married man, first time hosting thanksgiving. First time both sides of the family has come together," he wrote. "Relationships are hard and love isn't always easy but thank you Jesus for showing me how! Every day is a learning process, trying to be more like him, patient, kind, selfless, boy I got a long way! But gods grace is sufficient!"
Over the past few weeks, Hailey has slowly been taking the steps to make her Bieber last name more apparent in the public sphere. On Nov. 16, the model wore a customized Levi's denim jacket with her new last name sprawled across the back. She also officially changed her Instagram name from Hailey Baldwin to Hailey Bieber. The change in handle came just a few days after Justin posted a photo of his own and captioned it "My wife is awesome."
On Oct. 10, the model trademarked the name "Hailey Baldwin," apparently for an intended clothing line. 
If there's one thing we know for sure, it's that Justin and Hailey's day will always be sealed with a kiss!