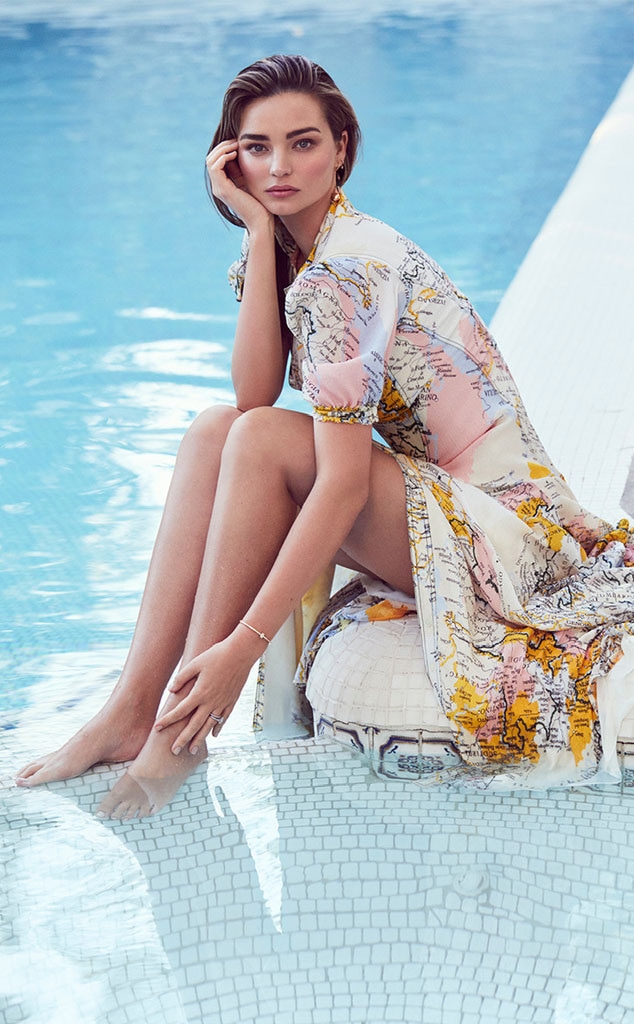 Nino Munoz for marie claire Australia
Miranda Kerr has traded in the runway for runny noses, and she sure doesn't mind.
The former Victoria's Secret Angel opened up to Marie Claire Australia all about motherhood and how having children has shifted her outlook on work and her own life. Kerr and her husband Evan Spiegel, the creator of Snapchat, welcomed their first child together in May: a son named Hart. She also has a 7-year-old son named Flynn Christopher Bloom, whom she had with her ex-husband Orlando Bloom.
Kerr is fully embracing the fact that she has a fairly consistent schedule. She told Marie Claire Australia, "It's such a luxury to be able to be settled, to be in one place and have routines."
She also said being a mom (mum for those in Australia) is "the most rewarding thing."
Kerr is also fully welcoming her post-baby body and talking about it in a very relatable way. The entrepreneur told the magazine, "I've got a mum-bod and it's fine!"
She also discussed the value in taking time for self-care and treating one's body right, especially after having a child. She added, "It's really important as women that we're gentle with ourselves and don't feel like we have to snap back into shape after a baby."
Kerr also doesn't really care that her chiseled abs aren't fully visible at the moment. In fact, she's realistic and pragmatic about it all. "I don't mind," she said. "It's all part of it. I took nine months – well, 10 months – to grow a beautiful child and it might take 10 months to feel good in a swimsuit again. Or longer. Or never!"
Nino Munoz for marie claire Australia
While living in Los Angeles and enjoying her life as a mother of two, Kerr is also thriving as she runs her skincare company called Kora Organics. Plus, she's loving seeing her husband grow as a father. "Watching you become a Father warms my heart. You're a natural and Hart is the luckiest boy to have you as his Dad," she wrote on Instagram on Father's Day.
The two of them tied the knot on May 27, 2017 in a small ceremony in front of family and friends in Brentwood, Calif.
"I feel really grateful for his love and support," Kerr told the magazine.