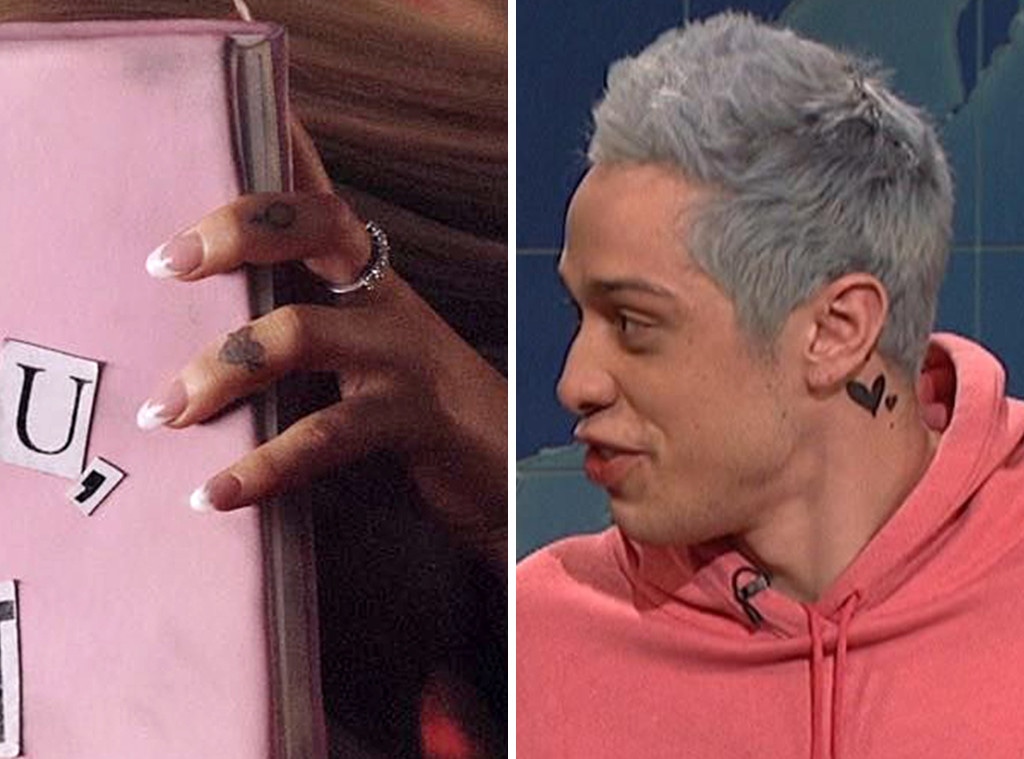 Instagram/NBC
Even after calling off their engagement, Ariana Grande and Pete Davidson are still holding on to a piece of each other.
The pop singer has covered up several tattoos she got in honor of her ex beau, but it appears as if her most recent touchup actually matches a new tattoo of Pete's. Millennials, right? 
Let's break it down: Shortly before news of their split made headlines more than a month ago, the SNL star covered up a tattoo inspired by Ariana's Dangerous Woman album with a large black heart. Now, Ariana is rocking an eerily similar black heart on her finger, where a tiny tattoo of Pete's name was once inked. 
The "Sweetener" singer showed off the tattoo while promoting her upcoming music video for "Thank U, Next." 
While Ariana and Pete's coordinating ink could be purely coincidental, there's no denying the black heart has become somewhat symbolic for the newly single artist. 
"Is the black heart some sort of tea or am i reaching," one fan recently asked Ariana after she tweeted a series of black emoji hearts, to which she responded, "I'm empty and my heart is black now so." 
Even more recently, the 25-year-old revealed her upcoming album will evoke a similarly melancholy vibe. 
"The whole thing takes place over the course of like 3 of the worst weeks of my life. We brought as much light to it as we could [though]," she tweeted Friday, referencing her breakup from Davidson and the death of ex-boyfriend Mac Miller. 
She teased in another tweet, "Your girl was SAD and inspired."
Likewise, Pete has remained remarkably candid about the split and even poked fun at having his tattoo artist make several house calls once he was officially single. 
"I'm f--king 0 for 2 in the tattoo [department]. Yeah, I'm afraid to get my mom tattooed on me, that's how bad it is," the comedian joked during a standup set. 
"So, obviously you know I, we [Ariana and I] broke up or whatever but when me and her first got engaged we got tattoos," he later continued. "And it was like in a magazine like, 'Was Pete Davidson stupid?' And 93 percent. of it said yes. So my boy, he was like, 'Don't listen to that s--t man. They're literally f--king haters.' And I'm like, 'Yeah, f--k that. I'm not stupid.' And the other day we were in my kitchen and he was like, 'Yo bro. Turns out you were stupid.'"