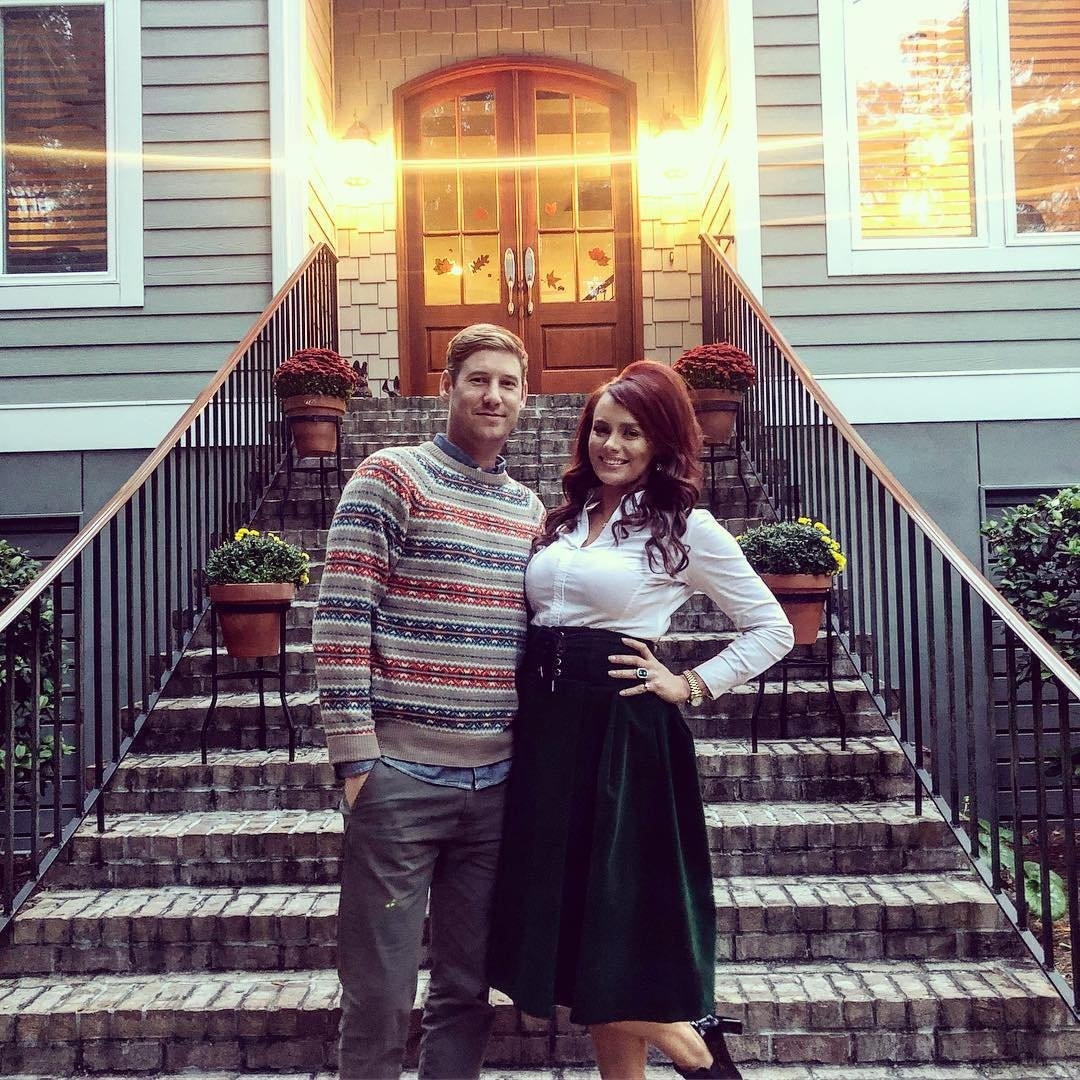 Instagram
You didn't think the cast of Southern Charm could escape Thanksgiving without a little drama, did you? 
Kathryn Dennis found herself up against internet trolls over the holiday when a photo she posted alongside co-star Austen Kroll had some speculating about a possible pregnancy. The reality TV star and mom-of-two quickly shut down the inconsiderate body shamers, who commented "Someone looks prego" and "Pregnant?" on the festive post. 
"No, I have just gained weight," Kathryn responded matter-of-factly.
Austen also rushed to his close friend's defense, commenting on the post, "*Some* of these people are absurd. Thankful for you! Oh, and my stomach is still recovering!"
And in true KD fashion, she didn't let a few haters ruin her holiday. In a separate post, the Bravolebrity looked back on her admittedly transformative year. "So dang grateful today," she wrote. "For my friends my family my life. I hope everyone enjoys their day. If you take the time to look back at your life no matter the ups and downs there's so much to be thankful for today. I hope everyone realizes how special they are and how unique life is in this sense of who all we inspire as well as those who inspire us. It's the simple things."
Things were equally as reflective on castmate Ashley Jacobs' Instagram page, who publicly butt heads with Kathryn when she began dating Kathryn's ex and the father of her two children, Thomas Ravenel. 
"For all the crap we went through together this past year, the good really does outweigh the bad," Ashley captioned a photo montage of the on-again, off-again couple. 
"You can't go through stuff like that and just pretend like it never happened, like the person that got you through some of the toughest times of your life now means nothing to you. You were my boyfriend during a time in my life when I needed you and you needed me. I don't know how much I believe in the idea of fate, but if it exists, I know it brought you and me together for a reason… even if we weren't made to last forever," she continued. 
Faye Sadou/MediaPunch/INSTARimages.com
Her emotional tribute concluded, "We might not be creating new memories anymore, but I still treasure the ones we have, and I'd do it all again knowing how things turned out in the end. Thank you for the memories, the good and the bad, and I'll forever cherish them till the day I leave this world. I was lucky to have met you, Thomas. I look forward to being good friends for a long, long time." 
Just weeks ago, the exes aired their dirty laundry for Southern Charm fans to see when Thomas slammed Ashley for "bad mouthing" Kathryn. 
"I totally disavow this horrendous behavior and will have nothing to do with her," Thomas wrote in a since-deleted post. He later added in the comments, "I begged her over and over to no avail. So hateful. Hope she gets help."
Now it appears Thomas has changed his tune yet again. 
He responded to Ashley's post, "Our time together brought much outside pressure, but what they didn't see was how I treasured your precious presence. I pray that you'll be spared more senseless anger moving forward. I wish you good things, Ashley. Only good things. Always, Thomas."
Never a dull moment, right? Both Thomas and Ashley have confirmed they will not return for the next season of Southern Charm. 
(E! and Bravo are both part of the NBCUniversal family.)