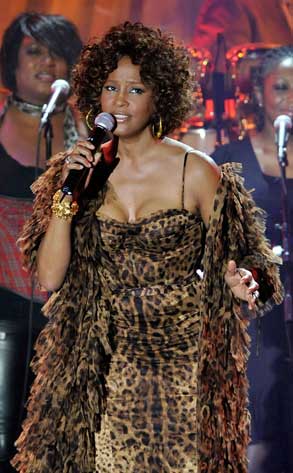 Kevin Winter/Getty Images
Whitney Houston is back! The legendary singer returned to the Hollywood stage last night to perform at Clive Davis' annual pre-Grammy bash at the Beverly Hilton Hotel.
She was the last to go on in a lineup that included Rod Stewart, Sean "Diddy" Combs, Kings Of Leon, Kelly Clarkson, Leona Lewis, Barry Manilow and the incomparable Jennifer Hudson, among others.
Ms. Whitney started off with a snippet of "I Will Always Love You" followed by "I Believe In You and Me" and "It's Not Right, but It's Okay." She finished off the set with "I'm Every Woman."
So how did she sound? Incredible! Was she back to the days when she was in top high-note-hitting form? No, but close.
Whitney sounded a bit restrained, as if she wanted to hit her signature jaw-dropping notes but something was holding her back. Maybe it was nerves. No doubt the pressure was on big-time. Plus, she didn't go on until after midnight! (Check out a fan's phone video of Whit's set from the party on the jump. It's a little hinky in spots, but it gives you the flavor.)

Whitney not only looked fabulous in a tight animal-print dress but appeared healthier than I have ever seen her since she began on her road to recovery.
Of course, Whitney wasn't the only thing happening at the party, which for the first time was cohosted by the Recording Academy.
I twittered from start to finish—keep reading for all my tweets right after the video.