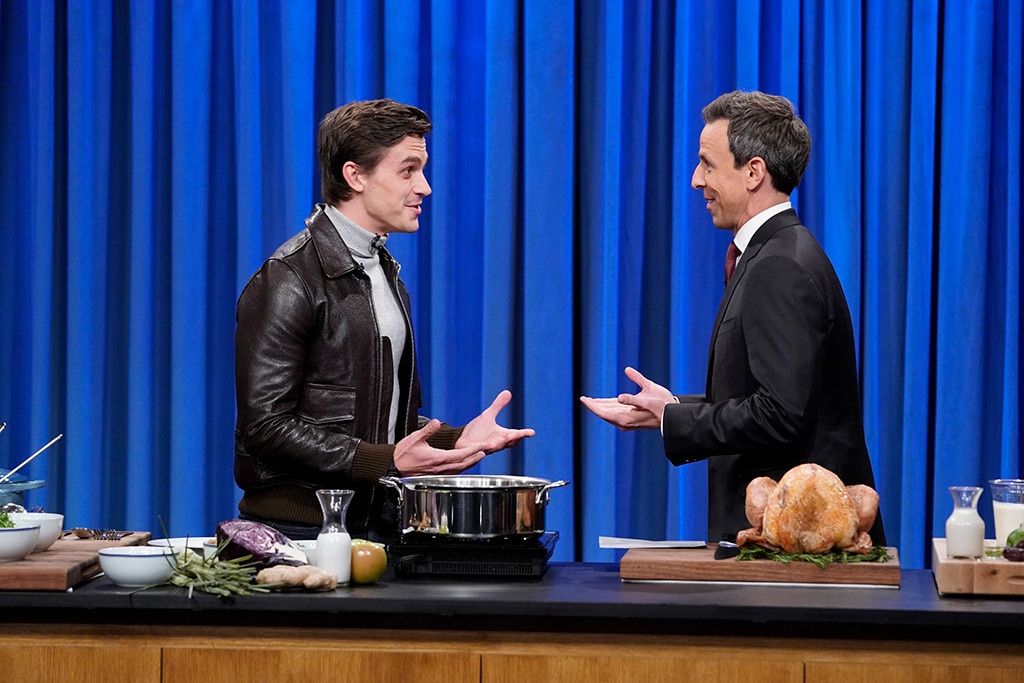 Lloyd Bishop/NBC)
The best part of a Thanksgiving meal is the leftovers, according to Antoni Porowski.
The Emmy-winning Queer Eye star stopped by NBC's Late Night Wednesday to give host Seth Meyers a last-minute turkey recipe from his reopened West Village restaurant, The Village Den. "Diners are kind of like a lost art in New York City," Porowski said, adding that he aimed to create a menu with "market-driven, healthy, guilt-free eating you could have during the week."
Before getting down to business, Porowski began by making some Big Lebowski-inspired smoothies, blending almond milk, bananas, Greek yogurt, ice cubes, lime zest and Medjool dates. Quipped Meyers, "This is so much healthier than what I'm going to drink tomorrow!"
"Isn't the lime zest fantastic nice in there?" the perennially positive Porowski asked him. "It's like an eggnog—except there are no eggs and it's nothing like eggnog—but it's the same color."
Then it was time to move on to the main meal. "Turkey meat tends to get a little dry after it's been out for a couple of days," he said. "This is a quick little trick that you can use to rehydrate it, which is actually what we use at the restaurant—for lack of a better word—to get it 'moist.'"
Wanting to involve Meyers, he asked, "How comfortable are you carving a turkey?"
"Not comfortable at all," the host replied, "but I'm gonna go for it!"
Before long, Porowski got the turkey "nice and wet and moist and juicy and delicious" again.
To create his Thai turkey bowls—one of his restaurant's most popular menu items—Porowski placed brown rice (cooked in lemongrass and coconut milk), cabbage (braised with bay leaves and a drop of apple cider vinegar), cilantro, coconut peanut sauce (with some lime leaves) and
crushed, toasted peanuts (coated in brown sugar) into a bowl and asked Meyers to mix them all together. "May I?" Porowski asked just before taking over. "You were doing great! You really were. I'm like the opposite of a collaborative person in the kitchen; I have to learn to be better."
To see how the meal turned out—and how to replicate it at home—watch the video now.

(E! and NBC are both members of the NBCUniversal family.)