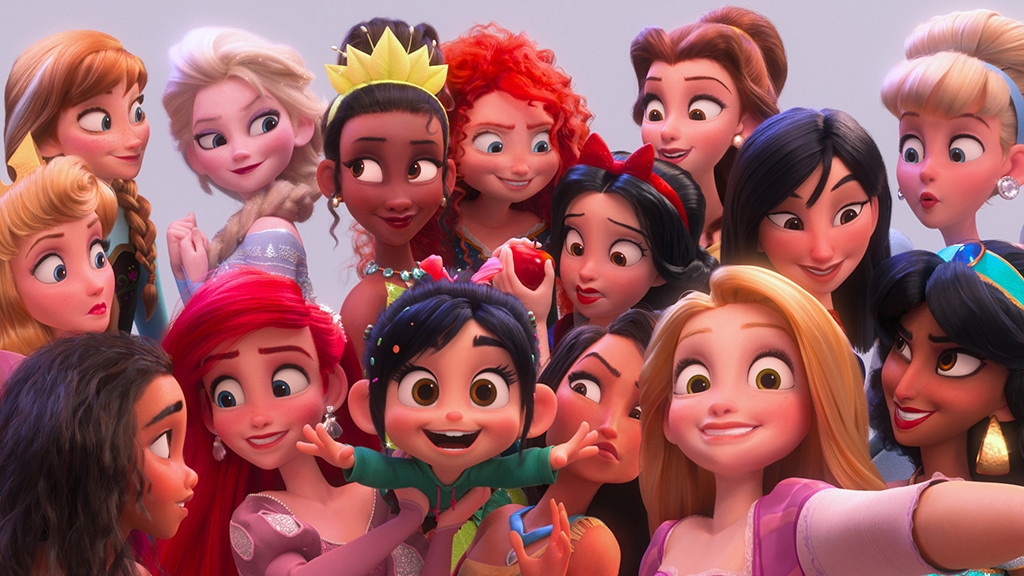 Disney
Can Ralph Breaks the Internet break the box office over the Thanksgiving holiday?
In the sequel to 2012's Wreck-It Ralph, best friends Ralph (John C. Reilly) and Vanellope von Schweetz (Sarah Silverman) leave Litwak's Arcade in an attempt to save her game, Sugar Rush, from being unplugged. After they travel to the internet to find a steering wheel on eBay, they infiltrate a game called Slaughter Race and meet a skilled driver named Shank (Gal Gadot). As Vanellope ponders the big questions in life, Ralph worries he may lose the only friend he's got.
The rest of the voice cast includes Tim Allen as Buzz Lightyear, Irene Bedard as Pocahontas, Kristen Bell as Anna, Jodi Benson as Ariel, Hamish Blake as Pyro, Flula Borg as Maybe, Corey Burton as Grumpy, Auli'i Cravalho as Moana, Anthony Daniels as C-3PO, Vin Diesel as Baby Groot, Jamie Elman as Rancis Fluggerbutter,  Brad Garrett as Eeyore,  Michael Giacchino as FN-3181, GloZell Green as Little Debbie, Bill Hader as JP Spamley, Jennifer Hale as Cinderella, Taraji P. Henson as Yesss, Kate Higgins as Aurora, Linda Larkin as Jasmine, Katie Lowes as Candlehead, Jane Lynch as Sgt. Calhoun, Kelly Macdonald as Merida, Jack McBrayer as Fix-It Felix Jr., Idina Menzel as Elsa, Alfred Molina as Double Dan, Mandy Moore as Rapunzel, Paige O'Hara as Belle, Ed O'Neill as Stan Litwak, Ana Ortiz as Ballet Mom, Pamela Ribon as Snow White, Anika Noni Rose as Tiana, Timothy Simons as Butcher Boy, Roger Craig Smith as Sonic the Hedgehog, Alan Tudyk as KnowsMore, Melissa Villaseñor as Taffyta Muttonfudge, Ming-Na Wen as Mulan and Ali Wong as Felony. Marvel's Stan Lee also makes a posthumous cameo.
Like its predecessor, the sequel is chock full of pop culture references. Directed by Phil Johnston and Rich Moore, the animated adventure is rated PG for rude humor/some action.
Here's what the critics are saying about Ralph Breaks the Internet:
• "A turbo-charged satire that swaps out Gen X video arcade nostalgia for our current, all-consuming social-media-fueled obsession, the endlessly inventive Walt Disney Studios Animation follow-up impressively levels up with laugh-out-loud consistency," The Hollywood Reporter's Michael Rechtshaffen writes. "While the film's obligatory emotional beats may not land here with the same acuity as the funny stuff," he adds, "it's hard to fault something that has the likes of Ariel and Moana coaching Vanellope in finding her personal desire song by looking into a body of water until inspiration strikes." Alan Menken's "show-stopping musical number" is a crowd-pleaser, as is the "tongue-in-cheek gathering of princesses." Throughout the movie, Johnston and Moore "keep things zipping along amusingly through a remarkably detailed virtual world packed with colorfully creative touches at every high-speed turn."
• With "no shortage" of memes and viral hits, "there's almost too much to watch in one viewing, but [Johnston and Moore's] takes on social media and online living tend to be pretty clever on the whole," USA Today's Brian Truitt writes. But considering how "up-to-date" and "modern" the sequel is, "it leans old-school Disney. And The movie embraces everything about the House of Mouse: There's a whole sequence where Vanellope sees Iron Man and gets chased by Stormtroopers in an area that's a little too 'We own your childhoods!'" Luckily, the directing duo executed it well, "because it leads to two of the most entertaining sequences in the film." Ultimately, "You'll LOL, you'll cry-emoji, you'll never look at a pop-up ad the same way again."
• "Ambitious, beautifully animated, and clever to a fault, Ralph Breaks the Internet breaks free of the pitfalls of most sequels by never forgoing heart for the sake of bigger franchise pyrotechnics," Entertainment Weekly's Dana Schwartz writes. While the sequel "suffers from a few cringe-y moments of self-proud internet awareness," all is forgiven. "Meta jokes—and a sophisticated theme about insecurity and co-dependence—might resonate more with parents than younger kids," although "both will be equally delighted too-brief moments with the squad of Disney Princesses who are so fun you won't even mind that they're shoehorned in."
• "After going from 8-bit zero to arcade hero during his original outing, Wreck-It Ralph levels up in a big way with Ralph Breaks the Internet, an ambitious, all-around-satisfying sequel to Walt Disney Animation's wonderfully outside-the-box smash that ranks among the studio's very best toons: It's a poignant buddy movie that's sincere in all the right places but knows better than to take itself too seriously," Variety's Peter Debruge writes, adding "This more-clever-than-expected follow-up skips the obvious next step—simply exploring the other games that share the same power strip—and sets out to conquer the relative vastness of cyberspace instead."
• Once Ralph and Vanellope get online, the movie finds "a common ground between family-friendly entertainment and sharp social satire," Rolling Stone's David Fear writes. While "the big lug of the title never runs into racists or armchair fascists on Twitter here," he "does drop by a comments section regarding his videos, which kicks off a last act that absolutely nails the endorphin rush and the downward-spiraling depression that characterizes the sensation of spending any substantial amount of time online...Will he break the internet or will it break him? It's painfully recognizable, this neediness, as is the rise and fall."
• "If you've ever had Amazon remove a book from your Kindle or Apple snatch music out of your iTunes library, you know that one of the evil agendas of the internet is to make you buy the same media over and over. Perhaps that's the subtext of "Ralph Breaks the Internet," a fairly listless sequel to "Wreck-It Ralph" that recycles many of the previous film's ideas and themes," The Wrap's Alonso Duralde writes. While there are some "worthwhile upgrades," he adds, "it's hard not to feel like you've already played this game once before." While the specifics of viral video gags will be "dated" in no time, Ralph Breaks the Internet delivers the ha-ha and the bang-zoom that will keep young audiences engaged." But, Duralde argues, Disney is a studio that has trained audiences "to expect more than the merely-OK from their animated features."
• "Like many buddy movie series, the first Ralph was about getting the gang together; the second is about what happens when the buddies break apart," The Washington Post's Kristen Page-Kirby writes. Vanellope "finds what feels like a home" with Slaughter Race. "Staying there, however, would mean leaving Ralph behind. Watching her try to balance her own happiness with that of her friend's feels like a very heartfelt, very real dilemma, thanks to Silverman's performance, which has only gotten more powerful since the first film. Ralph may get top billing here, but this new story belongs to Vanellope." But the characters "are so fully realized" that the stakes seem real as ever. "For Ralph and Vanellope, friendship is anything but a game."
Fandango is now selling tickets to see Ralph Breaks the Internet at a theater near you.
(E! and Fandango are both members of the NBCUniversal family.)