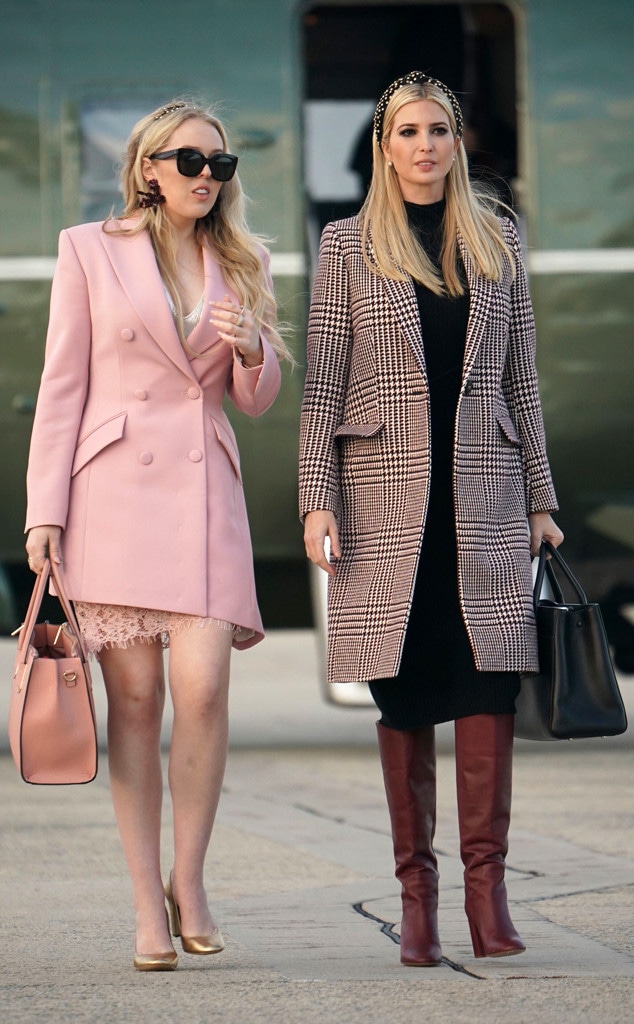 MANDEL NGAN/AFP/Getty Images
The Trumps are returning to a favorite spot for Thanksgiving. 
With the annual holiday just days away, President Donald Trump, First Lady Melania Trump, son Barron Trump, daughter, Ivanka Trump, and her three children, Arabella, 7, Joseph, 5, and Theodore, 2, boarded Air Force One on Tuesday en route to Trump's Mar-a-Lago resort in Florida.
Ivanka's younger sister, Tiffany Trump, also came along for the ride, giving off modern Legally Blonde vibes in a bubblegum pink double-breasted suit jacket paired with a pink lace skirt and gold pumps. However, eagle-eyed photographers spotted the tag still on the bottom of one of her shoes. Ivanka sported darker hues, including a plaid jacket, black turtleneck dress and brown boots. 
After sharing a snap from the sky, Ivanka and her famous family touched down in Palm Beach, where the president's "Winter White House" is located. 
The trip came shortly after President Trump participated in the annual turkey pardon at the White House. This year, it was a turkey named Peas that was pardoned during the presentation. 
"Thanksgiving is a time of great American traditions, and today we continue a very special one when a lucky turkey gets a presidential pardon," he said during the Rose Garden event. "That turkey is so lucky. I've never seen such a beautiful turkey."
With the event all wrapped up, it was time for the family jet off to Florida, which has become tradition for the first family as they spent last Thanksgiving there as well.  
Susan Walsh/AP/Shutterstock
Meanwhile, the trip is also welcome family time for Tiffany, currently a law student at Georgetown University.
As she wrote to Ivanka earlier this month on social media, "Wishing my big sister and best friend a happy birthday (sorry for the late post, but you know my law school life haha) I love you so much."