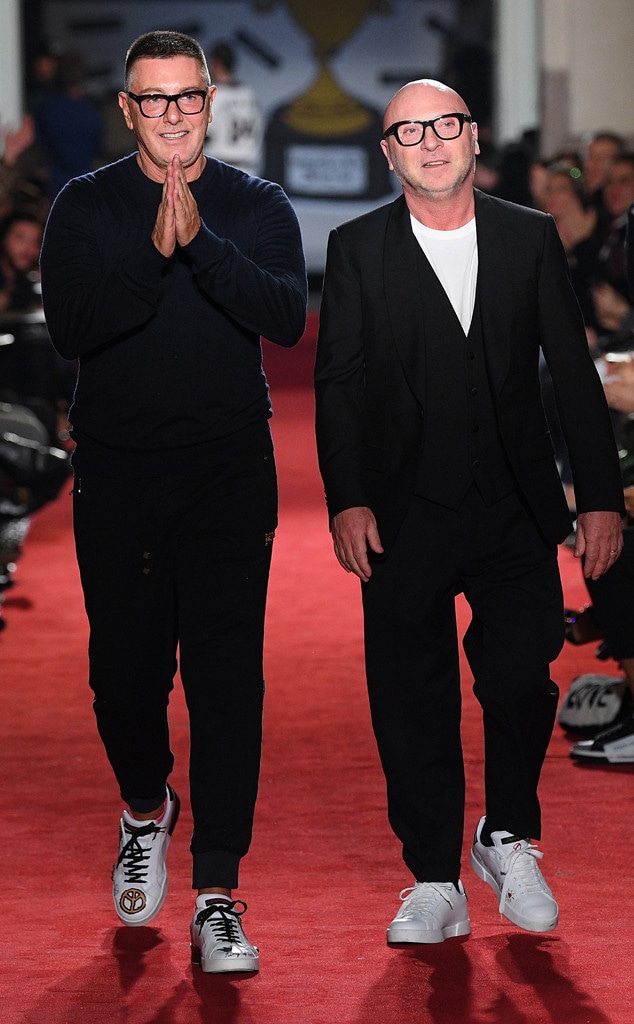 Venturelli/WireImage
Amid mounting controversy, Dolce & Gabbana's "The Great Show" has been called off.  
According to multiple reports, the Italian luxury fashion brand's show, marketed as a "tribute to China" and slated to take place in Shanghai on Wednesday, was canceled just hours ahead of the scheduled event. Per CNN, the brand's official Weibo account announced that the event has been postponed. 
The news comes amid a social media firestorm against the label and it's co-founder, Stefano Gabbana. Ahead of the show, the brand debuted three episodes of an "Eating With Chopsticks" social media video series, in which a model is depicted eating various Italian foods, like spaghetti and a slice of pizza, with chopsticks. 
In the background, a narrator reportedly offers instructions in Chinese, such as "don't attempt to use the chopsticks as knives," according to CNN. The videos were reportedly taken down from the brand's Weibo account, but remain on their social media accounts. 
The videos sparked social media outcries with many taking issue with how Chinese culture was depicted and mocked. "Shame on this brand," one person commented. 
Shortly before the show, private Instagram messages allegedly from Stefano Gabbana surfaced online. In the messages, posted by Instagram account Diet Prada and from Michaela Tranova, Gabbana allegedly defended the videos and wrote "China Ignorant Dirty Smelling Mafia."
"And from now on in all the interviews that I will do international I will say that the country of [poop emojis] is China," one message read.  
Gabbana denied the messages were from him and claimed they were the result of a hacking in a social media statement issued late Tuesday. "My Instagram account has been hacked. My legal office is working on this," he wrote. "I love China and the Chinese Culture. I'm so sorry for what happened."
The Dolce & Gabbana Instagram account also featured a similar statement. "Our Instagram account has been hacked. So has the account of Stefano Gabbana. Our legal office is urgently investigating. We are very sorry for any distress caused by these unauthorized posts, comments and direct messages. We have nothing but respect for China and the people of China. Dolce & Gabbana."
Meanwhile, behind the scenes, China Bentley Modeling agency announced 24 of their models were boycotting the event after being booked to walk the show, WWD reported. Several models also reportedly posted photos of their casting pictures with "Not Me" written on top. 
The designers addressed the public in a third statement on Wednesday, writing, "Our dream was to bring to Shanghai a tribute event dedicated to China which tells our history and vision. It was not simply a fashion show, but something that we created especially with love and passion for China and all the people around the world who loves Dolce & Gabbana. What happened today was very unfortunate not only for us, but also for all the people who worked day and night to bring this event to life. From the bottom of our hearts, we would like to express our gratitude to our friends and guests. Domenico Dolce and Stefano Gabbana."
This is not the first time the brand or Gabbana has faced controversy. Just in June, the designer sparked backlash when he called Selena Gomez  "ugly" in a comment online.