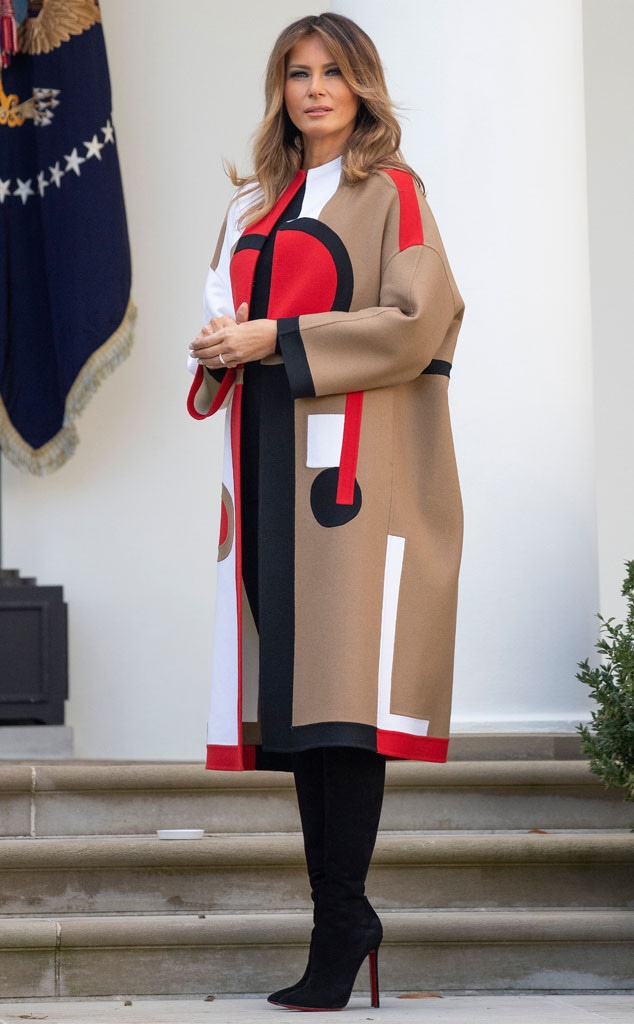 JIM WATSON/AFP/Getty Images
Melania Trump wore a bold Christian Dior coat at the White House Thanksgiving turkey pardoning ceremony on Tuesday.
The First Lady stood alongside her husband, President Donald Trump, as he pardoned two turkeys named Peas and Carrots. Melania stood out next to President Trump, who wore a black coat and suit. Peas and Carrots traveled all the way from South Dakota to get that special blessing from the president.
Her Dior coat, which apparently costs around $9,400, is tan with different shapes on it in red, white and black. She coupled the coat with a black top and pants with knee-high Christian Louboutin heeled boots. Melania laughed and smiled while President Trump spared the lives of the animals.
According to CNN, although Peas was the one officially pardoned and named the National Thanksgiving Turkey, Carrots will be able to breathe a turkey sigh of relief as the two of them will live at Virginia Tech University. They will be cared for by fellow students and veterinarians in the Animal and Poultry Sciences Department.
As is wont to happen on Twitter, many people went after Melania for her choice of outfit, even going so far as to compare the coloring of the coat to that of the turkeys. She had a fair share of both critics and admirers alike for her garb. "Someone needs to pardon Melania's coat," one Twitter user wrote.
Other Melania Trump fashion fan accounts called her get-up "amazing."
The First Lady receives a fair share of responses (and memes) when it comes to her sartorial decisions at official events. In October, many people on Twitter compared her to Michael Jackson and Dr. René Belloq from Indiana Jones' Raiders of the Lost Ark due to her look that featured a white pants, a beige coat, a fedora and a black tie. That occurred during her first solo trip as First Lady to Ghana, Malawi, Kenya and Egypt.
In August, she helped plant a tree with descendants of previous presidents and wore a floral skirt with Louboutin heels. Many people were once again curious as to why she wore stilettos as her gardening shoe of choice. She received the most backlash of all, however, when she sported a Zara coat that said "I Don't Really Care, Do U?" on the back before a trip to visit immigrant children who were separated from their parents at the U.S.-Mexico border.
On Monday, the First Lady looked festive again as she and President Trump greeted the official White House Christmas tree that was delivered via two Clydesdale horses. The First Family left the Washington, D.C. winter for the warmer weather at their Mar-a-Lago home in Palm Beach, Fla.