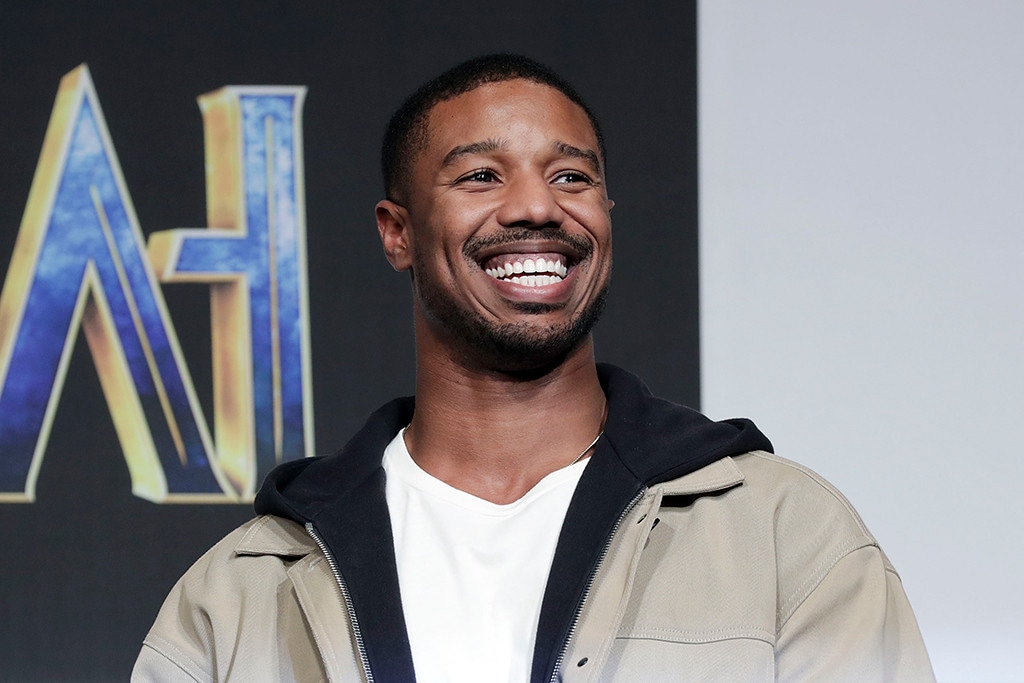 Han Myung-Gu/Getty Images for Disney
Michael B. Jordan. Need we say more?
Originally hailed as a young Denzel Washington, there's no denying Jordan has put in the work to escape that shadow and make a name for himself within show biz. Michael dazzled TV viewers playing Vince Howard on Friday Night Lights and had us grabbing for the Kleenex on Parenthood, but his flawless transition from television co-star to film superstar is what's recently cemented his status as a leading man. 
For the past decade, Michael's steadily risen to becoming one of Hollywood's most sought-after talents. Just one look at his Vanity Fair cover photo and you'll instantly understand how that thousand-watt smile could shatter a million hearts across the nation. Not that it's ever his intention, of course.
In fact, Jordan has successfully eluded the "player" trope that many overnight sensations have succumbed to soon after hitting the big time. For Jordan, he's prioritized his career and personal development over tabloid controversies. It's not hard to love him, but here are just a few of the reasons why we do.
1. He's Using His Platform to Advocate for Diversity:
In launching his production company Outlier Society, Jordan established a goal to provide career opportunities to a more diverse range of voices. He did so by promising that all Outlier Society's projects will come with inclusion riders. "I've been privileged to work with powerful woman and persons of color throughout my career and it's Outlier's mission to continue to create for talented individuals going forward," he announced on social media at the time. 
Allen Berezovsky/Getty Images
2. He Knows How to Take Control:
We're talking about his career, of course. Following the success of his 2013 film Fruitvale Station, Jordan made an important decision to only go after roles written for white men. Yep, talk about a major risk, but one that's clearly paid off. "Me playing that role is going to make it what it is. I don't want any pre-bias on the character," he told Variety about the brave decision. 
3. All About That Fan Love:
Beyond the big screen, Jordan is always finding a way make his loyal fanbase feel special. He definitely went above and beyond when one fan messaged him on Instagram while he was on her campus filming Creed II. The student told him that she would love to come meet him and even offered to bring him a smoothie for his troubles. Sadly, he declined the smoothie, but did respond to her message with an invite for her, and of course her friends, to come out and take a few pics with him. So you've been warned, Michael B. Jordan's DM's are open and waiting. Do with that information what you will.
4. He's a Proud Feminist: 
Yet another reason we love Jordan is his constant support of the women in both his personal and professional life. "I'm raised by strong women," he recalled to Essence. "Since the majority of people in power are men, when we speak up it gives them firmer ground to stand on when we support them. I'm not the poster boy for it; I'm not the guy who's trying to get in every cause, but at the same time when they call me for help, I'm there… I'm going to be there to support them." 
5. Michael + Tessa = Friendship Goals
Speaking of supporting women, his relationship with co-star Tessa Thompson constantly makes us swoon. Don't lie, you're a little obsessed with them too. The pair has starred in both Creed films together, and their onscreen chemistry is just as electric as it is offscreen. Don't believe us? Just read what Jordan captioned this sweet Instagram of his onscreen wife holding their movie baby.
"…Tessa was such a natural mom, which just speaks to who she truly is such an amazing, intelligent, artistic, 'Hactor' (hand-actor (inside joke)) and overall talent. She demands your attention every time she graces the screen in @creedmovie truly a blessing to work with such a gifted soul…" We're not crying, you're crying!
6. He's a Certified Do-Gooder:
Not only is he easy on the eyes, but he also has a heart of gold. The actor is very involved with many charitable organizations, and in 2017 hosted a benefit for Lupus L.A., a cause that hits very close to home. "This event is to celebrate the strength of my mother, Donna Jordan, who thrives with Lupus as a result of the incredible services provided to her by Lupus L.A.," the Black Panther star shared in a statement.
Watch:
Michael B. Jordan Raises the Bar in "Creed II"
7. He's an Absolute Gentleman:
Although people have been trying for years to get a peek inside his dating life, Jordan has remained fairly tight lipped. However, in Vogue's "73 Questions" the actor revealed his No. 1 dating rule: "Always pick up the tab…she never touches the doorknob." Chivalry isn't dead!
Creed II hits theaters today.