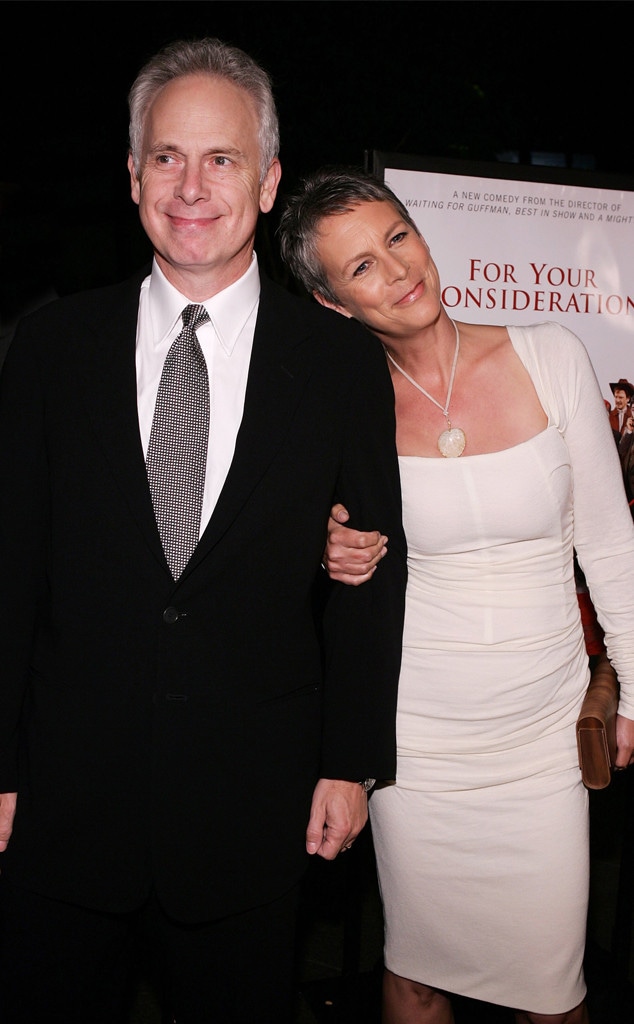 Vince Bucci/Getty Images
Once upon a time, Jamie Lee Curtis was smitten by the singer from Spinal Tap.
Suffice it to say, thank goodness she didn't fall for their drummer. Because, you know, spontaneous combustion.
The daughter of screen legends Tony Curtis and Janet Leigh was sitting in her living room in May of 1984 with her friend Debra Hill, a co-writer and producer of Halloween, the pioneering 1978 horror flick that established Curtis as reigning "scream queen," when she saw a picture of Christopher Guest, Michael McKean and Harry Shearer (all out of character) in Rolling Stone. Cyndi Lauper was on the cover.
"I looked at the man on the right, wearing a plaid shirt and a waggish smirk. I'd never seen him before, but I pointed at him," Curtis recalled in a 2004 essay for O magazine. "'I'm going to marry that man,' I said to my friend."
That man was Guest, a star of the 1984 eventual cult-classic comedy This Is Spinal Tap and the future chameleonic writer-director-star of improv-reliant comedies such as Waiting for Guffman and Best in Show.
"I just really did an old-fashioned 'Spanky and Our Gang' double take," Curtis told the Washington Post in 1985. "I said, 'Whoever this guy is, is it. That's as good as it gets.'"
And the iconic actress—who's celebrating her 60th birthday today in the wake of the smash-hit success of Halloween, the logical sequel to the 1978 original that does away with the plots of the nine other sequels/reboots/tangential scares that came in between—is going to be celebrating 34 years of marriage to "that man" next month.
Not that Jamie Lee Curtis' love life got cranked up to 11 overnight.
Aaron Rapoport/Corbis via Getty Images
In fact, Hill knew his agent (turns out Curtis and Guest shared an agency), so Curtis called Guest's agent the next day—and he already knew why she was calling, Hill having beat her to the punch. A little embarrassed, she left her number for Guest to call her if he was interested.
He didn't call.
"It was a strange period, right after Spinal Tap," Guest later explained to People. "There were bizarre women calling at 3 or 4 in the morning."
"I went on with my life," Curtis wrote in the O piece. "I began dating a sweet man, but we both knew it wasn't for good. When he had to leave for an extended business trip, I dropped him off at the airport to say a friendly but final goodbye. From the airport, I drove straight to Hugo's restaurant in West Hollywood to have dinner with friends."
It was there at the trendy health food spot, which is still there to this day, that she and Guest first laid eyes on each other in person. Curtis was sitting with Melanie Griffith and her then-husband Steven Bauer, who had just been in Scarface. Guest was a few tables away.
"He waved to me as if to say, "I'm the guy you called,'" Curtis recalled. "I waved back: 'I'm the woman who called you.' A few minutes later, he got up to leave. Standing 20 feet away, he shrugged his shoulders and put up his hand as if to say, 'I'll see ya.' As he left, I looked down at my plate."
Guest called the next day, June 28. They had their first date on July 2, Chianti Ristorante on Melrose. They were in love by the time he had to fly back to New York on Aug. 8 to report for duty at Saturday Night Live for the infamous 1984-85 season, when they brought in established stars like Billy Crystal and Martin Short to try and give the show a jolt of new energy.
Guest only did SNL that one season--but he actually tried to get out of his contract so he wouldn't have to leave L.A. and Jamie Lee Curtis, she revealed recently on Chris Hardwick's ID10T podcast.
Ron Galella, Ltd./WireImage
"One day in September, we were talking on the phone," Curtis continued. "'I went for a walk along Fifth Avenue today,' he said. 'What'd you do there?' I said. 'Do you like diamonds?' he asked." That was Sept. 15.
So, just months after Curtis first spied Guest in a magazine and decided he was the guy for her, they married on Dec. 18, 1984—on a Tuesday at 4 p.m.—at This Is Spinal Tap director Rob Reiner's house. Both Tony Curtis and Janet Leigh were there. Hugo's did the catering.
"We were home by 7:30. My sister Kelly is still mad at me," Curtis told Hardwick. "...If anybody here knows Kelly Curtis...please let her know that I publicly, in front of the universe, apologized for going home from my wedding at 7:15 when she wanted to keep dancing and actually have a wedding—when Chris and I sort of stood there, we swayed back and forth for our wedding dance, we cut the cake, we ate a piece, and it was like, 'OK, I'm good, you?' 'Yeah, let's go.'"
As if they weren't already certain they had married the right person...
"He's funny. I'm funny," Curtis told Parade last month as her husband of 33 years popped into the kitchen of their longtime home on the west side of Los Angeles. "We still figure it out."
Curtis' famous parents divorced, messily, in 1962, when she was 3, after which she and Kelly lived with their mom and Jamie attended what's now Choate Rosemary Hall (also Ivanka Trump's old stomping grounds) in Connecticut.
After graduation, Curtis returned to L.A. to go to college and pursue either law enforcement or social work. That lasted about six months. Instead, she ran into a friend's father who was an agent, he wanted her to audition to play Nancy Drew on a TV series... and though she didn't get that role, the rest is history.
Hulton Archive/Getty Images
Guest, who's 10 years older, is the son of a British United Nations diplomat father, Peter Haden-Guest, and his second wife, Jean Pauline Hindes, a former executive at CBS. He grew up in England and New York and went to NYU to study acting.
"When I was 18 years old, all my friends were 30 or 40," Curtis told People about her early days back in California. "I was called upon to be opinionated and smart, and I was an 18-year-old feather. I was just blowing around." At the same time, "I was also this party girl very heavily into coke for a while. I never did more than anyone else was doing, but I was certainly in the thick of it. It was a real lost time."
When she first returned to California, Curtis didn't have much of a relationship with her father, who married five more times after divorcing Leigh. They ended up bonding over drug use, addiction running in the family—though at the time, Curtis didn't consider herself someone who had a problem. In 1983, she cut herself off from the drug scene, and that included re-estranging herself from Tony.
"My dad and I went through that period, and then we had to split up again," Curtis told People. "He had gone through drug programs, reneged on them, and I was disappointed in him. I basically had no more time for that."
The following year, of course, she discovered Guest.
"For a long time I never smiled, because I was self-conscious about my ugly, dull-looking teeth," Curtis admitted. "That's why I developed my smirk—which is why, when I looked at Chris's smirk in the picture, I basically saw myself. I saw a kindred spirit."
Ron Galella, Ltd./WireImage
Seven years in, "I don't think we have an easy marriage," Curtis observed. "We have a difficult, but successful, marriage."
They adopted their daughter, Annie, right after she was born in December 1986, having gotten to know the birth mother through the adoption agency. Curtis called Annie's arrival "the most profound, nondescribable event of my life."
Becoming a mom herself also helped repair her relationship with her father. "On my 30th birthday I called my father," Curtis shared with People in 1991. "He hadn't seen Annie since she was 8 weeks old, and she was now turning 2. I just felt it was time." They remained in each other's lives more consistently until Tony's death in 2010.
Meanwhile, after The Fog and Prom Night and Halloween (and Halloween 2) made Jamie Lee Curtis the "scream queen," flashing some skin in Trading Places and playing an aerobics instructor in Perfect turned her into a sex symbol, a designation she was never comfortable with.
"To me, unfortunately, the term 'sex symbol' connotes mindlessness," Curtis told the Washington Post in 1985. "It connotes where your physical and sensual presence is the only thing people respond to. I do it because I like doing the work. I'm not a vamp girl, I'm very much the baby girl, especially in my private life," . "I walk around in Tretorns and baggy safari shorts and odd assorted T-shirts from my husband's T-shirt collection. No makeup, like a very semigeeky, awkward girl. Girl! And I stress girl! I really think of myself as a girl. I only put on my womanly stuff when I go to work."
In her spare time, she liked being with Guest. "I've perfected the Caesar salad," she added.
"We went to this preview party for Perfect last night, and all I got were lines from the guys like, 'Great body!' and stares from the women. It was very depressing," she shared with the Chicago Tribune in June 1985. "And when we got home, Chris told me that he had fallen in love with me before he saw my body."
Ron Galella, Ltd./WireImage
Curtis told the Chicago Tribune that after she finished shooting Eight Million Ways to Die, they were going to Idaho to buy land and build a house—which they did, in Sun Valley, where Janet Leigh also kept a house since Jamie was little. (After her death in 2004, a ski trail was christened "Leigh Lane" in her honor.)
They moved into their West Los Angeles home in 1992, a 1929 Spanish Colonial Revival nestled in a canyon that belonged to Oscar winner Luise Rainer in the '30s. Curtis decided immediately that she could make it beautiful. Guest didn't go in at first, but instead climbed a hill and gazed at it from above. "We should take it," he said, the couple recalling the moment to Architectural Digest in 2002. "It felt like a park-like setting," he said. "I was happy with that."
The late '80s and '90s continued to be a prolific time for Curtis onscreen, with meatier roles in big movies such as A Fish Called Wanda, Forever Young, Blue Steel, My Girl and True Lies ("the best time I ever had on a set," she recalled in Interview in 2015), as well as her own sitcom, Anything but Love, opposite Richard Lewis (six years after telling the Post that what her husband did, i.e. comedy, was "way beyond" her).
Curtis told People in 1994, "With a marriage and a child, my life is this blend of being wild and carefree, and on another level careful and cautious. It's weird but I'm really happy."
The ever inscrutable Guest, who had played one of the all-time funniest film characters in This Is Spinal Tap's Nigel Tufnel, was enigmatic even then—but not to the people close to him. 
"It's hard to talk about Chris," Curtis said glowingly, "because all you're going to hear is the word 'great,'" she says. "He's a great listener, a great athlete, a great husband and father." (And we hear that, while he's not a center-of-attention type at parties, he's perfectly friendly and will amiably discuss his work if you ask about it.)
Alex Berliner/BEI/REX/Shutterstock
The couple adopted another child, son Thomas, in 1996. Also that year, Guest's father, who had become a baron, passed away, and his barony passed down to Guest, making him Lord Haden-Guest—so Curtis could call herself Lady Haden-Guest, should she so desire. Which she doesn't.
Meanwhile, Curtis started to struggle behind the scenes of her own life.
In 1994, her half-brother Nicholas, Tony Curtis' son with third wife Leslie Allen, died of a drug overdose. It turned out the actress was fighting her own battles with alcoholism and opioid abuse—which, she recalled recently, she managed to completely hide from her family. "I had a 10-year run, stealing, conniving. No one knew. No one," she told People in October. "I had all the fame and wealth, and my marriage was intact, and my kids were with me." 
She was first prescribed painkillers after plastic surgery to reduce eye puffiness in 1989, and she spent the next 10 years scrounging for pills.
Guest "was incredulous that he'd never noticed." She started going to recovery meetings on Feb. 3, 1999—the same day she told her husband that she had a problem—and she's been sober ever since.
"I'm breaking the cycle that has basically destroyed the lives of generations in my family," Curtis told People. "Getting sober remains my single greatest accomplishment… bigger than my husband, bigger than both of my children and bigger than any work, success, failure. Anything."
Interestingly, during a talk about wellness in Sun Valley, Idaho, in 2010, Curtis said the sudden death of Princess Diana in 1997 really made her think about the concept of a life well lived, doing the most that you can with the time you have. "I now live wisely—not unflawed. But I do strive to live wisely every day," the actress said, per MagicValley.com.
Commemorating the anniversary of Diana's death in August, Curtis shared on Instagram how much she regretted missing the Princess of Wales and her children by just a few minutes when they visited the London set of Fierce Creatures in 1996—literally, because she was in the bathroom. Curtis wrote Diana a letter telling her how sorry she was to have missed her. 
"A hand-delivered letter from Kensington Palace, on her stationary, came the next day thanking me for mine and understanding completely the need for nature to take it's course," Curtis recalled. They hoped to meet in the future. Writing about how much she admired Diana's humanitarian efforts and her obvious devotion to her children, Curtis concluded, "She was a great role model for me. An example to live by. I honor her this day."
More recently, she told Chris Hardwick that she lived her life by wisdom gleaned from The Princess Bride: "Life is pain, princess, and anyone who tells you different is selling something." (Silver lining: She married the six-fingered Count Rugen.)
Giving Architectural Digest a tour of their house in 2002, Guest joked that all of the objects Curtis had tried out in their living room and then had moved out would make for a good montage of pictures.
The quietly prolific actor, writer and filmmaker—who by then had directed Waiting for Guffman and Best in Show and was working on A Mighty Wind—enjoyed the kitchen.
"In the evenings I'll play there while Jamie makes dinner and Tom dances," Guest said. In the room was a piece of art made out of breakfast cereal, a gift from Guest to his wife, a nod to their determination not to take material things too seriously (though she admittedly "touched, fretted and agonized over" everything in that living room).
Curtis claimed she was finally, after 10 years, done with the house, but Guest noted, "I think it's like anything: It's a work in progress. This house is going to keep living."
In 2009, Guest, McKean and Shearer got the band back together for the "One Night Only World Tour." More recently, Guest executive-produced and appeared in the very Guestian HBO comedy Family Tree, celebrated the 30th anniversary of Spinal Tap with his mates in 2014and then took his talents to Netflix. He directed many familiar faces from his familiar stable of actors in 2016's Mascots, and just directed the Loudon Wainright III concert special Surviving Twin, which Judd Apatow executive-produced.
While it doesn't exactly seem as if Curtis took a definable break from acting, she did—to write children's books, be an advocate for girls and women struggling with body image and self-esteem and be a full-time wife and mom. Being a spokeswoman for Activia yogurt proved a lucrative side gig, as well as made her a sought-after sounding board for people's gastrointestinal anecdotes when she'd be trying to walk through the airport.
"I think what often happens is that children don't have a foundation, so they go off into adult life, experience big highs, and then plummet," she told Parents magazine in 2002. "Life and expectations don't pan out the way they planned, and that unsettles them terribly."
Curtis was ahead of her time in wishing that there were more meaty roles to go around for women of all ages, and that less attention was paid to women's physical attributes, even when the attention was so-called positive. She also assumed 33 years ago that she'd be long since retired by now.
"I figure I've got about 15 years left," she said with an almost audible shrug in 1985. "And God knows I'm ready. I want to do good work."
Jamie Lee Curtis/Instagram
Instead, on the eve of her 60th birthday, she starred in the second-biggest movie that opened in October, ever, Halloween having made $76.2 million on opening weekend—which also made it the biggest-ever first weekend for a horror movie with a female lead. And the biggest opening weekend for any movie with a female lead older than 55.
If only she could've seen what was ahead—sort of as she did when she saw a picture of a not-quite-smiling guy in a plaid shirt in the pages of Rolling Stone. The picture still hangs in their house.
"Chris and I have a wonderful, complicated, imperfect life. And a very real marriage," Curtis wrote in O in 2004. "I'll never know why I thought we'd understand each other when I saw his photograph. Hidden in that smirk, I think, was a little secret that only I knew."
Not that everything is always perfect, a big barrel of laughs 24/7 just because Guest happens to be a comedic genius, or a perennially smooth ride because Curtis is witty, wise and empathetic. She joked on Today in 2015 that her secret to a lasting marriage was, simply, "don't get divorced." She added, "It's a fascinating thing. I could write a book on marriage called 'Don't Leave.'"
"You think you're having a bad week, but stay on the bus, because one of these days you'll look out the window and it'll be beautiful," Curtis mused to Good Housekeeping this summer. "I think it can apply to almost anything where you feel unhappy in that moment. I'm not a wild romantic. I'm a realist. I respect him. And I just don't leave."
And when Guest and their kids—Annie, now 31 and engaged and teaching dance, and Thomas, 22 and working at a gaming company—joined her at the Halloween premiere last month, she wrote on Instagram alongside a rare red carpet photo of all four of them: "The most important part of my work is the people I get to come home from that work to. My daughter, Annie, my son, Tom and my husband, Christopher offered me love and support last night and I am so lucky to call them mine."