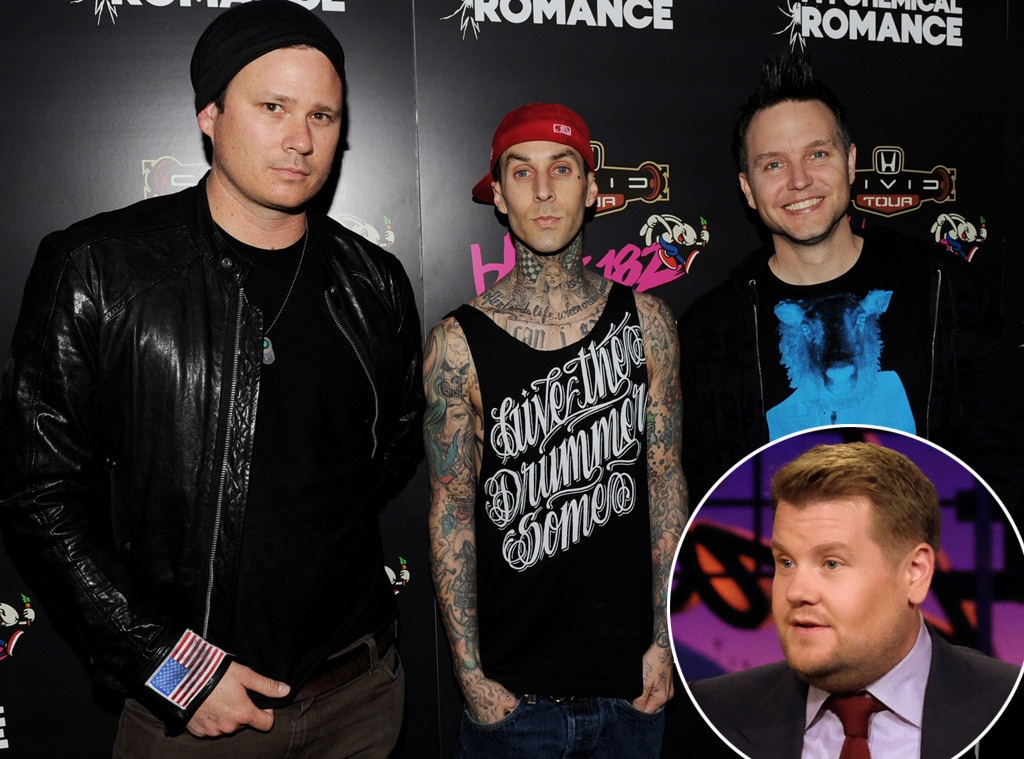 Kevin Winter/Getty Images; Darren Michaels/CBS
How do you pronounce Blink 182 the right way? This question was on the mind of everyone on Twitter on Tuesday afternoon. 
It all began when The Late Late Show with James Corden 's co-head writer and stand-up comedian Ian Karmel started a Twitter forum with the '90s band members Mark Hoppus and Tom DeLonge. In what would become a viral moment, he said that the British call Blink-182 differently that Americans, saying "The British call Blink-182 'Blink One Eight Two' and I'm not saying that's WHY they lost the Revolutionary War, but..." 
And his boss James Corden even weighed in by replying to Ian's tweet. The host surprised the Twitter world when he said that Americans are also pronouncing it wrong. He joked, "Don't start this. I admit we are wrong on this. America call them Blink One eighty two. Which is also wrong. They technically should be called Blink One Hundred and eighty two. Don't take some moral high ground here."
Users chimed in from all of the world with some people agreeing with James when he wrote that Americans say "Blink One eighty Two", while others got intense and took the British side writing it's Blink One Eight Two.
The conversation on Twitter didn't stop there. Ian then called on Tom and Marc to settle the debate once and for all.
At this point, the world is going crazy, but an hour later, Mark Hoppus jokingly wrote that people have forgotten the proper grammar for the band moniker. He said, "Thank you James. Some say one eighty two. Same say one eight two. But in all of this, I feel like we've lost sight of the fact that the B in blink-182 should be lower-case."
But Tom wasn't going to leave the people hanging without the answers they desperately sought. He enlightened the world by revealing that it's actually spelled "Blink eighteen-two".
"It's actually- Blink eighteen-two. People have gotten this wrong for years. Sometimes this can happen with very complex, thoughtful and elevated art," the singer shared.
Well, it looks like that settles it.