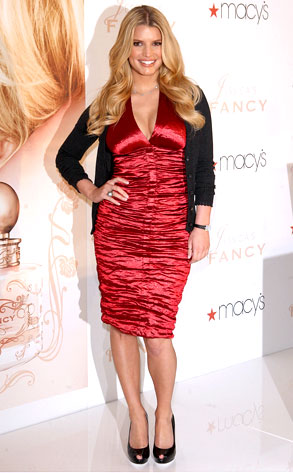 Jason Merritt/Getty images
Just when Jessica Simpson was preparing to turn the page on her rough week, she misses out on a sponsorship deal.
Seriously, weight-management purveyor Jenny Craig has no intention of working with her. None!
What the heck? Sister Ashlee, Heidi Klum, Kim Kardashian, Carmen Electra and even her ex Nick Lachey have spoken up in her defense, but according to authoritative nasty bloggers, Simpson has gotten huge.
"Over the past couple of weeks, a lot has been made about Jessica Simpson's purported battle with her weight and more recently Jenny Craig's interest in partnering with Ms. Simpson," read a statement issued by Scott Parker, VP of Marketing and New Business Development for Jenny Craig, whose recent spokeswomen have included Kirstie Alley, Valerie Bertinelli and Queen Latifah.
"Ms. Simpson has publicly stated that she is healthy, feels great and is very happy with her body. We would agree. Ms. Simpson looks fantastic and we see no reason for her to participate in a weight management program."
What's next, the general public realizes Simpson is still a hottie, too? We give up!