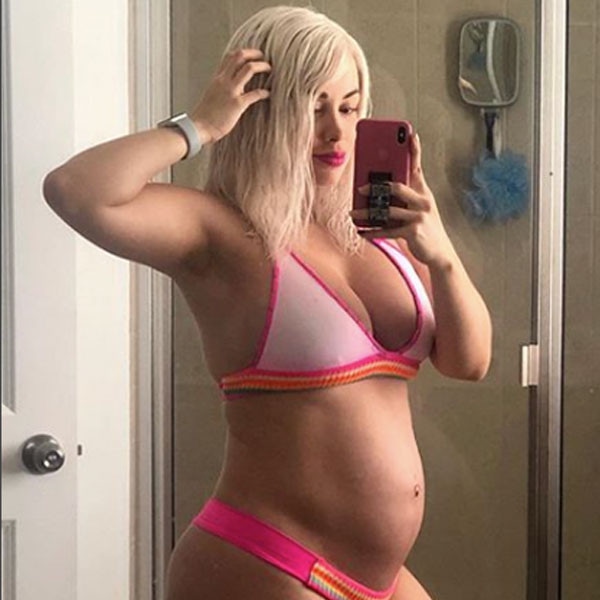 Instagram
Hey, Paola Mayfield's critics—the jokes on you. 
The 90 Day Fiancé star, who is currently pregnant with her and husband Russ Mayfield's first child, shared snaps this week of herself rocking some bleached blond hair—a stark contrast from her her former brunette locks. In photos shared to her Instagram account, the mom-to-be posed in a pink bikini top and bottom with the focus on her baby bump. 
However, it was her new 'do that got fans, followers and critics alike talking. While many showered her with compliments and well wishes for her pregnancy, some took issue with her seemingly newly dyed hair. 
"Ur not suppose to dye your hair while pregnant," one woman wrote in the comments. "I hope that's a wig cos u shouldn't bleach your hair whilst pregnant," another retorted. "Can you die your hair while pregnant?" a third asked. 
However, as Mayfield assured in her responses back, it was just a wig. "Gorgeous it is a wig 100% human hair. I don't wash her often because it is not necessary!" she wrote back to one inquiring fan. 
Having amassed thousands of followers as a reality TV star, Mayfield is no stranger to digital criticism. Fortunately, there are plenty of people interested more in celebrating the couple's pregnancy than tearing them down. It was just four months ago that she and Russ revealed the big baby news to their devoted fans. 
"We are so thankful and happy for each one of your beautiful messages! We weren't expecting so much love and so much support. Thank you all so much," she wrote online in August. You guys know all that Russ and I went through the past months. I was angry and devastated after all you can never completely recover from something like that but today we have a reason to smile and to be happy, a reason to move forward and to be the best we can. I wish I could keep up and like all your comments from my last post. I love you all so very much! Thank you for living this amazing experience with us and for showing us so much love."
Shortly after, they announced they are expecting a boy. "I didn't care if it was a boy or a girl, I just wanted a healthy baby and to be able to have it in my arms as soon as possible. Of course I'm always rooting for a girl but a boy is a blessing as well and I know my husband is really excited!" she shared. "This is an amazing experience now I can finally say I'm pregnant!!! I'm having a little boy."