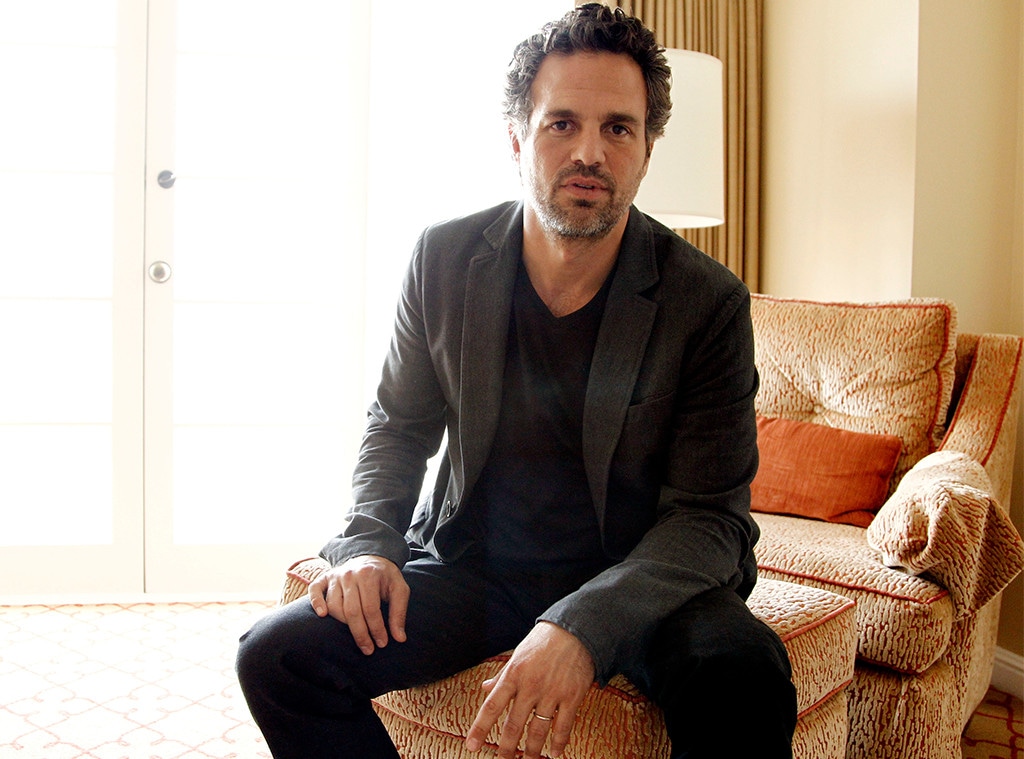 Matt Sayles/AP/Shutterstock
Listen up everyone!
Mark Ruffalo is 51 years old today and our obsession with him is just as strong now that he's officially over the hill as it's ever been.
Seeing as the acclaimed actor's birthday coincides with Thanksgiving this year, we definitely have a little something extra to be thankful for, don't you think?
Over the years, the star has melted our hearts and made us swoon as the love interest in rom-coms like 13 Going on 30 and Just Like Heaven.
He's made us go a little weak in the knees as a hunky superhero on-screen—AKA as The Hulk—and a total heartthrob off-screen.
He also manages to crack us up with clever captions on social media. Not to mention, his political passion is absolutely perfect.
So, we decided the only appropriate way to celebrate Ruffalo's birthday is by breaking down each and every reason why he puts a big ol' grin on our faces.
Trust us, there are a bunch!
The Avengers actor is one of those celebs we can always turn to when we're down, knowing full well his infectiously charming personality will always brighten our spirits.
Plus, it helps that he's not bad to look at either, but we digress.
Anyway, it always feels like Ruffalo just gets us, you know?
He doesn't shy away from sharing embarrassing #TBT photos. His online activity is spot-on and he's obsessed with his family.
Honestly, what more could we ask for?
OK, enough chatter, it's time to celebrate Ruffalo's birthday by looking back at all the reasons why he makes us smile below.
You're welcome in advance!
1. He's Not Afraid to Poke Fun at Himself
It takes a certain kind of confidence to put your awkward childhood photos out there for the whole world to see, like Ruffalo did in this hilarious #TBT snap on Instagram. Good thing confidence is sexy and in Ruffalo's case sexy and totally dorky.
2. He Loves Razzles IRL
Be still our hearts! Just like his character in 13 Going on 30, Ruffalo also enjoys chowing down on that classic candy that magically turns into gum mid chew. We don't know why, but this makes our hearts so happy. Not to mention, over a decade later we're still swooning over his character in the rom-com, because he was freaking perfect. How can you not love him after the "Thriller" dance scene? It was so good!
3. He Does Shirtless and Sexy Oh So Well
A few years ago, the actor shared a shirtless snap on social media to promote breast cancer awareness among men. In the photo, he smirked at the camera while pointing to his nipple. Baring his bod for a good cause? We're all about this! See the sexy shot here and try not to faint at the hotness that you're sure to witness upon opening.
4. He's Political and Honestly That's Such a Turn-On
We just love a man with social and political integrity. Don't you? Ruffalo took to Instagram earlier this month to encourage people in America to vote in the mid-term elections and it took his hotness level up a notch in our books. He even explained that he had cast his own ballot as well, and voted absentee this year.
Plus, the star is also a big climate change advocate and insists in his Twitter bio that he has "an eye on a better, brighter, cleaner, more hopeful future for all of us." Hello, talk about dreamboat status!
The outspoken A-lister sure knows how to use his massive and expansive platform for the greater good and we just love that. 
5. He's a Family Man and a Major DILF
Ruffalo and his wife, Sunrise Coigney, have been married for 18 years. Not only is this cute couple clearly in it for the long haul, but they also have three kids together and Ruffalo is all about being a father. Just look at his Instagram account that's beaming with fun family snaps. It's adorable.
Press Association via AP Images
6. He Knows How to Ride an Effing Unicycle
During a visit to the Graham Norton Show a few years ago, the actor actually hopped up on a unicycle and wheeled around the stage. Surprise, the Wisconsin native has a hidden talent!
"I haven't done this in a long time," he told the talk show host before mounting the unicycle. "I think it's been almost 25 years since I've done this."
Well, we couldn't tell from the way he was riding around like a professional that it had been so long. We guess it's true what they say, it is just like riding a bicycle...or technically a unicycle.
What's even more impressive is that Graham Norton surprised Ruffalo with a second, 6-foot tall unicycle and dared him to give it a go. While he needed a little help hopping up, the star still managed to successfully maneuver the giant unicycle.
7. He's a Freaking Superhero
Did you think we'd forget that Ruffalo plays The Hulk in the Avengers films? Ya, that was not going to happen. The actor is beyond talented and talent is sexy. Plus, the muscles that The Hulk sports in every film are pretty darn attractive if you ask us.
Victoria Will/Invision/AP/Shutterstock
8. He's Beautiful When He's Brooding
We would give anything for Ruffalo to look at us like that. *Sigh*
This is one of the most perfect pictures of the birthday boy that ever existed, and we almost feel like he should never move that hand from behind his neck. Like, really, what could be better than looking at this snap of Ruffalo looking so dreamy? Nothing, the answer is nothing/
We also have to admit that blue shirt is an amazing color on him, and definitely brings out his eyes. What, it does!
Now if you'll excuse us, we're going to go print a life-size version of this picture to hang up in our bedroom. No, it's not weird and we won't judge you if you do the same.
Anyway, we're getting off topic here. We just want to wish you a happy birthday Mark. Hopefully we've made you smile today, because returning the favor is the least we could do.