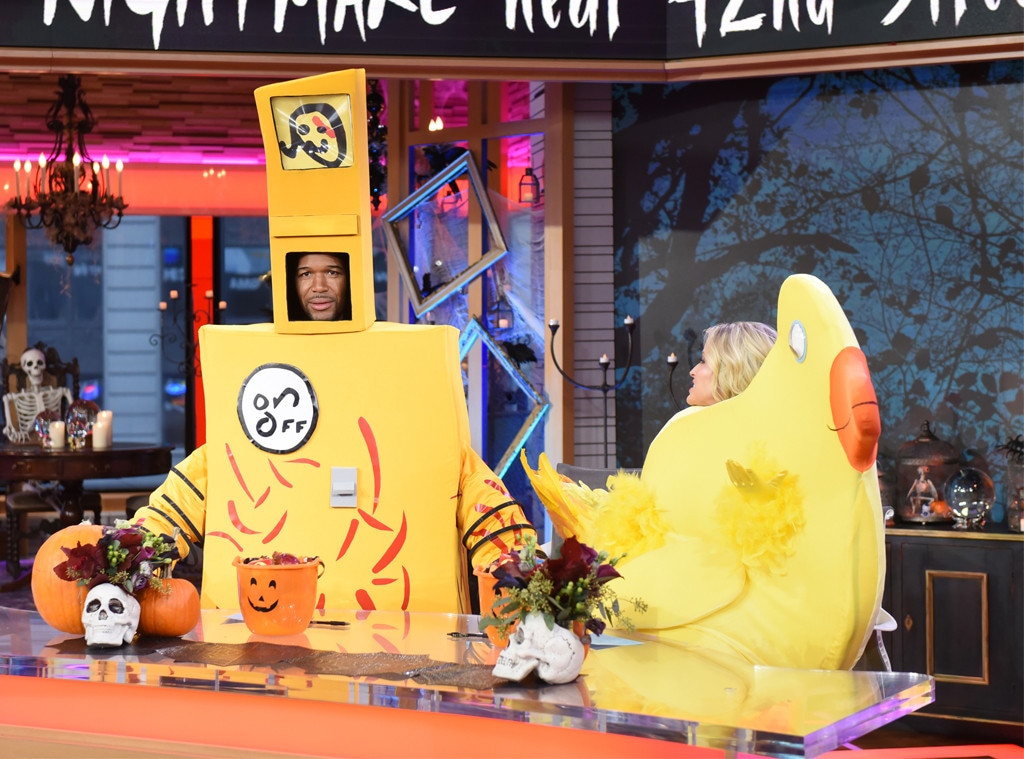 ABC/Paula Lobo
It's time to put on your dancing shoes, Michael Strahan.
The football player turned television personality is celebrating his 47th birthday today and since he's never afraid to show off his dance skills we're hoping he's celebrating by dancing the day away.
From Magic Mike XXL to his newest gig as a co-host on GMA Day, the Texas native has proven time and time again that he has all the right moves and we're always wowed by them.
It's not only dancing where Strahan shines however. Since his days playing football, he has continued to show his athleticism every chance he gets.
During a recent visit to The Ellen DeGeneres Show, the Fox NFL Sunday host accepted the #PushUpChallenge and effortlessly completed 25 push ups to bring awareness to veterans in need. It's seriously so impressive!
The former professional athlete also displayed his competitive side when playing Drinko with Jimmy Fallon on The Tonight Show and during a game of Teacup Roulette on GMA Day. While both games involved drinking some less-than-thrilling concoctions, he made the most of each experience.
We love that Strahan is so game no matter what the activity.
Whether he is dancing for charity, being dunked in a splash tank, or taking a cleaning segment to the next level, he is always on board.
Plus, he is such a pro and a joy to watch on screen, which is why we are so happy to celebrate him on his birthday.
Check out all of the former New York Giant's best on-screen moments below and make sure to send him some serious birthday love today. You know he deserves it!
Dance Party
Strahan and his GMA Day co-host, Sara Haines, were ready to boogie in front of Dancing with the Stars judges, Carrie Ann Inaba and Bruno Tonioli, after interviewing the pair on their new daytime talk show. The former football player came prepared with some serious moves and a 70's inspired outfit.
Push Up Challenge
The talk show host star never backs down from a challenge. This time, Ellen DeGeneres dared Strahan to do 25 push ups as part of Merging Vets and Players' #PushUpChallenge. The organization pairs combat veterans and former professional athletes together to help them transition to the next phase of their lives.
Teacup Roulette
Strahan and Haines went head to head in a game of Teacup Roulette in honor of Reese Witherspoon's book, Whiskey in a Teacup in this on-air moment. With the Oscar winner asking the questions, the co-hosts were required to take a sip of anything from lemon juice to hot dog water for every wrong answer about Witherspoon's career. Watch the clip above to find out who came out on top!
Ultimate Sumo Showdown
The 47-year-old television personality took on WWE champion John Cena in a round of sumo wrestling back in his days as the co-host of Live with Kelly and Michael. The guys couldn't stop laughing and even Kelly Ripa got in on all of the fun.
Drinko
Once again Strahan proved he was a gamer when he played Drinko against Fallon on The Tonight Show. The game is all about making a unique cocktail with two drinks that are selected by dropping disks into cups. See which star was forced to drink prune juice combined with jalapeno juice above.
Dancing for a Purpose
The Texas native showed off his dance moves on Ellen to help raise money for breast cancer research in the past. From The Robot to the "Single Ladies" routine, Strahan proved he has the moves. Seriously, we can't get enough of watching the former New York Giant player dance for a good cause!
Thunder Dome Madness
Who would think a cleaning segment could get so wild? Strahan and Haines proved that anything can happen when they entered the thunder dome to test if stain-restraint clothing really works. Find out what happened when they had iced coffee, wine and more thrown at them during the GMA Day segment.
Making a Splash
It was Strahan's turn in the famous dunk tank on The Ellen DeGeneres Show back in 2011 and it was so funny. The Texas Southern University graduate was shy at first about showing off his physique but soon took off his shirt before getting soaked.
Strahan loves to put on a show for any TV audience, which is what makes him so fun to watch every day.
In honor of the athlete's birthday, don't forget to give him a sweet shout out before the day is done. It's the right thing to do!