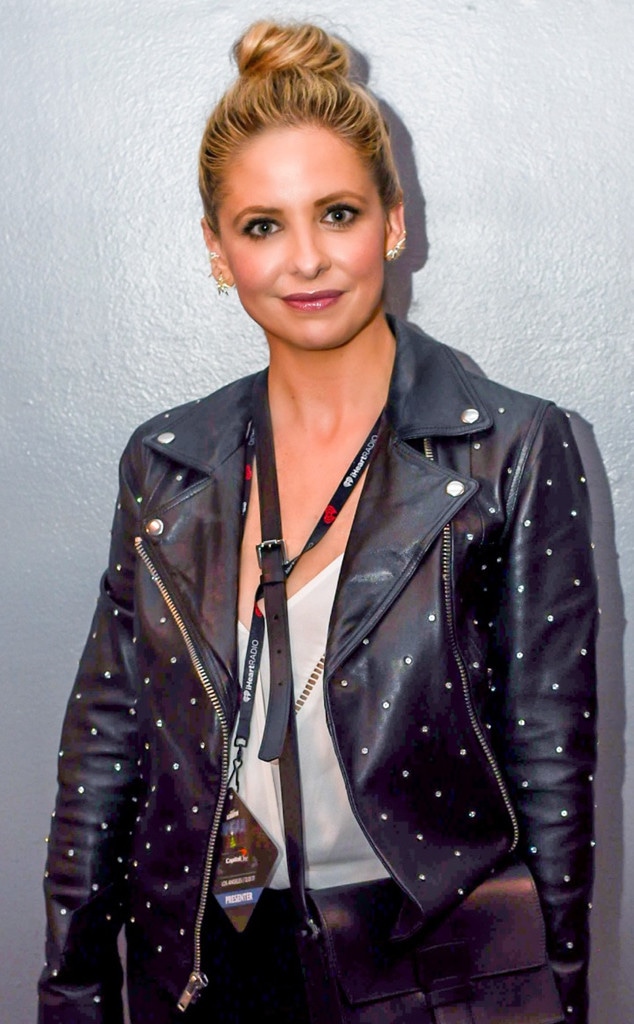 Courtesy of iHeartRadio
Sarah Michelle Gellar did not totally slay this post. 
Days ahead of Thanksgiving, the Buffy, the Vampire Slayer alum ignited criticism and backlash online when she shared a "reminder" to herself about overeating before the big holiday. 
On Monday, she posted a few professional shots of herself sporting a bra and underwear with a collared shirt draped over her arms. "I'm just going to pin these up all over my house as a reminder not to overeat on Thursday #thanksgivingprep," she wrote in what sounded like an attempted joke. 
However, some Internet users weren't laughing. Instead, critics took issue with the comment and weighed in. "Skinny doesn't make you beautiful or healthy. Overeating one day isn't going to hurt you. healthy is a state of mind not a state of body," one woman wrote. 
"Diet culture if a hell of a drug, girl," another added. "Buffy, please don't promote diet culture. Not the kind of message we should be sending," someone else asked. "Usually love your posts but I'm seriously against 'thinspiration.' It's a core of most eating disorders," a fan wrote. 
Needless to say, Gellar's post did not go over well with some fans and incited further debate about eating and health. 
However, some fellow celebs did have the actress' back. "KAWEEN," Jersey Shore's Nicole "Snooki" Polizzi commented. "@sarahmgellar is it weird if I pin these pics of you in my house too?" Tiffani Thiessen playfully responded. "You mean you don't already?" Gellar answered. 
"Are you KIDDING ME!?!" Debra Messing added while Shannen Doherty simply added a few flame emojis. 
Like any online debate, not every fan was offended. As one woman wrote, "Honestly, same."
Meanwhile, Gellar soon caught wind of the mounting criticism and issued a statement to clarify her intention in the comments. "It's come to my attention that some people think I was 'fat shaming' with this post. That could not be further from my intentions. I love Thanksgiving and unfortunately my eyes are often bigger than my stomach, and I tend to eat so much I make myself sick. This was a joking reminder to myself not to do that," she explained. "I'm terribly sorry that people were offended by my attempt at humor. Any one that knows me, knows I would never intentionally "shame" any one on any basis. I am a champion of all people."