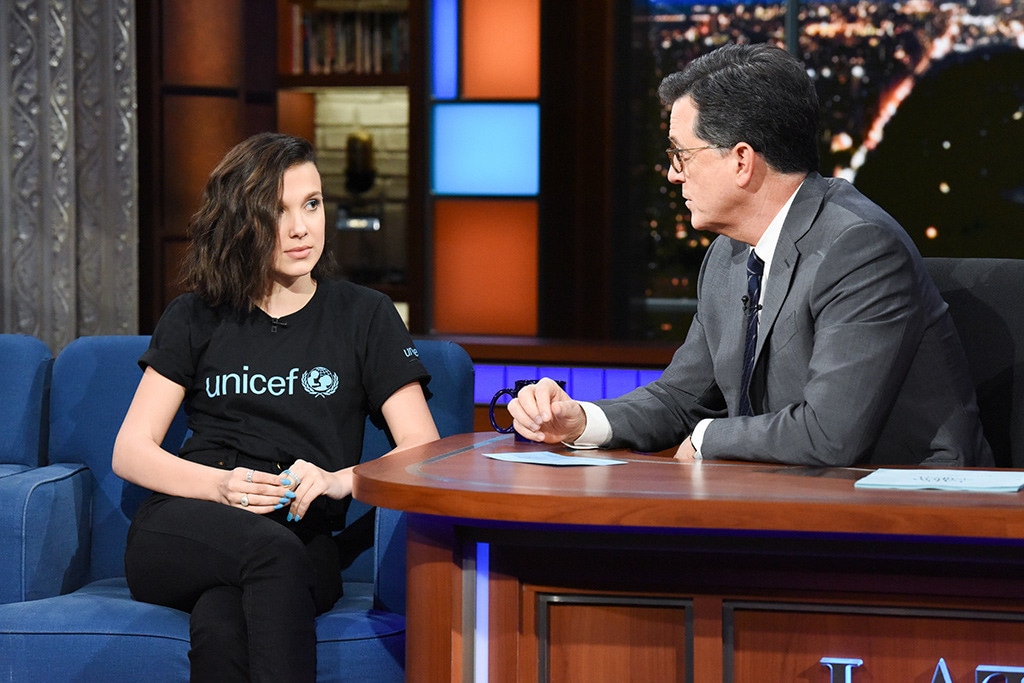 Scott Kowalchyk/CBS ©2018 CBS Broadcasting Inc. All Rights Reserved.
Don't worry, Stranger Things fans. Season three might not be the show's final season after all.
Millie Bobby Brown seemingly dropped this hint during her guest appearance on Monday's episode of The Late Show With Stephen Colbert.
During the interview, Stephen Colbert questioned the Eleven star about a recent photo that showed her tearing up after filming the most recent season. The photo, along with her caption "told u…," sent fans into a frenzy and left them wondering if they would be saying goodbye to the citizens of Hawkins, Ind. But after the host asked the actress if the photo signified the series' end or a character's death, Brown shot these notions down.
"No! I'm just a very emotional person," she insisted. "When it comes to my closest people, like, I'm not good at goodbyes." 
She then reiterated the photo was taken on the last day of the season.
"Of the season, not the show," she reemphasized, "The season." 
However, the two-time Emmy nominee realized she may have already said too much. 
"Watch Netflix, like, call me after this and be like, 'You can't say anything' and I'm like 'OK, got it," she quipped.
This wasn't the only indication the show might be ending. Last week, Brown posted a picture of her tearing up while hugging Sadie Sink, who plays Max Mayfield.
"I'm a very emotional person. I can't say goodbye to people. It gives me serious, like, sadness and anxiety," Brown reiterated. "So when I had to say goodbye to my best friend, Sadie, I just broke down. Also, catering, that was a tough one."
Granted finishing up Stranger Things would give Brown some more free time. Since she last appeared on the late-night show she made the 2018 version of Time's Top 100 List, she finished shooting Godzilla: King of the Monsters and she became the youngest UNICEF goodwill ambassador.
"First of all, you're making us look bad for being so productive," said Colbert, who later had Brown paint his nails UNICEF's shade of blue.
When she's not busy, Brown enjoys hanging out with her family members and close friends and doing "normal things"—like going to the grocery store. However, she prefers shopping for Cookie Crisp over her character's favorite: Eggos.
Watch the video to see her interview.