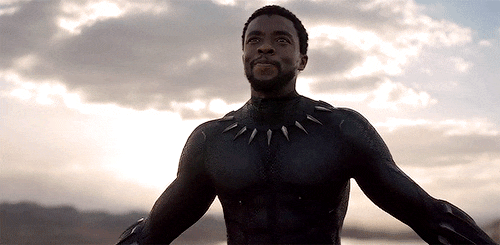 Marvel / Walt Disney Pictures
We might not be in Wakanda, but that doesn't mean we can't celebrate the king of the Marvel kingdom.
Today is Chadwick Boseman's birthday and as the ruler and hero of Wakanda AKA Black Panther/T'Challa we feel it's necessary to honor the actor for his role as the legendary Marvel character...and the characters that came before him.
In honor of Boseman's birthday—he is now 41 years old—we've rounded up his most iconic and memorable characters thus far in his career for you to reminisce about.
The South Carolina native might be most known for his role in Black Panther and the Avengers films, but he has been on television as Nathaniel Ray on Lincoln Heights and played other fictional characters in films such as Draft Day.
His favorite genre of films however would be biographies or documentaries. Throughout his career, Boseman has channeled his inner real-life hero by portraying icons such as Jackie Robinson in 42 and Thurgood Marshall in Marshall.
The 41-year-old actor has also played musician James Brown in Get on Up, and that's just the tip of the iceberg when it comes to Boseman's acting talents.
There are 10 big roles in both film and television that have pushed Boseman to the limit and made a massive impact on his career and we have them all for you below.
As you decide what to do to celebrate the actor's big day—maybe re-watch Black Panther and cheers to Wakanda forever?—make sure to scroll through Boseman's best roles gallery here and then vote for your favorite role from the birthday boy.
It's not as simple as you might think, because all of Boseman's characters have been well thought out and full of both emotion and power. He's Chadwick freaking Boseman after all, so we really expect excellence no matter who he is playing on screen and so far we haven't been disappointed.
Happy birthday, Chadwick! We hope your day is full of birthday wishes and someone else saving the day.
Chadwick Boseman's Best Roles