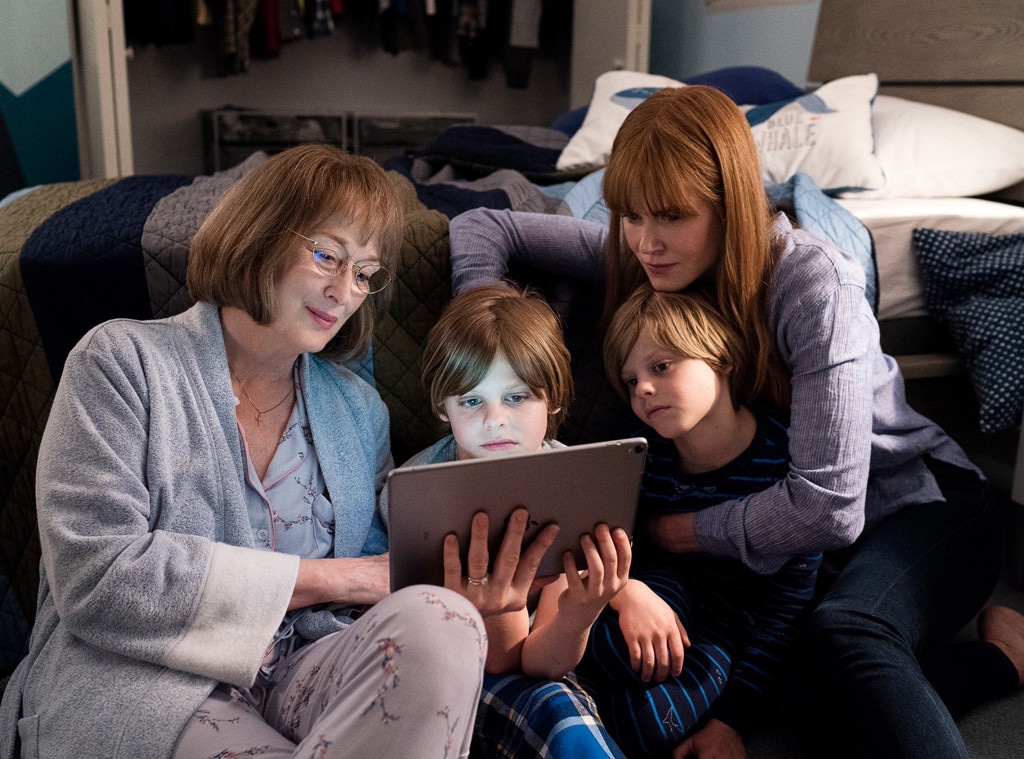 HBO
Turns out Nicole Kidman hated her performance in arguably one of the best scenes of Big Little Lies season one. In the new Variety cover story on the Emmy and Oscar winner, Kidman reveals she hated the therapy scene opposite Robin Weigert, the scene that most likely had a hand in clinching her the Emmy for playing Celeste Wright in the HBO series based on the book of the same name.
"When I saw the therapy scene, which people really responded to, I thought I was terrible," Kidman told Variety. "And everyone was like, 'No, no!' I think it was because I felt too exposed and vulnerable. It was probably too much for me to see."
Big Little Lies was supposed to be a miniseries, but after the tremendous reception it got, Kidman and fellow star and executive producer Reese Witherspoon got the gang back together for another go set to come out in 2019. The new season is based off a story by book scribe Liane Moriarty and once again penned for TV by David E. Kelley. Along with Kidman and Witherspoon, the cast includes Laura Dern, Zoë Kravitz, Shailene Woodley and newcomer—to the cast—Meryl Streep. Kidman said the night Big Little Lies won the Golden Globe she and Witherspoon got an email from Streep.
"She goes, 'I suppose now I have to join you.' And we were like, 'What?' The two of us were just shocked," Kidman said. There was no script when Streep signed on. "She hadn't even read it. That's how much she wanted to support us," Kidman said.
Hilary Bronwyn Gayle/courtesy of HBO
Streep is playing Mary Louise Wright, mother to Perry Wright (Alexander Skarsgård) who comes to town looking for answers after the death of her son. Kidman said she was "terrified" to work with Streep.
"You're acting opposite the great one. I get nervous anyway—but to be opposite her and not want her to think, 'Who is this amateur?' And also, we want to deliver a series for her that she's great in. Reese and I were like, 'We want this for her and for the other women.' They have much stronger roles in the second one," Kidman said.
Details about the second season are being kept under wraps, although HBO has revealed certain nuggets about the story, like the fact it will "explore the malignancy of lies, the durability of friendships, the fragility of marriage and, of course, the vicious ferocity of sound parenting. Relationships will fray, loyalties will erode…the potential for emotional and bodily injury shall loom." Plus, Witherspoon's Madeline Martha Mackenzie will confront the truth of Perry's death and come to terms with her own marriage, Kidman's Celeste Wright is still reeling from Perry's death, and "determined to fight for her family and find the woman she once was," Dern's Renata Klein will face new challenges in her own marriage, Woodley's Jane Chapman is still processing the death of her attacker, and Kravitz' Bonnie Carlson, struggles with the role her actions had in Perry's death is forced to face the demons in her past.
As for a third season, well, what do you think?
"I think it would be hard to get the whole group together," Kidman said. "But we would love to do it."
Big Little Lies premieres in 2019 on HBO.