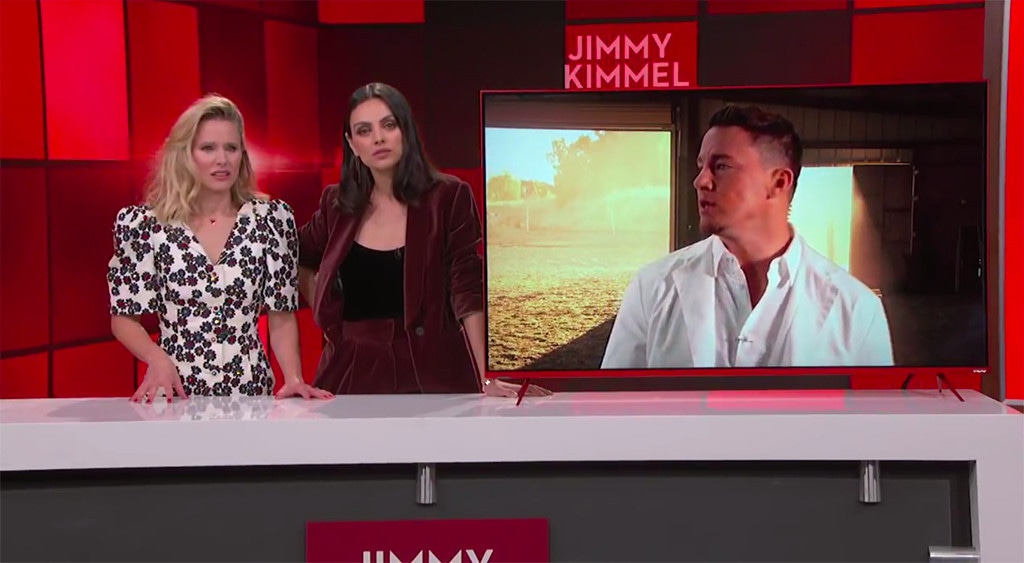 YouTube
Kristen Bell and Mila Kunis know what the people want.
Bell co-hosted Jimmy Kimmel Live!'s fourth annual (RED) Shopathon Monday, showcasing the goods viewers could buy to raise money for the fight against AIDS. The Good Place star and Jimmy Kimmel pulled out all the stops, turning to Snoop Dogg, Will Ferrell, Brad Paisley, Chris Rock, Zoe Saldana and more famous friends for help in promoting the (RED)-themed products.
Fourteen minutes into the QVC-inspired segment, Bell brought out Kunis, her friend and co-star in the hit movies Bad Moms, A Bad Moms Christmas and Forgetting Sarah Marshall. "Mila is here because she's going to introduce a very special product," Bell told viewers. Kunis played her part as a co-host, asking the audience, "OK, who here has heard of television? It's a pretty hip audience! This is a (Vizio)RED 55-inch TV. Wait, guys! Just look at this crystal clear picture."
Cut to Channing Tatum, appearing on the screen as an illiterate veterinarian. "It's Channing Tatum!" Bell said. "He is pure man candy—and I'm telling you, I have a sweet tooth!" After watching him, she griped, "This movie seems serious. I'm worried he won't take his shirt off."
Quipped Kunis, "He better take something off!"
Tatum broke the fourth fall and addressed them. "OK, really. I'm a serious actor, OK?" he said. "All you care about is whether I'm going to take off [my shirt] or show some skin or something."
"Are you talking to K. Bell?" Kunis asked. "It's not me!"
"Yeah, I am talking to you ladies," Tatum told the actresses, who appeared embarrassed by their behavior. "I'm more than just a piece of meat. It's true. I'm a piece of meat with feelings."
"I suppose there's a lesson here," Bell said. "It's wrong to treat men like sex objects."
"Yeah," Kunis said in agreement. "No matter how smoking H-O-T they are."
Tatum then joined them onstage, still dressed as a sexy vet. "I forgive you for all the horrible things that you guys said about me. I really do," he said. "Because Forgiveness is what the (RED) Shopathon is all about it." As Bell questioned him, Kunis said, "No, that's not all that it's about."
After Tatum pointed to his new (UBUNTU LIFE)RED Afridrilles, he joined Kimmel's security guard, Guillermo Rodriguez, and snapped a selfie on an Apple iPhone XR (PRODUCT)RED. "You're my favorite actor," Rodriguez told Tatum. "Now, how about one with your shirt off?"
"Guillermo, you horny little devil!" Bell said, feigning horror. "No seriously, take it off!"
As Tatum jokingly stormed off stage, Kunis shouted, "A little bit! Just the shoulder!"
From backstage, Tatum yelled, "I'm not a piece of meat!"
Shop the entire (RED) collection on Amazon, and watch the video for more fun surprises.