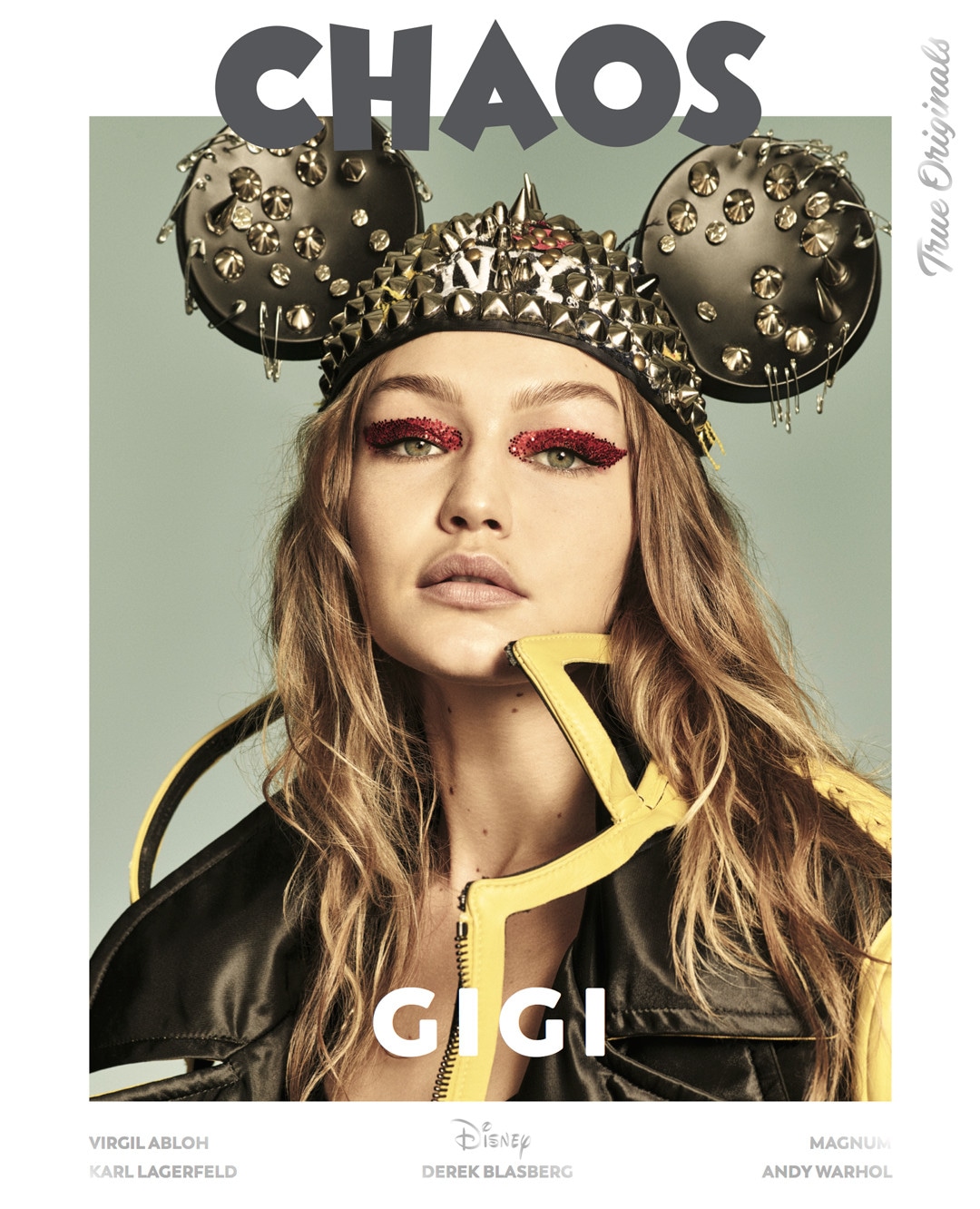 By Luigi and Iango for Chaos
The fashion industry is celebrating Mickey Mouse's 90th birthday in a very real and artistic way.
In partnership with Disney, Chaos Magazine has released a limited edition issue, "True Originals," that celebrates the iconic character with six covers of top models. Shot in New York City and London, photographers Luigi and Iango captured Gigi Hadid, Bella Hadid, Karen Elson, Shenelle Williams, Cara Taylor and Vittoria Cerreti, wearing Mickey Mouse-inspired ensembles. 
"We have since been in awe of how revered and loved Mickey is, and in researching him, his history and his  values, we came to the conclusion that Mickey stands alone as a truly unique character that has touched an unimaginable number of lives, hence the title 'True Originals,'" Editors-in-Chief Charlotte Stockdale and Katie Lyall (and producers of the limited edition issue) stated in a press release. "Hard to name his equal…"
"My sister and I would always run to see Mickey and Minnie first at Disneyland," cover star Bella added. "Happiest birthday, Mickey. I love you!"
While the covers give a glimpse of the magazine's interpretation of Mickey's influence, there's even more to see inside. The fashion editorials include pieces from Forever 21, Levi's, Rag + Bone, Lacoste, Marc Jacobs and Gigi Burris—brands that have released their own limited edition collections in celebration of Mickey's big birthday. 
Flipping through the pages, you'll also find original art  in the form of birthday cards from Karl Lagerfeld and Virgil Abloh—making this issue even more special.
The magazine is available for purchase at select newsstands on December 3rd!