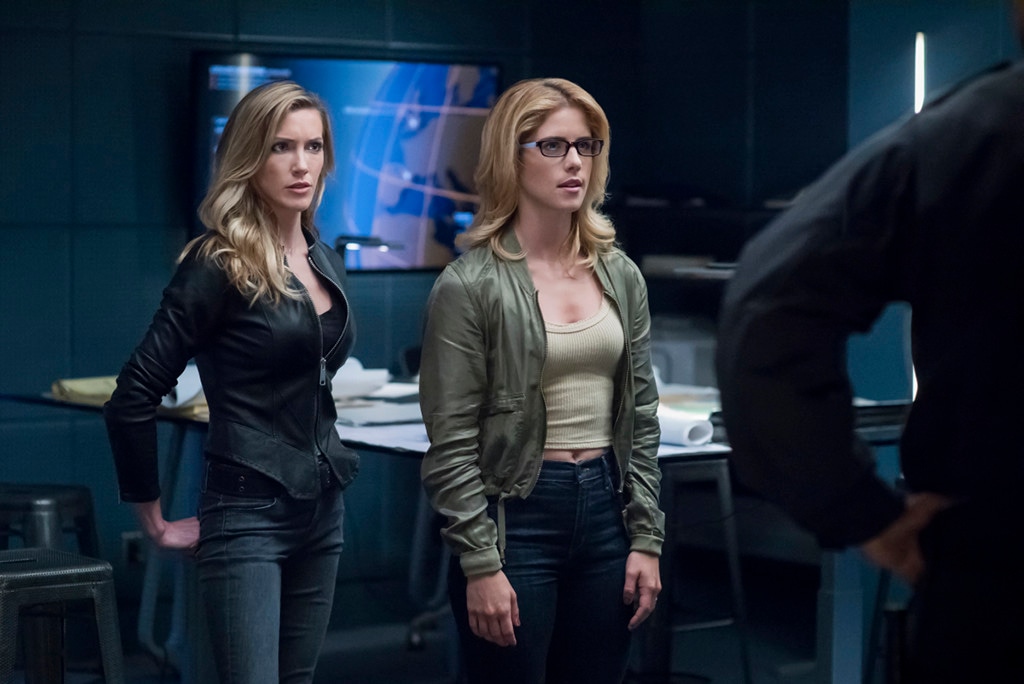 The CW
The future continues to slowly and worryingly come together on Arrow. 
After the last bombshell that Felicity Smoak (Emily Bett Rickards) had died, we got a few more details tonight about what apparently became of Mrs. Oliver Queen. 
First of all, she was murdered, and her death was only "a couple weeks ago, give or take" and it came along with the latest bombshell: Felicity had followed in her supervillain father's footsteps and had become The Calculator.
We saw hints of a potential future like this in the present day storyline, in which Felicity teamed up with Laurel to try once again to take down Diaz. This revelation also kinda makes sense based on everything else we've seen so far in the future. Felicity went to great lengths both to get William to the place she wanted him to go, and to conceal her plans as much as possible with a series of complicated clues. And then it all ended up at plans to blow up Star City, which is pretty dang supervillian-y.
Whatever's going on in the future, Dinah (Juliana Harkavy) seems to be the one with the answers, though she's being very stingy with them, both on screen and on set. 
"I think Felicity has set a path in just the work that she's done, so that leaves a lot of room for us to explore where she's gone on that path," Harkavy told reporters during a visit to the Vancouver set. (Rickards herself wasn't available for interviews during the set visit.) 
As for whether Felicity is actually dead, Harkavy said, "I actually really can't answer that. Like, I don't know the answer." 
That means Felicity's future fate is going to be left open for at least a few more episodes. 
We also have to wait to figure out what "the Mark of Four" is, which is apparently what was on the note Roy found in Oliver's bow, which is what drove Roy to come back to Star City. 
"That's impossible. Who could have put it there?" Dinah asked. 
They both decided that they had to keep it between them, just in case they can't trust William because the fact that he's Oliver's son is exactly what Roy is worried about. Of course, we've got no idea what any of that means. 
"It's something that will continue to unify the team in the future, basically," Harkavy teased of the Mark. And that's about it. At this point, everything we learn just gives us more questions than answers. 
Harkavy was able to tease that Dinah becomes a "mentor" for the older Zoe.
"I think Dinah has a very maternal kind of instinct hidden in her that comes out with Zoe," she says. "So yeah, that'll continue." 
And if you've noticed the scar on her throat, Harkavy says they've left things open with her canary powers. 
"She does have a scar, and we allude to it a couple of times, but we don't necessarily know where it's come from yet. So her powers are kind of in question, but I think that for sure, she's had all of this time to train, and a lot of years to grow stronger. 
Harkavy also addressed the concerns from fans who are a little disappointed to see that the city still hasn't been saved in the future. 
"The future we're seeing, in my mind, it's not the ultimate future, it's not necessarily the end, it's part of the future," she says. "So a lot of people are saying they're disheartened by how down and depraved our city has become, and they're saying, what's the point of it all if it's gonna be that dark? But we don't know that it's gonna end there." 
For everything we know about Arrow's future so far, click through our Everything We Know gallery.  
Arrow airs Mondays at 8 p.m. on the CW.