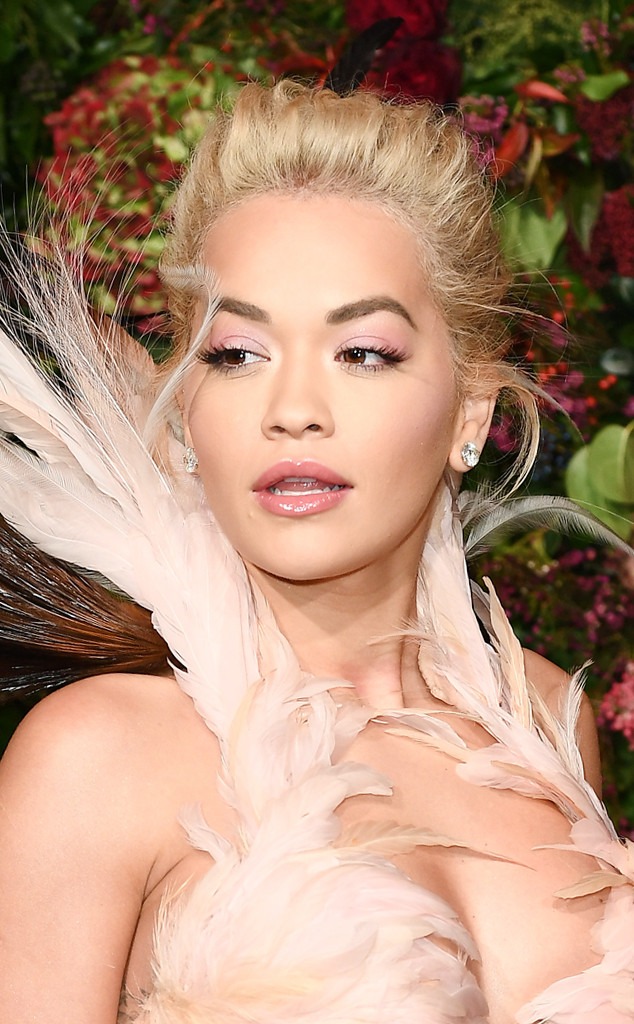 Jeff Spicer/Getty Images
It's time to throw a dance party because it is Rita Ora's 28th birthday!
The 50 Shades of Grey star has so much to celebrate this year including, the release of her album last week and her incredible People's Choice Awards performance earlier this month.  
As much as we would love to be with the fashion-forward star for her big day, we are pretty happy to be singing along to some of the "I Will Never Let You Down" singer's greatest hits!
On Friday, the British celeb released her highly anticipated second album, Phoenix, and to say it is a must-listen is an understatement.
This isn't the first time however that Ora has caught our attention with her music. Who can forget when the singer teamed up with Liam Payne to make the oh-so-sexy "For You" single? Or what about the time when she made us all want to dance with the iconic "Your Song" release?
Check out some of the Southpaw star's best music videos below and then it's time for you to pick your all-time favorite of Ora's songs. That's right, we know they are all so good, but we are asking you to select the best of the best of her music videos in our poll!
Don't forget to show the actress and singer all the love today as well, because you know you want the same on your birthday.
"Let You Love Me"
Ora is getting real on her latest track, "Let You Love Me," which delves into a self-destructive relationship storyline. The video happens at a house party where she catches the attention of a stranger and then the night unfolds from there. The song itself reached the top 10 in nine countries including, the United Kingdom where it became Ora's 13th song to hit that milestone breaking the record for most top 10 songs by a British female solo artist.
"For You" 
Ora and Payne bring the heat in the music video for "For You." The song was featured on Fifty Shades Freed soundtrack and the video is just as saucy as you'd hope. The pair filmed the music video at a stunning castle on Long Island and if we're being honest, the special effects alone are enough of a reason to watch.
"Anywhere"
Shot throughout New York City, "Anywhere" was inspired by the 28-year-old star's desire to get away and take a road trip with her friends. Ora, of course, brings her fashion A-game to the music video so it definitely should not be missed. If only we could tag along for the singer's next trip...we don't even care where she is going!
"Your Song"
Get ready to dance when you hear "Your Song." The electro-pop single was co-written by fellow British singer, Ed Sheeran and it's so good. As for the music video, it is an ode to all-consuming love and it is wonderful.
"Body on Me" 
Things get steamy between Ora and Chris Brown in the "Body on Me" video. This clip certainly shows off the duo's red-hot chemistry making it a must-watch for fans of both artists. Seriously, it's almost too hot to handle!
"Poison"
"Poison" tells the oh-so-relatable tale of falling for the wrong guy. In the music video, Ora gets her shot at fame as a model but must deal with a less than supportive boyfriend who seems overwhelmed by her new found attention. 
"Black Widow"
Iggy Azalea teams up with the Southpaw actress for the girl power anthem, "Black Widow." The music video begins with Azalea playing a waitress who observes Ora's toxic relationship before the women work together to get revenge on the Ora's controlling ex. There's nothing we love more than seeing two stars unite for a powerful track!
"I Will Never Let You Down"
Ora collaborated with her then-boyfriend, Calvin Harris, to bring the 2014 hit "I Will Never Let You Down" to life. Harris served as writer and producer of the track while Ora showed off her vocal and dance abilities in the music video. Plus, Ora rocked pink locks in the video, so really, what's not to love?!
Ok, the time is now, which video is your top pick? Cast your vote and then make sure to wish Ora happy birthday today!
Rita Ora's Best Music Videos