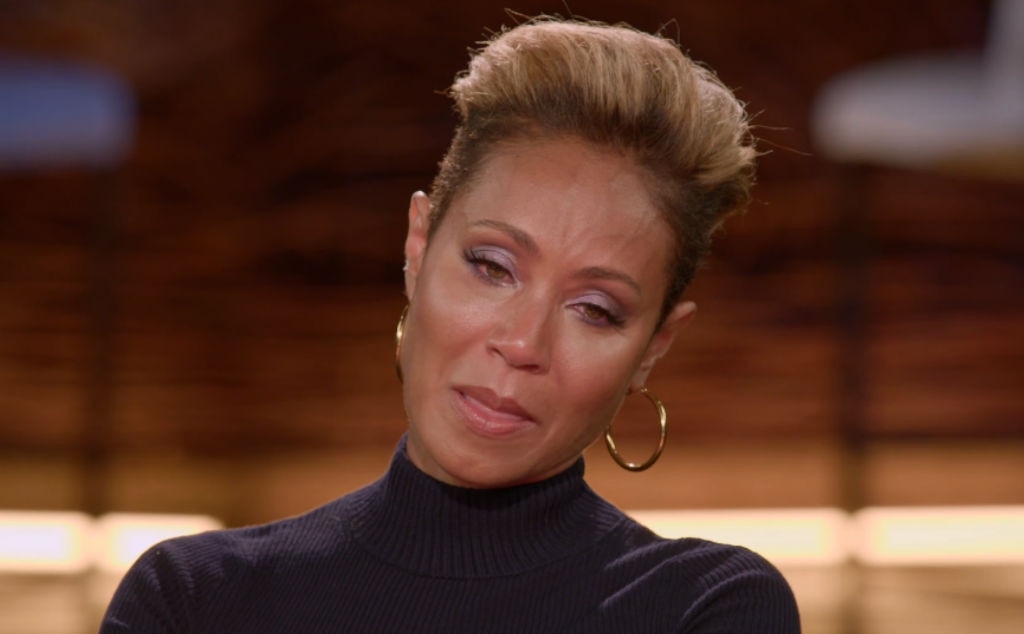 Facebook/Red Table Talk
Jada Pinkett Smith breaks down in tears as she discusses the abuse her mother suffered at the hands of her father on Red Table Talk.
On the latest episode of her Facebook series, entitled "Domestic Abuse: When Love Turns Violet," Jada sits down with her daughter, Willow Smith, and her mother, Adrienne Banfield-Jones, who recalls her past relationship with Jada's late father, Robsol Pinkett, Jr., and the trauma she experienced.
"I knew that my mother and my father had a very violent relationship early on," Jada says at the beginning of the episode. "She has a couple scars on her body that, as a child I was just curious, I was like, 'Oh mommy, what's that? What's that?'"
The episode then shows the three women sitting down together as Jada asks Adrienne, "What was the worst incident that you experienced with my father?"
"Oh, there was, so many...like I have a scar on my back now," Adrienne replies.
"That's the scar when he threw you over the banister," Jada recalls.
Jada and Adrienne then share that he was "typically in an altered state when he was abusive," stating he was either "high or drunk."
"A violent drunk," Jada says. "See, I was a violet drunk too. That's why I had to stop drinking."
"Yeah he was a violet drunk," Adrienne confirms. "He gave me a black eye once."
Adrienne goes to say that the first time her mother ever met Rob she said, "You need to stay away from this guy, because I can see in his eyes something is wrong with him. Something is wrong at home."
"But I do know when enough gets to be enough...and you gotta get out of there," Adrienne tells Jada and Willow. "And I actually ran for my life."
"What happened was he was angry about something," Adrienne recalls of that particular incident. "He came home angry. You and I were at mommy and daddy's house, and he came over there and he pissed off about something, I don't even remember what the argument was about, but he started hitting me and he was in a rage. I was backing out of daddy's den into the master bedroom and you were still in the den."
"And I said, 'Oh my God! We left Jada.' And I knew that he wasn't gonna hurt you. He left the room to go get you, and I went through the bedroom out the master bath and down the steps and ran across the street to the neighbor," Adrienne continues as she and Jada both start to tear up. "Ran across the street to the neighbor for them to call and get me some help."
When the police arrived, that's when Adrienne realized "that was it" and the relationship was done.
As the conversation continues, Jada tries to hold back tears as she recalls the painful family memories.
You can watch the complete Red Table Talk episode above.
For more information on domestic abuse or to get help for yourself or someone you love, visit the website for The National Domestic Violence Hotline (http://www.thehotline.org/) or call 1-800-799-7233.