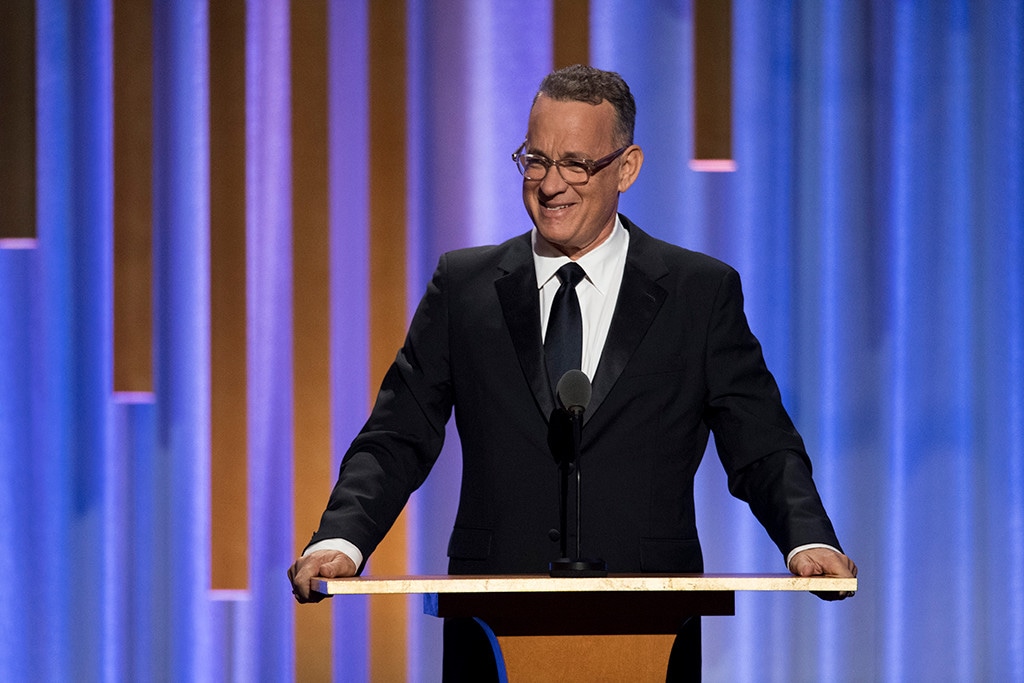 Michael Yada/A.M.P.A.S.
Last night's Governors Awards were appropriately subdued.
The red carpet was scaled down, and John Bailey—the President of the Academy of Motion Picture Arts and Sciences—opened the ceremony by addressing the wildfires that have been tearing through California. "Many thousands of our fellow Americans are homeless; nearly 1,400 people are still unaccounted for," Bailey revealed. "Some of our own history was lost in the same fire at Paramount Ranch, home to the Academy's summer screenings of silent films."
But it was also a night for celebration—and E! News was on the scene as stars flocked to L.A.'s Dolby Theatre to next year's celebrate honorary Oscar winners: producers Kathleen Kennedy and Frank Marshall, publicist Marvin Levy, composer Lalo Schifrin and actress Cicely Tyson. Kesha arrived in a custom Cheng outfit and "immediately went to the bar with an elderly man and was served champagne," a source tells E! News exclusively. In fact, the 31-year-old "Body Talks" singer "looked like she was in a good mood" throughout the night. "She was very social."
Chloë Grace Moretz (in custom Louis Vuitton) showed up soon afterward with one of her brothers. "She immediately went to the bar during the cocktail hour and was drinking wine," a source says, noting that the 21-year-old Suspiria actress "left before the program even started."
A Quiet Place stars Emily Blunt and John Krasinski entered the ballroom hand-in-hand. "They posed for photos and looked super in love," a source says of couple, who've both generated award season buzz. "They both kept smiling and holding hands and were definitely very happy." As guests including Amy Adams, Melissa McCarthy and Hillary Swank mingled with friends, Tom Hanks and Rita Wilson showed up. "They stopped for two seconds and were whisked away into the venue," a source reveals. "They did not care to chat with anyone or grab a drink."
Hanks was on hand to honor Levy later that evening, joking onstage, "It's nice to be part of the Famous People's Club where we pretend to know each other and have seen each other's work."
Nicole Kidman arrived without husband Keith Urban and "looked stunning" in a Rodarte design, according to a guest. The 51-year-old Boy Erased actress "hugged a friend the second she arrived and had a huge smile on her face," the guest reveals. "She seemed super excited."
Call Me by Your Name's Timothée Chalamet (in Haider Ackermann) and Armie Hammer (in Ermenegildo Zegna Couture) reunited. "Armie stopped to say hi to John Krasinski and made the rounds to a few other directors and producers. He then grabbed a drink and went inside the venue," a source says. "Timothée looked very excited to be there and chatted with Laura Dern; they were hugging and dancing to the music for a minute. He was getting approached left and right and was introducing himself to several people. He was definitely the life of the party!"
As Michael B. Jordan and Tyler Perry were entrenched in "a deep conversation," Juliette Lewis "was having a heart-to-heart discussion with a male friend before entering the ballroom. She seemed very dramatic and opinionated and had a lot of expression. She put her hands around his shoulders at one point to be more expressive. It seemed friendly, but  dramatic."
Lady Gaga arrived as the first meal was being served during the ceremony. Meanwhile, Oprah Winfrey—who skipped the red carpet—was eating her short ribs while talking to Stedman Graham, a source tells E! News. "Many people were approaching her and she continued her deep conversation," the source adds, and she took "photos with people who approached her." Regina King also had a "really cute moment" with Winfrey. "It looked like Regina was shedding tears as she came over to say hi to her. Regina hugged her and they posed for photos together."
Winfrey and Tyson "kept grabbing each other's hands" and were chatting throughout the evening, a source reveals. "Cicely seemed so happy to be there and Oprah looked very proud."
As Saoirse Ronan and Emma Stone mingled with a male friend, Chalamet and Gaga were fawning over each other nearby. "Gaga looked really excited to see him and it seemed like they had just met," a source says, adding that she had a "huge smile on her face" all night long. After Gaga's fiancé whisked her away, A Star Is Born's star sipped white wine at her table. Melissa McCarthy then walked over to her to say hi. Per the source, "It looked like she was a huge fan!"
During the presentation, Blunt had to use the restroom—and her husband "waited patiently" for her outside, according to the source. "They then held hands on their way back to the ballroom. Juliette Lewis stopped by them to cuddle Emily and they shared a moment together."
Richard HarbaughA.M.P.A.S.
Tyson's 11-minute acceptance speech was particularly powerful, with Central Park 5 director Ava DuVernay introducing the Sounder actress as "the seed for so many of us, the rose that we adore." Perry was equally effusive, saying, "For those of you who don't know, African-Americans hold Cicely in such high regard. she is a queen to us. We bow to her." According to a source, Winfrey shed a tear while Tyson was walking to the stage to accept her award. After the actress mentioned she is 94 years old, a stunned Winfrey mouthed, "Oh, my God! Ninety-four?"
"Mom, I know you didn't want me to [be an actress], but I did and here it is," Tyson said onstage, holding her award and looking toward the heavens. "I know that for the longest time, I wanted to hear something positive from her. it took her a long time. And when I did Jane Pittman, I called her up the next day when I got the recognition, and I said to her, 'Well?' She said, 'Well, what?' I said, 'You better tell me something!' And she said, 'I am so proud of you.' And I think if I'd not heard those words from her, none of this would make a difference to me."
The honorees will be highlighted during the 2019 Oscars, airing Feb. 24 on ABC.