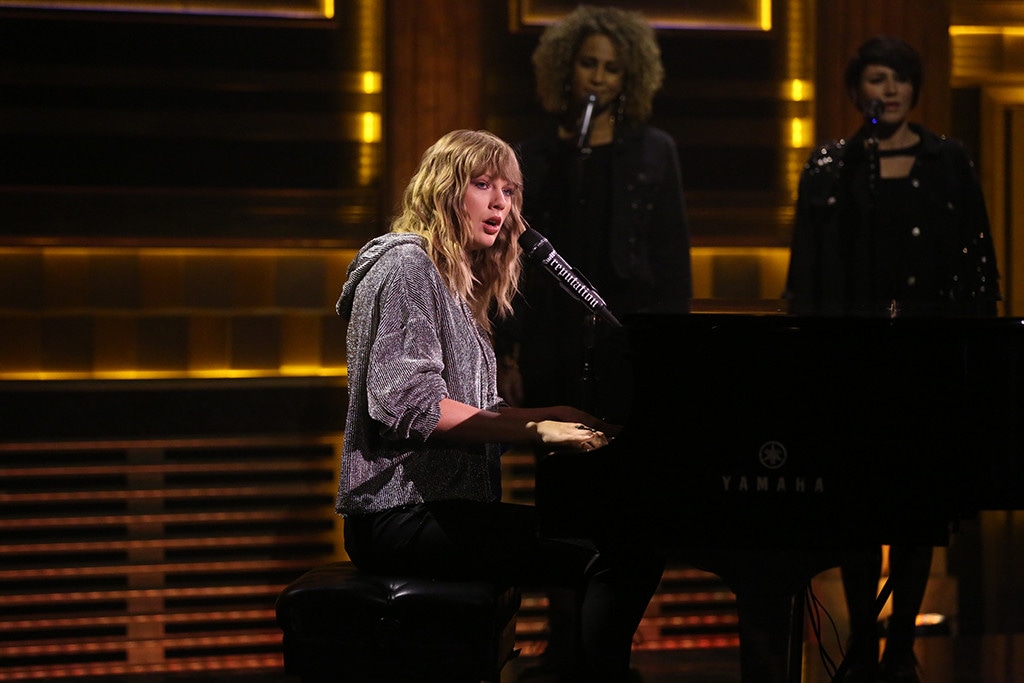 Andrew Lipovsky/NBC
Taylor Swift announced she has a "new home" on Instagram Monday.
Twelve years after releasing her eponymous debut album on Big Machine Records, the 28-year-old singer-songwriter has signed a new record deal. As part of her pact, Swift is working to reshape how artists are paid for Spotify streams. In 2015, Swift wrote a letter to Apple Music, slamming the company for not paying artist royalties during its free-trial period; the following day, the company changed its policy. She's been equally critical of Spotify, its main competitor.
"I'm ecstatic to announce that my musical home will be Republic Records and Universal Music Group. Over the years, Sir Lucian Grainge and Monte Lipman have been such incredible partners. It's so thrilling to me that they, and the UMG team, will be my label family moving forward," Swift, a 10-time Grammy winner, told her 113 million Instagram followers. "It's also incredibly exciting to know that I'll own all of my master recordings that I make from my own."
"It's really important to me to see eye to eye with a label regarding the future of our industry. I feel so motivated by new opportunities created by the streaming world and the ever changing landscape of our industry. I also feel strongly that streaming was founded on and continues to thrive based on the magic created by artists, writers and producers," Swift told her followers. "There was one condition that meant more to me than any other deal point. As part of my new contract with Universal Music Group, I asked that any sale of their Spotify shares result in a distribution of money to their artists, non-recoupable. They have generously agreed to this, at what they believe will be much better terms than paid out previously by other major labels. I see this as a sign that we are headed towards positive changes for creators—a goal I'm never going to stop trying to help achieve, in whatever ways I can," added Swift, who signed a multi-album deal with UMG. "I'm so happy to have Sir Lucian Grainge as a partner in these efforts."
(The singer removed her music from Spotify in 2014, but returned to the streaming service in 2017—on a date that coincidentally coincided with the release of Katy Perry's Witness.)
Swift extended her "heartfelt thanks" to Big Machine Records' Scott Borchetta "for believing in me as a 14-year-old and for guiding me through over a decade of work that I will always be so proud of." Swift, who transitioned from country to pop music in 2014, added, "I'm extremely grateful to get to do what I love, especially with the people I've been fortunate enough to work with. The best thing I've been lucky enough to receive is the dedication, trust and loyalty of the fans who have cared about the words and melodies I've written. my biggest goal moving forward is to make you proud. I'm so excited. I can't wait to show you what I'm making next."
In a statement, Grainge said, "Few artists in history approach Taylor Swift's combination of massive global hits and creative brilliance. She is so multi-talented, she can achieve anything. I have such enormous respect for Taylor, in particular for her use of her hard-earned influence to promote positive change. Because of her commitment to her fellow artists, not only did she want to partner with a company that understood her creative vision and had the resources and expertise to execute globally on her behalf, she also sought a partner whose approach to artists was aligned with hers. With these shared beliefs, there is so much we can accomplish together, and all of us at UMG are enormously proud to be embarking on the next chapter of her career alongside her." Lipman, who is the founder and CEO of Republic Records, added, "Taylor has not only captured the imagination of an entire generation, but has also redefined the paradigm of the modern music industry. Her commitment to songwriting and performing has earned her the respect of her peers and millions of adoring fans around the world. I can only imagine what Taylor is capable of achieving in the years to come, both culturally and creatively. I'm beyond thrilled to create an alliance with Republic Records and the incomparable Taylor Swift."
Swift has not revealed when she will released her next album.
(E! and Universal Music Group are both members of the NBCUniversal family.)